St. Patrick's Day Virtual Reception
News
17 March 2021

A Chara - Dear Friend
Lá Fhéile Pádraig sona dhuit! - Happy St. Patrick's Day!
Today, March 17th, is St. Patrick's Day, Ireland's National Day, and this year we are once again celebrating virtually rather than in-person.
We remember first of all, however, those we have lost to the COVID pandemic over the past twelve months. Ar Dheis Dé go raibh a n-anamacha dílse.
Please take a moment to join us for our Virtual National Day Reception which is now available to view here and which features St. Patrick's Day greetings from An Taoiseach, Micheál Martin, TD, as well as three very different but uniquely Irish performances from:
- Iarla Ó'Lionáird & Steve Cooney - Mo Ghile Mear
- Gemma Dunleavy – Up De Flats
- Doireann Ní Ghríofa/Lady Gregory – The Heart of the Wood
And if that whets your appetite for the best of Irish culture:
- Until March 17th, St Patrick's Festival TV will host over 100 virtual events, showcasing Irish music, theatre, art, performance, poetry, storytelling, traditional arts, virtual tours, food, culture and more;
- St Patrick's Week@Home: TradFest will host a programme of virtual events from 18-21 March, with an incredible array of Irish artists and some very special guests from some of Dublin's most stunning heritage venues;
- Culture Ireland's SEODA online festival will celebrate Irish culture across the globe from 17-21 March. The five day festival will feature over 100 artists, including The Abbey, CoisCéim Dance Theatre, Druid, Rough Magic/Kilkenny Arts Festival, Stephen Rea, Sinead Gleeson and Martin Hayes, alongside Irish work from New York, London and Paris. All events are available free to audiences around the world through Culture Ireland's YouTube channel here.
So please drop by and join in the fun.
And we are already looking forward to celebrating St. Patrick's Day in-person and in-style in 2022 when we will be hosting a very special and very exciting series of St. Patrick's Day events at Dubai Expo 2020.
In the meantime, here are two wonderful examples of Irish creativity from our St. Patrick's Day 2021 Design Competition.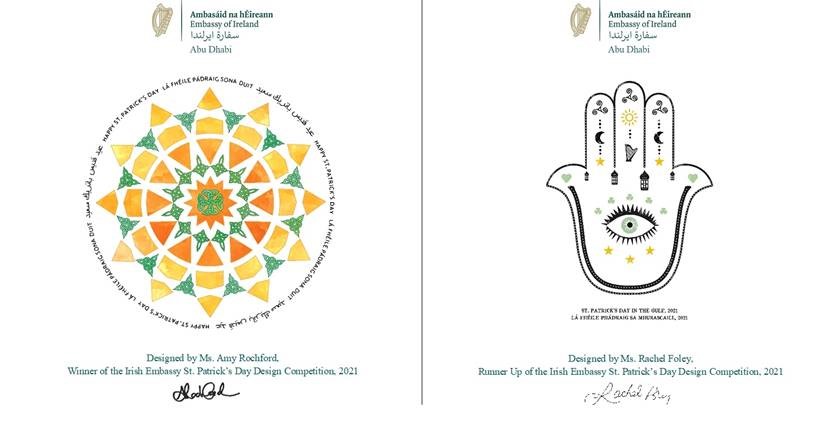 Le gach dea-ghuí – With every good wish
Aidan
Aodán Ó Cróinín
Ambasadóir na hÉireann
Abu Dhabi