Africa
In 2020, Ireland marks sixty years of a diplomatic presence on the continent of Africa, which has now grown to 12 Embassies from Cairo to Pretoria. Our ever-deepening ties with Africa are set to expand under 'Global Ireland: Ireland's Strategy for Africa to 2025', launched in November 2019, which commits to opening three new Embassies on the continent, including an Embassy in Morocco to open in 2020.
Our people-to-people connections go back centuries, including missionaries, educators, health and development workers, humanitarian responders and Irish peacekeepers, from the Congo in 1960 to Mali today, making a lasting contribution to peace and security. These human ties are further enriched by the presence of African communities in Ireland.
Ireland's business links with Africa are increasing in both directions and, as Africa's economic growth continues, these links – whether trade in goods and services, or investments – will deepen and mature.
Driven by our solidarity with the most vulnerable, Ireland has worked for decades on the ground, through the EU, civil society and international organisations to support the sustainable development of African countries. Building on our role as co-chair, with Kenya, of the negotiations of the Sustainable Development Goals (SDGs), Ireland is committed to working in partnership with African countries towards achievement of the SDGs.
The European Union has an increasingly ambitious approach to partnership with Africa. As neighbouring continents, the mutual prosperity and security of Europe and Africa are deeply intertwined. The EU is Africa's largest trading partner, its largest source of investment and its biggest partner in development cooperation. Ireland strongly supports a much more ambitious EU approach to Africa.
Ireland works closely with African partners at the United Nations to advance shared values, to strengthen multilateralism, and to give a stronger voice to Africa in key international processes.
Ireland shares a conviction with the African Union that we work best to solve global problems when we work together, and supports the work of the African Union to achieve inclusive and sustainable development in Africa.
Ireland's Strategy for Africa to 2025
Building on Ireland's longstanding engagement with Africa, and as part of the Government's Global Ireland initiative, a new Government of Ireland Africa Strategy was launched in November 2019. Ireland will expand its presence in Africa, with three new Embassies to be opened in North and West Africa, including an Embassy in Morocco in 2020, in parallel with a deepening of existing strong relationships across the continent.
The Strategy will see Ireland strengthen political partnerships with African countries and institutions. It will boost trade and investment, and support innovation in Irish-African private sector collaboration. By 2025, the number of postgraduate students from Africa on the Africa Ireland Fellows programme will double. Ireland will build new opportunities for stronger cultural connections, and will request Associate Observer status at the Community of Portuguese Language Countries, a majority of whose members are African.
The Strategy emphasises the importance of Ireland's European Union membership in strengthening relations with African countries, and commits Ireland to working more closely with EU and African partners to build a more ambitious and effective EU-Africa partnership. Ireland will also deepen engagement with African partners through multilateral institutions, such as the African Union and the United Nations.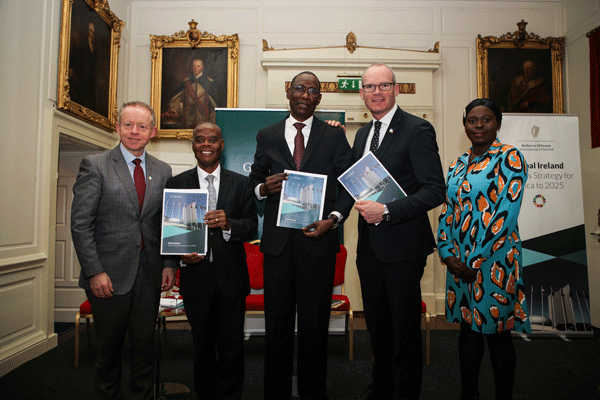 Download
Ireland's Development Cooperation with Africa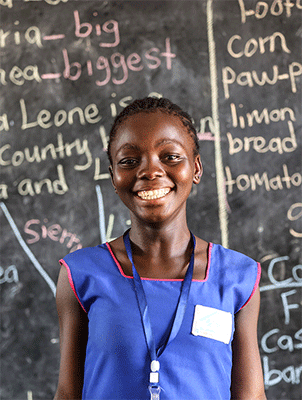 Young girl at a school for hearing-impaired children in Sierra Leone that is supported by Irish Aid
For fifty years, Ireland has worked to build a more just, secure and sustainable world through our international development, with a strong focus on sub-Saharan Africa, and through our humanitarian assistance. The prominent role of Irish civil society development organisations, missionaries and volunteer organisations in our development cooperation firmly roots our work in the spirit of Irish solidarity.
Despite significant progress in the last number of decades, Africa faces a changing set of geopolitical, social, environmental, economic and technological challenges that will require new solutions and increased resources. Ireland's international development policy,'A Better World', outlines how Ireland will continue to contribute to resolving the key development challenges facing the world in the coming decades, with a focus on climate action, gender equality, strengthened governance and reducing humanitarian need.
Ireland's Africa Strategy gives a renewed impetus to our work in supporting sustainable economic growth, and boosting trade and investment ties with Africa. Institutional exchanges and innovative partnerships with Irish State Agencies and private sector organisations are also becoming an increasingly important way to maximise the impact of our development cooperation.
Trade and Investment
Two-way trade in goods and services between Ireland and Africa increased by €1 billion between 2010 and 2017 to a total of €4.4 billion. The Department of Foreign Affairs and Trade works closely with Ireland's State Agencies to increase trade and investment between Ireland and Africa. The triennial Africa Ireland Economic Forum brings Irish and African business together to identify areas for mutually beneficial trade and investment.
Ireland works closely with partner countries in Africa to promote inclusive economic growth and trade. The Government's Africa Strategy commits to increasing Ireland's support for innovation by funding Irish-African private sector collaboration, including through expansion of the Africa Agri-Food Development Programme, the piloting of a new Ireland Africa Tech Development Fund, and exploring investment in areas such as female entrepreneurship and climate innovation. Ireland will also bolster partnerships and exchanges on harnessing the potential of the blue economy in a sustainable and inclusive way.
Education has been central to Ireland's success and has always been a strong focus in our cooperation with African partners. Over the last 46 years, 2,000 Fellows from our partner countries have shared Ireland's education success story, most of these from Africa. Ireland has committed to doubling the current number of Fellowships for students from Africa to an annual intake of 150 by 2025.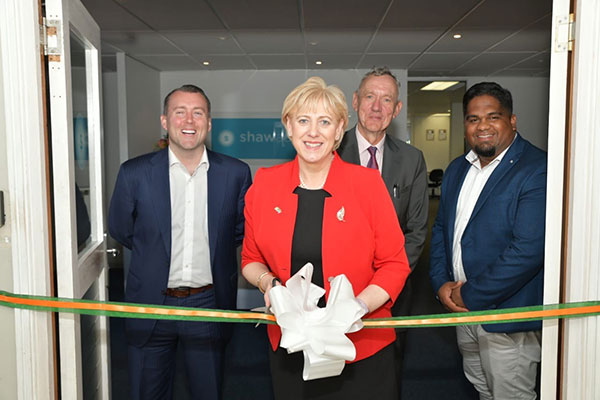 Minister for Business, Enterprise and Innovation, Heather Humphreys T.D., opening the Cape Town office of an Irish education technology company, November 2019
Peace and Security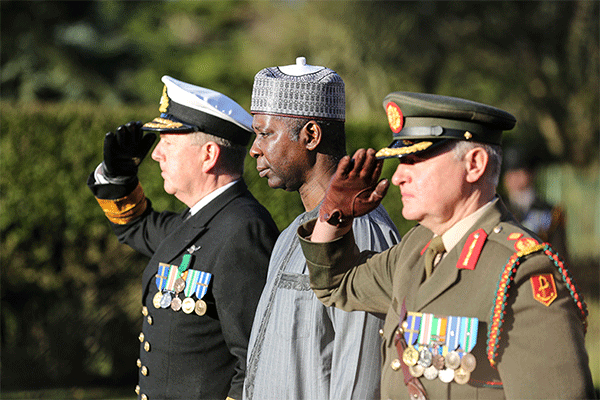 Tijjani Muhammad-Bande, President of the seventy-fourth session of the General Assembly lays a wreath in the Curragh camp
As a small island with a recent experience of conflict, Ireland is firmly committed to a just and peaceful rules-based international order.
Ireland has made a significant contribution to conflict prevention, peacebuilding and peacekeeping in Africa, where Irish Defence Forces have served with distinction as UN peacekeepers since the first deployment to the Congo in 1960. Today Ireland is Europe's largest per capita contributor of troops to UN Peacekeeping operations, and Irish Defence Forces are currently deployed to a number of UN and EU crisis management and peace support operations across Africa.
Ireland also works through its Embassy network, through the EU and through the UN to promote peace, stability and reconciliation. We support inclusive peacebuilding processes that are locally-owned and nationally-led. Ireland recognises the importance of empowering women and youth in peace processes, and sees the Women, Peace and Security (WPS) agenda, which has strong roots in Africa, as an integral component of the conflict prevention and resolution framework.
Many of the world's most severe humanitarian crises are in Africa. Ireland's international development policy, A Better World, recognises that conflict and fragility are the major drivers of humanitarian need and a coherent approach to conflict and fragility runs throughout the policy. Ireland is also a strong supporter of a dynamic, independent and diverse civil society, which is indispensable to a peaceful and democratic society.
People-to-People Connections
People-to-people connections between Ireland and Africa go back centuries, including missionaries, educators, health and development workers, humanitarian responders and Irish peacekeepers, all making a lasting contribution to Africa. Ireland's strong political relationships with African countries build on these extensive and vibrant people-to-people ties.
The Irish community in Africa adds a unique dimension to our relations with the continent. It ranges from over 30,000 Irish citizens in South Africa to a smaller presence in other parts of the continent. Our wider Irish family includes those who have studied or worked in Ireland, and people with personal, cultural and economic associations to Ireland.
A significant part of the vibrant ties between Ireland and the diverse African continent today are the African communities in Ireland, who make an important contribution to Irish society and to the business, trade, cultural and educational links between Ireland and Africa. That contribution is marked across the country every year on Africa Day, when local authorities host a programme of community-based events celebrating the culture, food, music, and fashion of African residents.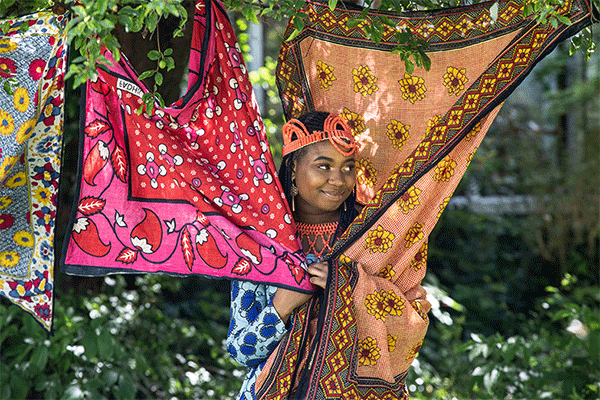 Africa Day 2019 Launch in the Garden of Iveagh House, May 2019‌
EU and Africa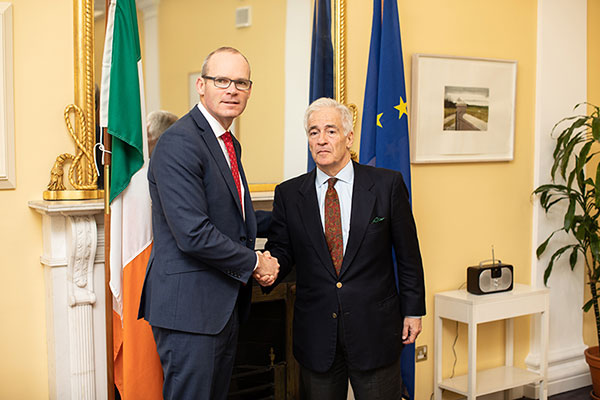 Tánaiste and Minster for Foreign Affairs and Trade, Simon Coveney T.D., and EU Special Representative for the Horn of Africa, Alexander Rondos, in the Tánaiste's office in Leinster House in 2018
The prosperity and security of Europe and Africa are closely intertwined, and Ireland's membership of the European Union is an important element of our engagement with Africa. Ireland strongly supports an ambitious political partnership between the EU and Africa.
The EU is Africa's largest trade, investment and development cooperation partner. Through the Africa-EU Partnership, the EU and the African continents work together to strengthen economic cooperation and promote sustainable development. Common interests include areas such as trade, climate change, global security, and the Sustainable Development Goals (SDGs). The Africa-Europe Alliance for Sustainable Investment and Jobs, launched in September 2018, is working to deepen the EU's economic and trade relationship with Africa through investment and job creation.
Other EU frameworks for cooperation with African countries include the EU Neighbourhood, which encompasses North Africa, and the EU's structured engagement with Sub-Saharan African, Caribbean and Pacific (ACP) countries, which will see a new framework for cooperation concluded in 2020.
In parallel to Ireland's proactive engagement on African issues and the EU-African partnership in Brussels, Ireland works closely with EU Delegations and with other EU Member States across Africa to promote our shared interests and values, and to strengthen our relations with African partners. Irish Defence Forces personnel and civilians participate in EU training and capacity building missions in Mali, Niger and Somalia.