Ceiliúradh (Celebration) at the Royal Albert Hall
As part of President Higgins' State Visit to Britain, a concert "Ceiliúradh" (Celebration)" was held in the Royal Albert Hall on 10th of April and was attended by President and Sabina Higgins and HRH Prince and Princess Michael of Kent
Given the historic nature of the visit and its significance to the Irish community in Britain in particular, but also around the world, the event was streamed live on RTÉ worldwide.
The BBC presented an hour long highlights programme, "Ultimate Irish Music at the Royal Albert Hall: A Presidential Celebration" on BBC 4 at 8pm on Sunday, 13th of April.
"A unique and intimate evening of shared stories, music, song and dance", this concert was the cultural highlight of the visit and "showcased the strong artistic and creative links that exist between Ireland and the United Kingdom, as well as recognising the significant contribution of the Irish community in Britain"
Ceiliúradh included performances from:
Paul Brady
The Gloaming
Glen Hansard
Imelda May
Elvis Costello
In addition to the individual artists who contributed on the night the house band, featured some of Ireland's finest musicians including Liam Bradley, John Carty,Anthony Drennan, Graham Henderson, Donal Lunny, Mike McGoldrick, Paul Moore, Caitlin NicGabhann, Mairtin O'Connor and Brendan Power. The renowned actress Fiona Shaw as well as journalists/broadcasters Dermot O'Leary, Olivia O'Leary and author Joseph O'Connor also took to the stage.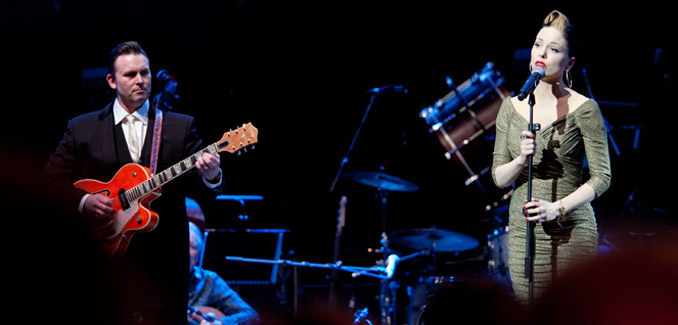 Tickets for the concert sold out quickly and proceeds from these sales will be used towards the support of future Irish cultural projects in Britain. In addition to the members of the public who secured tickets, the 5,000-strong audience included invited guests from across the political, economic, social and cultural sectors, as well as those who have contributed to the Irish community in Britain.
By enabling the broadcast, the Department of Foreign Affairs & Trade, together with RTÉ and Tourism Ireland, have ensured that the Irish diaspora, and lovers of Irish culture around the world, were united with the audience in the Royal Albert Hall to share in this unique event.
Back to features
Read other features on the work we do at home and abroad.