Christmas Truce of 1914
At Christmas time on the Western Front a hundred years ago, soldiers from all sides put their fears and enmity to one side and held out the hand of friendship to each other. We today can draw hope and a valuable lesson from those events: we too must leave our trenches and have the courage to meet each other half-way. And we must be willing to keep doing it.
The former President of Ireland, Professor Mary McAleese, addressed an audience in Iveagh House on the subject of the Christmas Truce of 1914. Professor McAleese was welcomed by the Minister for Foreign Affairs and Trade, Mr Charlie Flanagan TD,. Among the guests, was the British Secretary of State for Foreign and Commonwealth Affairs, the Rt Hon Philip Hammond MP, who was in Dublin for an official visit.
Professor McAleese's address, the fifth in a series of commemorative lectures at the headquarters of the Department of Foreign Affairs and Trade, reflected on the centenary of the Christmas Truce, when troops along Western Front – including soldiers from Ireland – laid down their arms in a temporary ceasefire. It is one of a number of events being organised by the Department to commemorate the First World War.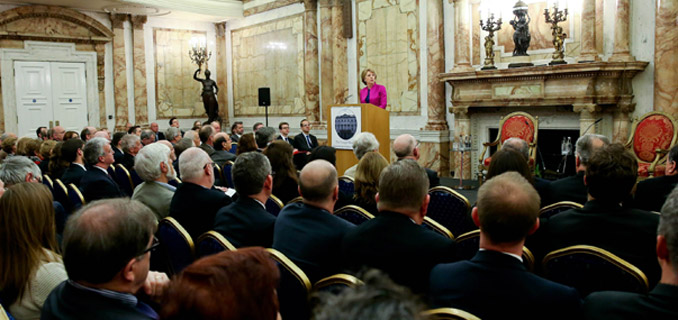 In her address, Professor McAleese recalled the work of the late and great Séamus Heaney in his famous poem 'In Memoriam Francis Ledwidge'. Ledwidge was an Irish Catholic nationalist, who supported the 1916 Rising, and who once lamented being 'called a British soldier while my own country has no place among nations'.
In that poem, Heaney explores Ledwidge's complex identity, and the competing experiences which shaped it, in an attempt to understand not just Ledwidge, but himself. Like Heaney, Ledwidge was a 'literary, sweet-talking, countrified' young man. Tragically, Ledwidge perished in the trenches. Heaney suggests that Ledwidge's loyalty to the Irish nation, notwithstanding what some see as his contradictory decision to volunteer in the British Army, render him something of a 'dead enigma'. Heaney wrote:
I think of you in your Tommy's uniform,A haunted Catholic face, pallid and brave,
Ghosting the trenches with a bloom of hawthorn
Or silence cored from a Boyne passage-grave.
The lecture was followed by a panel discussion, moderated by Dr John Bowman, with Professor John Horne of Trinity College Dublin and Mr Don Mullan, founder of the Christmas Truce and Flanders Peace Field Project. Foreign Secretary Hammond also made a contribution to the evening's discussion, which took place prior to a bilateral meeting with Minister Flanagan
Back to features
Read other features on the work we do at home and abroad.