State Visit to China 2014
This State Visit to China by President Higgins (7-14 December 2014) aims to deepen the political, cultural, business, scientific and educational relationships between the two countries.
China, with a population of 1.35 billion people and a GDP of over €8 trillion, is the world's most populous country and set to become its largest economy.
This three city visit includes Beijing, which is where China's centralised political system is based, Shanghai, China's trading capital and the world's largest port, and Hangzhou, capital of the booming Zhejiang province, and a city of great cultural importance in China.
Ireland is represented by an Embassy in Beijing and Consulates-General in Shanghai and Hong Kong.
Our Embassy and Consulates along with the State Agencies and representatives from our University Sector have organised a number of events throughout the visit to promote co-operation in the fields of culture, food promotion, education, trade and science. Irish businesses and Higher Education Institutions with interests and partners in China are taking part in these events.
During the visit, President Higgins held official talks with President Xi Jinping in the Great Hall of the People in Beijing.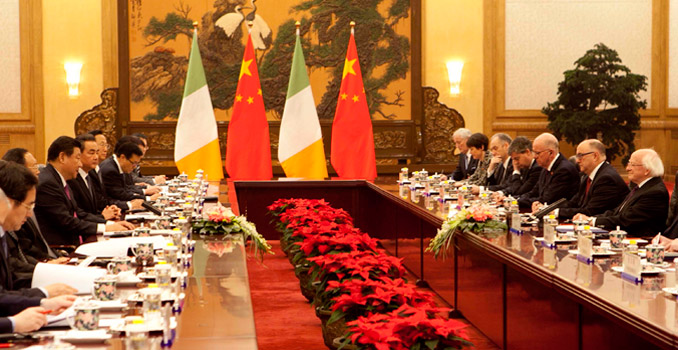 The Presidents witnessed the signing of a number of agreements (a Memorandum of Understanding), including one between Ireland and China to support closer people-to-people relationships, through city twinning, joint research between Irish and Chinese universities, and cooperation in science, technology, and entrepreneurship. As part of the agreement, exchanges between schools and youth groups from both countries will be encouraged. Currently there are twinning arrangements in place between Cork-Shanghai and Beijing-Dublin.
Minister Flanagan also met his opposite number, Foreign Minister Wang Yi. They discussed the strong relationship between Ireland and China; measures to increase trade between the two countries, which currently stands at €8billion per annum as well as common approaches to tackling global issues.
Did you know?
Two-way Ireland-China trade in goods and services is more than €8 billion per annum
Our food and drinks exports to China now amount to over half a billion euro per annum
China is Ireland's second-largest dairy market, and will likely soon become our second-largest market for food
Over 5,000 young Chinese people study in Irish educational institutes in Ireland and China
Irish higher education institutions have over 160 partnership programmes in operation with Chinese institutions
The Joint Technology Capital Growth Fund has US$ 100 million in capital to invest in growing technology companies from Ireland and China
Almost 40,000 Chinese tourists visit Ireland every year - the new British-Irish Visa Scheme will boost these numbers further
To coincide with the State visit to China, a short video has been released in China, with the aim of introducing Ireland to a Chinese audience - the video was developed jointly by a number of Government Departments and State agencies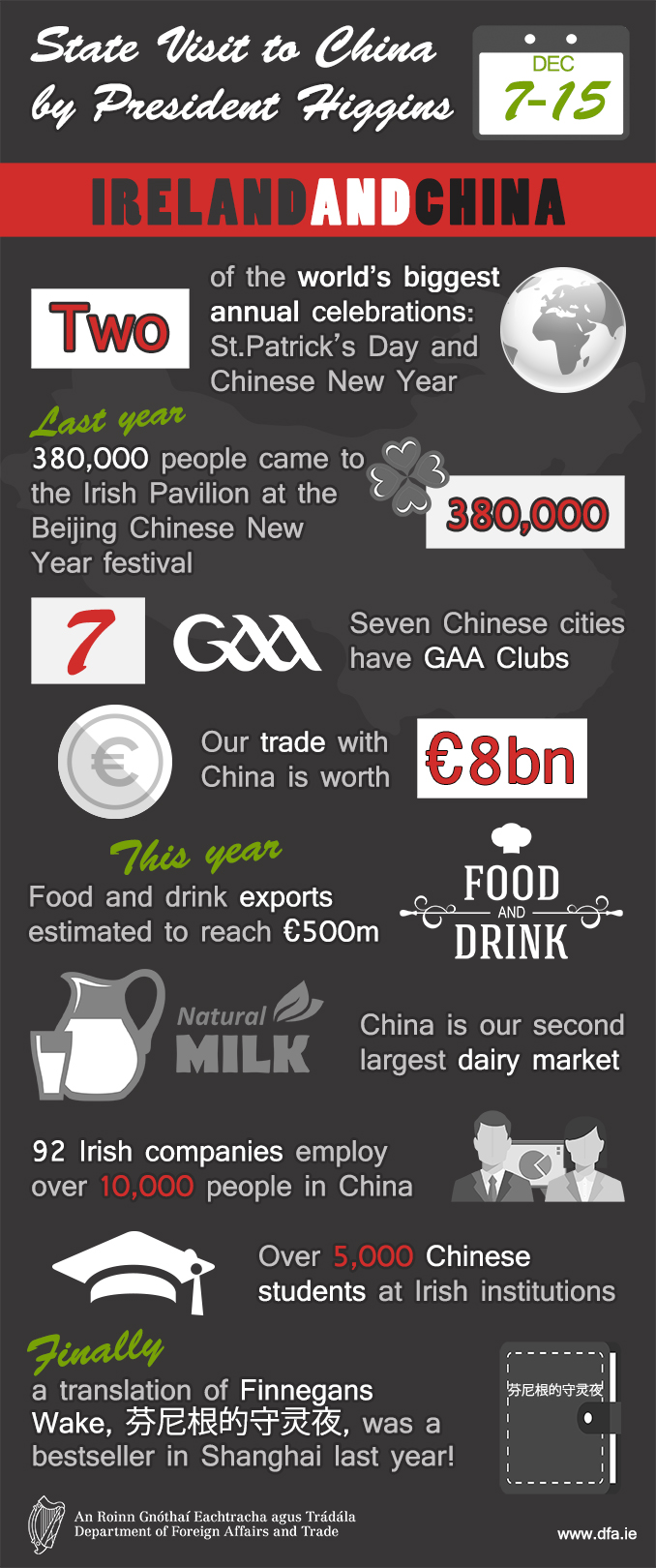 This is the first State Visit by the President of Ireland to China since 2003. It follows the visits by then Vice President Xi Jinping to Ireland, and by the Taoiseach to China, both in 2012. The Taoiseach signed a Strategic Partnership for Mutually Beneficial Cooperation with then-Premier Wen Jiabao. The Partnership provides a clear framework for closer engagement and cooperation in key areas of interest to Ireland, such as science and innovation, culture, education exchange, trade and investment, and agriculture and food. This type of agreement is particularly important in the Chinese political, administrative and business system.
Back to features
Read other features on the work we do at home and abroad.