Situation in Gaza and Israel - What is Ireland's position?
Ireland wants to see a permanent and sustainable ceasefire, the lifting of the blockade on Gaza which is at the root cause of this devastating conflict and ultimately the establishment of a two-state solution which is based on the borders of 1967.
We will continue to address the crisis and humanitarian situation with which we are now confronted in Gaza. This includes addressing the underlying causes of the violence.
Ireland fully accepts that the Government of Israel has the right to defend its people, but this right does not negate the rights of others. Any use of military force in self defence must be in accordance with international humanitarian law, and in particular must be both discriminate and proportionate.
Equally, we condemn the firing of missiles from Gaza into Israel by Hamas and other militant groups.
Ireland has repeatedly underlined that no ceasefire will last without a serious political effort to address the causes of the disastrous situation in Gaza.
It is imperative to bring about an end of the restrictions imposed on the people by the continuing Israeli blockade and the general closing off of Gaza. The continued absence for people in Gaza of any political or economic perspective for the future is a breeding ground for extremist action.
Did you know that Ireland was the first EU member state to declare that a solution to the conflict in the Middle East had to be based on a fully sovereign State of Palestine, independent of and co-existing with Israel?
That was in 1980, in a joint declaration by the Foreign Ministers of Ireland and Bahrain.
Since then, every Irish Government has given a high priority to the achievement of a "two state solution", which is now the accepted goal of all international efforts. The Middle East Peace Process remains a key foreign policy priority for the Government. Along with our EU partners, Ireland supports all efforts to restart comprehensive negotiations for an overall peace agreement.
Our support to the Palestinian People
Ireland has therefore for many years focused in particular on the injustices and infringements of human rights suffered by Palestinians in their homeland. These include the seizure of land for Israeli settlements, evictions of families, destruction of homes and farm buildings, of wells and water tanks, and of trees and crops, as well as movement restrictions and unequal treatment.
We believe that these critical issues cannot wait for an overall peace agreement, and action must be taken to ensure that the viability of a two-state solution is maintained.
How we help
Ireland has directly supported the Palestinian people over more than two decades, and will continue to do so.
We have a longstanding commitment to the development of a viable, sovereign Palestinian state, and our diplomatic efforts are focussed on this goal
Total funding levels have grown steadily in recent years, from a total of €4.49 million in 2005 to €10.7 million in 2013.
This funding provides both emergency assistance to the most vulnerable while also supporting the Palestinian Authority in public service delivery.
Total Irish Aid funding approved to date in 2014 for the Palestinian people amounts to €10 million.
Ireland is a longstanding supporter of the work of the UNRWA
€4 million was provided to UNRWA in 2014 with €1 million of this contribution earmarked for UNRWA's work with Palestinian refugees in Lebanon.
Last month Ireland provided €500,000 to UNRWA's Gaza Emergency Flash Appeal
This is in addition to funding the Palestinian Authority, particularly in relation to education, and individual funding of specific projects by NGOs on the ground.
Why it is needed
The Gaza Strip is home to a population of 1.7 million people, including 1.2 million Palestine refugees, in an area of 360km2 – less than half the size of Louth.
Since 2003, the socioeconomic situation in Gaza has been in steady decline.
With the imposition of the blockade in 2007, the situation has plummeted to crisis levels, where it remains today.
80% of the population is dependent on international assistance.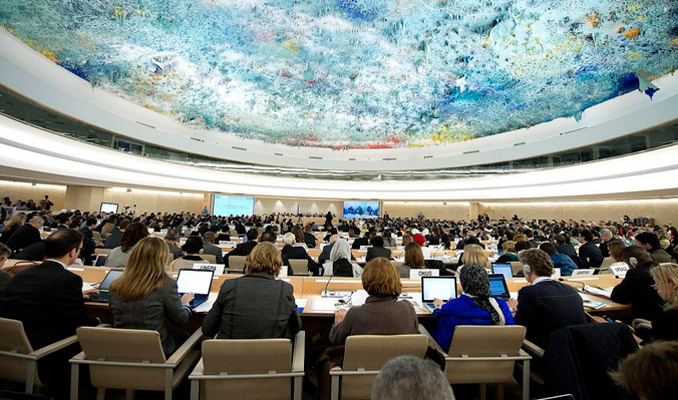 Our decision to abstain at UN Human Rights Council explained
At the UN Human Rights Council, Ireland fully supported and called for any breaches of international law which have occurred to be fully investigated.
We would have preferred if existing structures and the expertise of the UN High Commissioner for Human Rights had been availed of to conduct the earliest possible investigation but will now actively support implementation of the Resolution adopted.
Ireland had very serious reservations about the draft resolution on Israel/Palestine – which is why we abstained along with the other eight EU countries which are members of the UN Human Rights Council. These reservations were not about the general substance, but about the precise terms of the resolution we were being asked to vote on – which is something we must always take into account.
Back to features
Read other features on the work we do at home and abroad.