Minister Flanagan addresses the UN General Assembly
This week Minister Flanagan is attending the 69th General Assembly of the United Nations in New York, where world leaders and Foreign Ministers discuss solutions to some of the most pressing geopolitical issues.
Minister Flanagan discussed Ireland's role in international peacekeeping with United Nations' Secretary General Ban Ki-moon, met with Mary Robinson, UN Special Envoy on Climate Change, and highlighted our continued commitment to eradicating hunger during a special event at the UN General Assembly, which Ireland is co-hosted.
At the UN General Assembly on Monday 29th September, Minister Flanagan set out Ireland's statement of foreign policy priorities before leaders from around the world.
‌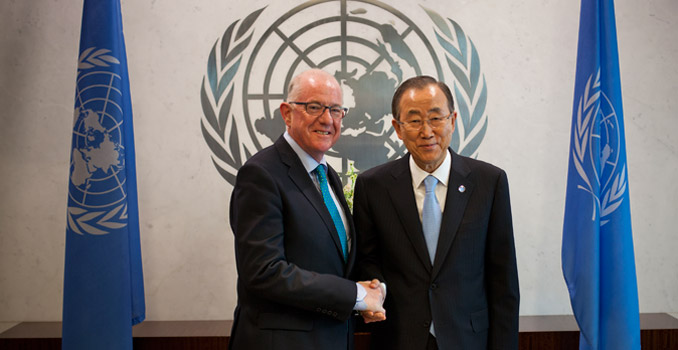 The threat of ISIS
The ongoing threat posed by ISIS dominated discussions when Minister Charlie Flanagan, and fellow EU Foreign Ministers, met US Secretary of State John Kerry on Wednesday.
Speaking from New York, Minister Flanagan said:
"We have all been appalled by the atrocities which ISIS has committed as it wages its campaign of terror across Syria and Iraq. There needs to be accountability for all such atrocities, including through referral of the situation in Syria to the International Criminal Court.
On the third Tuesday in September every year, the United Nations General Assembly opens for the largest diplomatic get-together on Earth

"The threat posed by ISIS in Iraq and Syria has massive humanitarian repercussions in the broader region, with many more thousands of families fleeing their campaign of terror this week alone".
Ireland is one of the most generous contributors to the humanitarian response to the crisis in Syria. Since 2011, Ireland has provided over €28 million in humanitarian support to Syria, delivered through UN partners and NGOs.
Ratifying a key UN Protocol to strengthen the rights of Irish children
Minister Flanagan signed and ratified an important protocol to a UN convention designed to strengthen children's rights - the 3rd Optional Protocol to the UN Convention on the Rights of the Child (UNCRC).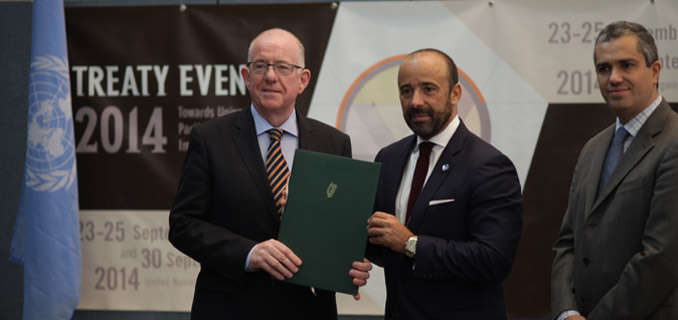 This ratification, one of a range of Government initiatives to strengthen children's rights, will provide Irish children with a route to a United Nations Committee, which can hear complaints in relation to violations of their rights where all available domestic remedies have been exhausted.
The UNCRC and its Optional Protocols provide the most extensive internationally recognised human rights framework for children.
Climate Change
Minister Flanagan met with Mary Robinson, UN Special Envoy on Climate Change, to discuss follow-up to the Special Summit on Climate Change.
During the meeting they discussed, Ireland's work on climate-smart agriculture in our key partner countries in sub-Saharan Africa. Climate -smart agriculture represents a 'triple-win'; increase harvests, strengthen resilience against climate change and wherever possible reduce the carbon footprint. Through Irish Aid, we support climate smart agriculture and building resilience amongst local communities in Zambia, Malawi, Mozambique and Ethiopia. These local solutions can add real value to informing global policy so that we can sustainably combat hunger.
At the Climate Summit in New York, Ireland signalled our intention to join the Global Alliance for Climate Smart Agriculture. The Alliance is a global initiative that brings together governments, civil society and the private sector to share lessons, and build support for climate-smart agriculture.
Co-hosting a major international summit on achieving zero hunger
We co-hosted a major international summit at the UN to galvanise international action to end hunger within a generation, the 'Delivering Zero Hunger' event, along with the Netherlands, Mexico, and the three major UN agencies tasked with tackling hunger, to encourage governments, businesses and civil society organisations to adapt five key actions to eradicate global hunger.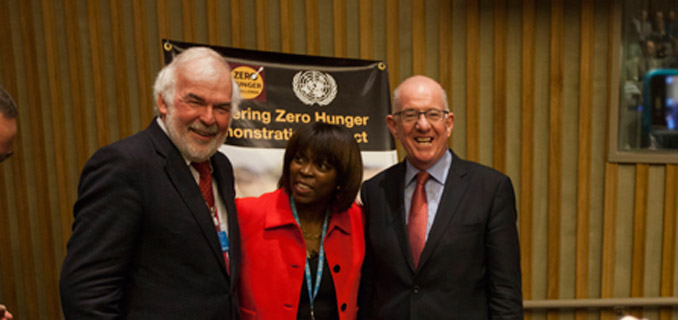 Minister Flanagan signed the UN Zero Hunger Declaration on behalf of Ireland at the event.
Ireland is recognised as a global leader in the battle against hunger. It is at the heart of our aid programme, Irish Aid, and of our foreign policy. We invest 20% of Irish Aid funding in actions to end hunger, focusing in particular on tackling child under-nutrition, which is responsible for the deaths of 8,000 children every day.
The challenge of eradicating hunger within a generation was set by UN Secretary General Ban Ki-moon in 2012. Some 137 countries have committed to pursue the vision of Zero Hunger.
The Zero Hunger Challenge has five targets:
Ensuring no child under the age of two years old is stunted. This means ensuring every child gets enough nutritious food in the 1,000-day window between the start of pregnancy and a child's second birthday.
Enabling all people to access the food they need at all times, including through decent and productive employment, social protection, targeted safety nets and food assistance.
Ensuring sustainable food systems through standards of sustainability for all farmers, agribusinesses, cooperatives, governments, unions and civil society.
Reducing rural poverty through encouraging decent work, and increasing smallholders' income, empowering women, small farmers, fishers, pastoralists and others.
Minimising food losses during storage and transport, and eliminating waste of food by retailers and consumers.
New Government programme to train African peace-keepers announced at summit on Strengthening UN Peace Operations
Speaking at major summit hosted by US Vice President Joe Biden and UN Secretary General Ban Ki-moon in New York, Minister Flanagan said Ireland would draw on our long experience of peace-keeping to help other countries assure regional security.
"In recent years, Irish peacekeepers have gained additional expertise through EU training missions in Mali and Somalia," he said.
Ireland has acquired a proud track record in UN peacekeeping missions over more than 50 years.

"We want to assist prospective partners to enhance their own skills and capacities and to play their part in meeting the challenges of regional peace and security. Our training programme will draw on the widely-acknowledged expertise of Irish peacekeepers and also reflect UN best practice.
"The training will include a specific focus on areas including protection of civilians, gender sensitivity, human rights and leadership training and logistics. There are also niche areas in which Ireland has specific expertise, such as training in countering improvised explosive devices or training for military police."
The African countries will be selected from among those with which Ireland already has a long-established relationship through the Government's development cooperation programme, Irish Aid.
Minister Flanagan said the programme will involve training officers and NCOs who will then have responsibility for training within their own forces.
Detailed planning on the scope, locations and focus of training will now get underway in coordination with the UN, the EU and other contributors.
The summit, Strengthening United Nations Peace Operations, took place against the backdrop of plans by the UN Secretary General for a review of peacekeeping.
Back to features
Read other features on the work we do at home and abroad.