Our trade role
Ireland is open for business and the Government is committed to supporting export growth and encouraging inward investment. Our Embassy network is ideally placed to promote Ireland's economic and trade interests overseas and contribute towards our economic recovery.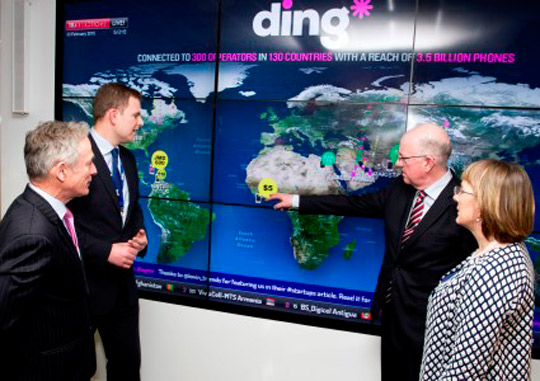 Our trade objectives
Raise Ireland's profile as an attractive location for business investment
Ensure support overseas to investors, exporters, buyers and tourists
Maximise the contribution of the Diaspora to Ireland's economic development
Ireland's trade strategy
The Government Trade Strategy sets out concrete targets in trade, tourism and investment to be met by 2015 as well as a programme of actions to achieve these targets. A review of the strategy was published in February 2014. We work closely with the Department of Jobs, Enterprise and Innovation (DJEI) and other Departments and State agencies in implementing this strategy.
We aim to promote growth and jobs at home by co-operating closely with the State agencies to promote Irish trade, tourism and inward investment.
Trade policy, which deals with the regulation of imports and exports, is dealt with by the Department of Jobs, Enterprise and Innovation.
Promoting Ireland abroad and sharing the Government's economic message is central to the work of the Department of Foreign Affairs and Trade and our Embassy network. Our Ambassadors play a key role in chairing Local Market Teams to ensure a coordinated approach in priority markets, and we work with the following State agencies, which are using their expertise to help people do business with Ireland:
Enterprise Ireland
IDA Ireland (Industrial Development Agency)
Bord Bia
Tourism Ireland
Science Foundation Ireland
Export Trade Council
We coordinate the work of the Export Trade Council, which is responsible for monitoring the Government Trade Strategy.
The Council meets at plenary level twice a year and is chaired by the Minister for Foreign Affairs and Trade, Charles Flanagan, TD.
Other Council members include:
The Minister for Jobs, Enterprise and Innovation
The Minister for Agriculture, Food and the Marine
The Minister for Transport, Tourism and Sport
The Minister for Education and Skills
The Minister of State for Development, Trade Promotion and North-South Co-operation
The CEOs of Enterprise Ireland, IDA Ireland, Bord Bia, Tourism Ireland and Science Foundation Ireland
Officials from other Government Departments and representatives from the private sector.
Joint Economic Commissions
We're responsible for organising and chairing Ireland's Joint Economic Commissions (JECs) with high-growth and emerging market countries. Ireland has separate JECs with China, the Republic of Korea, Saudi Arabia and Russia.
These meetings aim to increase trade and investment and to develop economic, business, scientific and technological co-operation. They are usually held every two years.
Trade missions
Trade missions are a valuable way of developing new and existing markets overseas for Irish businesses. This is particularly important given the value of exports to our economy. We work with the Department of Jobs, Enterprise and Innovation to support Enterprise Ireland's programme of trade missions, which in 2014, includes 18 Ministerial-led visits to developed and high-growth markets. Minister Flanagan and the respective Ministers of State play important roles in supporting Irish companies by leading a number of these trade missions overseas.
The promotion of Irish trade and investment also featured significantly in other high level visits throughout the year, including for example, the State visits by the President to the UK and China in April and December, respectively and visits abroad by the Taoiseach and Cabinet Ministers.
In addition, the promotion and expansion of trade between Ireland and Africa is an important priority of our Africa Strategy, in line also with the overall Government Trade Strategy.
Results
See below a small selection of results brought about by strong Local Market Team and HQ coordination:
Market Access: Local Market Teams continued to push for greater access for Irish products in international markets. Notable examples include Ireland becoming the first European country to be granted full access for its beef in the US market since the lifting of the BSE ban.
State Visit to China: The State Visit to China by President Higgins in December 2014 saw extensive coordination between Embassy Beijing, the Consulate in Shanghai, State agencies and representatives from our education sector. A number of events were organised throughout the visit to promote cooperation in the fields of culture, food promotion, education, trade and science. One positive outcome from this coordination was the signature of a Memorandum of Understanding to boost research, education and technology ties between Ireland and China.
Air Access: Negotiations supported increased capacity and expanded services on air routes to Ireland. A total of 35 new routes commenced from Dublin and Shannon during 2014 with increased frequency on another 37 existing routes.