St. Brigid's Day 2021 at the Irish Perm Rep: Irish Women in the EU Institutions
Event
01 February 2021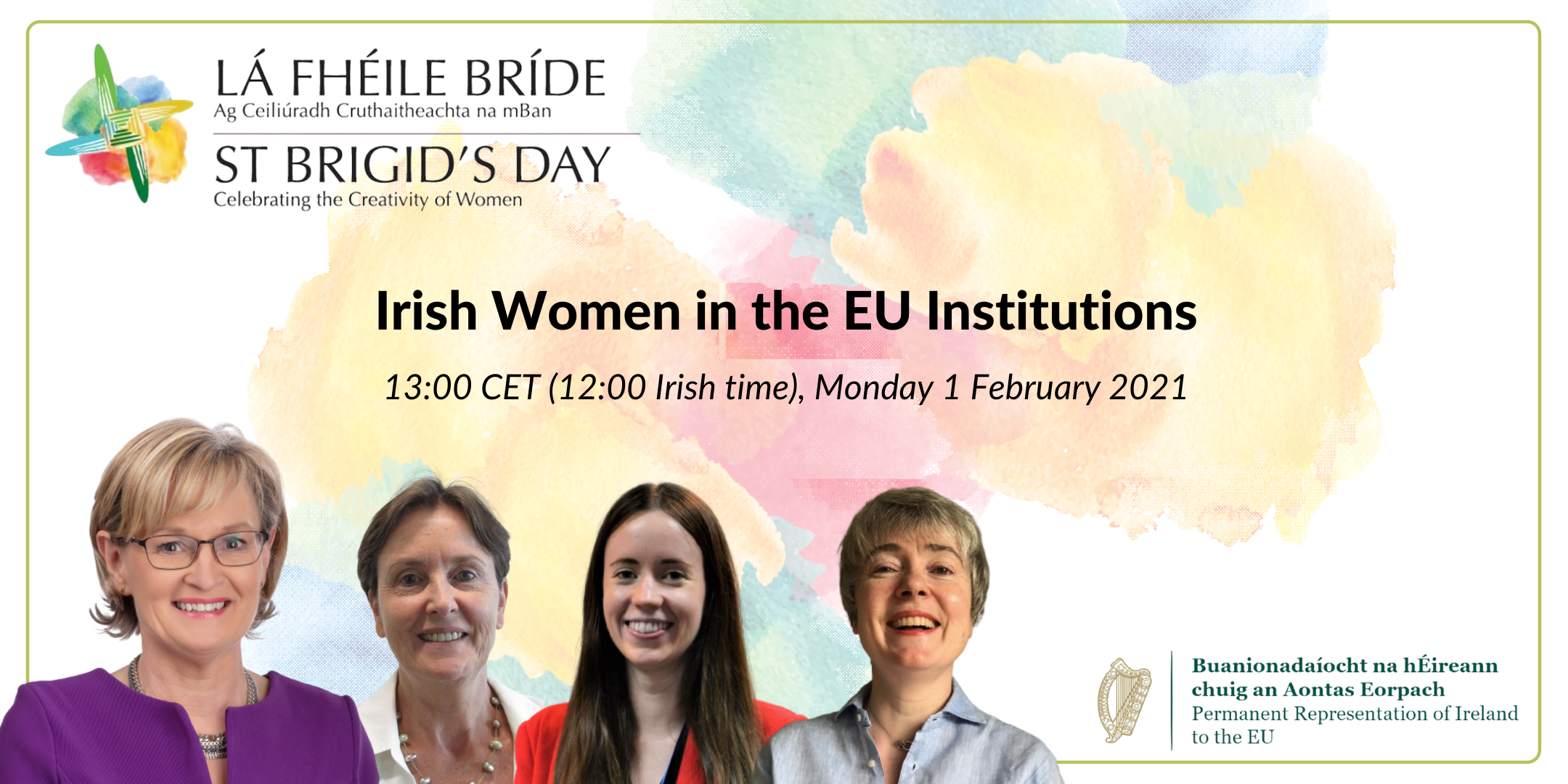 This year, to mark St. Brigid's Day, the Permanent Representation of Ireland is organising an online event highlighting the work of Irish women in the EU. Join us for the second in a new series of EU jobs webinars at 13:00 CET (Brussels time) / 12:00 GMT (Irish time), on Monday 1 February 2021. The event will be livestreamed on the EU Jobs Ireland YouTube page.
The celebration of St Brigid's Day, on the 1st February, is an opportunity to showcase the work of trailblazing, inspirational Irish women who are making their mark across a range of fields. Established as a pilot initiative in Embassy London in 2018, St Brigid's Day has captured the imagination of Irish communities around the world and grown exponentially, with events taking place in 35 cities around the world in 2020.
The event will feature conversations with Mairead McGuinness, Commissioner for Financial Services, Financial Stability and Capital Markets Union, Karen Banks, Deputy Director General in the Commission's Legal Service, and Ellen Flanagan, Junior Professional in the EU Delegation to Malaysia, all of whom will reflect on their experiences of working in the EU. The discussion will be moderated by Maeve Collins, Ireland's Deputy Permanent Representative to the EU, followed by a Q&A session.
During the first week of February, the Permanent Representation will also release a series of short videos featuring Irish women who hold various posts in EU institutions and bodies. They are going to talk about what they do, how they came to be doing it and why we need more Irish women and Irish men in careers in the EU.
If you are interested in a job in the EU or if you would like to know more about the kind of opportunities available in the EU, join us for this second in a new series of EU jobs webinars. To attend this event, please make sure to register before 11:00 CET (Brussels time), on Monday 1 February 2021. Upon registration, you will receive an e-mail with the link to watch the event on the EU Jobs Ireland YouTube page.
Speakers:
Mairead McGuinness

, Commissioner for Financial Stability, Financial Services and the Capital Markets Union

Karen Banks

, Deputy Director-General in the Commission's Legal Service

Ellen Flanagan

, Junior Professional in the EU Delegation to Malaysia

Moderator: Ambassador Maeve Collins

, Deputy Permanent Representative of Ireland to the European Union
Register here: www.eventbrite.ie/e/irish-women-in-the-eu-institutions-registration-137421127291