Launching your EU Career: Opportunities in the field of agriculture and rural development in the EU
Event
02 March 2021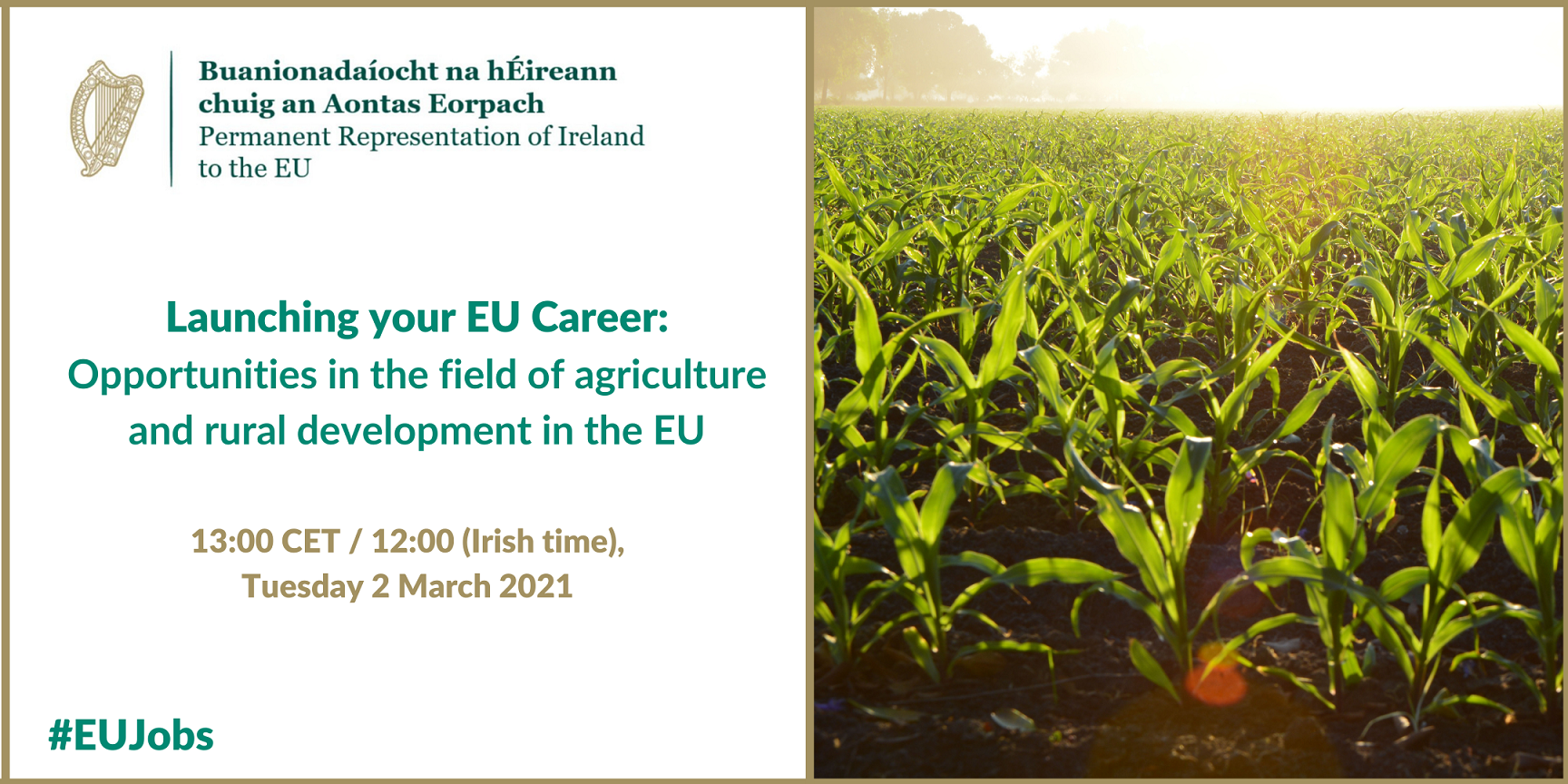 Are you considering a career in the EU and its institutions but don't know from where to start?
The EU has launched a competition looking for specialists in the field of sustainable agriculture and rural development with a deadline of 9 March!
Join us for the fourth in our series of EU jobs webinars where we will provide more information on this competition and give an insight into the work of the European Commission on agricultural policy.
The webinar will take place at 13:00 CET (Brussels time) / 12:00 GMT (Irish time), on Tuesday 2 March 2021.
This is a great opportunity for anyone considering applying for this competition or interested in a career in the EU more generally to gain a first-hand insight into the work of Policy Officers in the European Commission.
During the event we will welcome Michael Scannell, Deputy Director-General in the European Commission's Directorate-General for Agriculture and Rural Development.
You will hear too from Martin Crowley, Agriculture Counsellor at the Irish Permanent Representation in Brussels on Ireland's engagement with EU's agricultural policy, as well as from Pamela Boyle, a Seconded National Expert in the Commission's Directorate-General for Environment who will talk about what she does and how she came to be doing it.
The event will be moderated by Eamonn Mac Aodha, Director of the Parliament and Institutions Section in the Irish Permanent Representation, who will also set out how to apply for this competition and what to expect from the application process. The event will end with a Q&A session.
To attend this webinar, please make sure to register before 11:00 CET (Brussels time), on Tuesday 2 March 2021. You will receive an e-mail with the link to watch the event on the EU Jobs Ireland YouTube page the day before and on the day of the event.
Speakers:
Michael Scannell

, Deputy Director-General, Directorate-General for Agriculture and Rural Development, European Commission

Martin Crowley

, Agriculture Counsellor, Permanent Representation of Ireland to the European Union

Pamela Boyle

, Policy Officer (Seconded National Expert), Directorate-General for Environment, European Commission

Moderator

: Eamonn Mac Aodha, Director, Parliament and Institutions Section, Permanent Representation of Ireland to the European Union