Tús a chur le do Ghairm san AE: Deiseanna do Dhlítheangeolaithe agus do Phrofléitheoirí san AE
Event
12 February 2021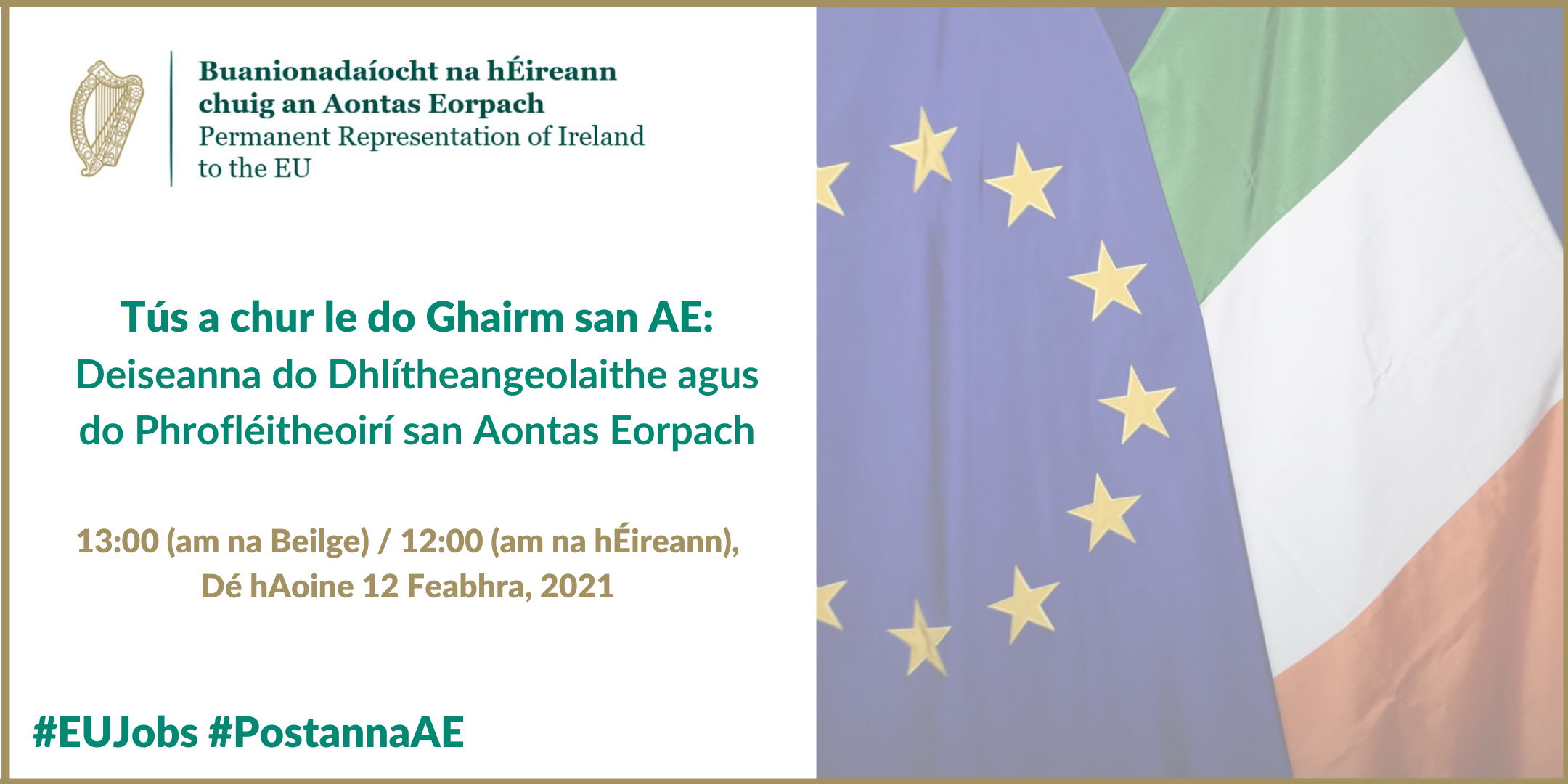 Tús a chur le do Ghairm san AE: Deiseanna do Dhlítheangeolaithe agus do Phrofléitheoirí san Aontas Eorpach
Bígí linn don tríú ceann de shraith nua seimineár gréasáin de chuid an AE maidir le "Tús a chur le do Ghairm san AE: Deiseanna do Dhlítheangeolaithe agus do Phrofléitheoirí san Aontas Eorpach". Is iad an dá chomórtas sin agus na deiseanna eile atá ar fáil do chainteoirí Gaeilge san AE a bheidh faoi chaibidil againn ar an ócáid seo. Tosóidh an seimineár ar 13:00 ALE (Am na Bruiséile) / 12:00 MAG (Am na hÉireann), Dé hAoine 12 Feabhra 2021.
Mar chuid den ócáid, déanfaidh Anne-Claire Gathoye (EPSO) cur síos ar na príomhchéimeanna a bhaineann leis an bpróiseas earcaíochta agus labhróidh Jennifer Moore, Dlítheangeolaí Gaeilge i bParlaimint na hEorpa sa Bhruiséil agus Christopher Finn, profléitheoir Gaeilge (Oifig Foilseachán an AE i Lucsamburg) linn faoina gcuid oibre agus faoin tslí ar thosaigh siad féin amach ar chonair na hEorpa. Cuirfidh Éamonn Mac Aodha (Stiúrthóir, Rannóg na Parlaiminte agus na hInstitiúide, Buanionadaíocht na hÉireann chuig an Aontas Eorpach) an ócáid i láthair agus beidh seisiún Ceisteanna & Freagraí ag an deireadh.
Chun freastal ar an seimineár seo, iarrtar ort clárú roimh 11:00 ALE (am na Bruiséile), Dé hAoine 12 Feabhra 2021, le do thoil. Seolfar r-phost chugat leis an nasc chuig ár leathanach YouTube EU Jobs Ireland, áit a mbeidh tú in ann breathnú air.
-----
Launching your EU Career: Opportunities for lawyer-linguists and proofreaders in the EU
Join us for the third in a new series of EU jobs webinars on "Launching your EU Career: Lawyer-linguist and proofreader opportunities in the EU" where we will provide more information on these two competitions and other opportunities for Irish-language speakers in the EU. The webinar will take place at 13:00 CET (Brussels time) / 12:00 GMT (Irish time), on Friday 12 February 2021.
During the event, you will hear from Anne-Claire Gathoye (EPSO) on the key stages of the recruitment process as well as from Jennifer Moore, an Irish-language lawyer-linguist working in the European Parliament in Brussels, and Christopher Finn, an Irish-language proofreader working in the Publications Office of the EU in Luxembourg, who will talk about what they do and how they came to be doing it. The event, which will include a Q&A session, will be moderated by Éamonn Mac Aodha, Director, Parliament and Institutions Section, Permanent Representation of Ireland to the European Union.
To attend this webinar, please ensure you register before 11:00 CET (Brussels time), on Friday 12 February 2021. You will receive an e-mail with the link to watch the event on the EU Jobs Ireland YouTube page.