DFA Rugby World Cup 2019
Ireland are headed to the Rugby World Cup this year, and if you're following the team through every try, scrum and maul, there's plenty to look forward to when you visit Japan. Here's our breakdown of the key steps to follow to make sure you have the best trip possible.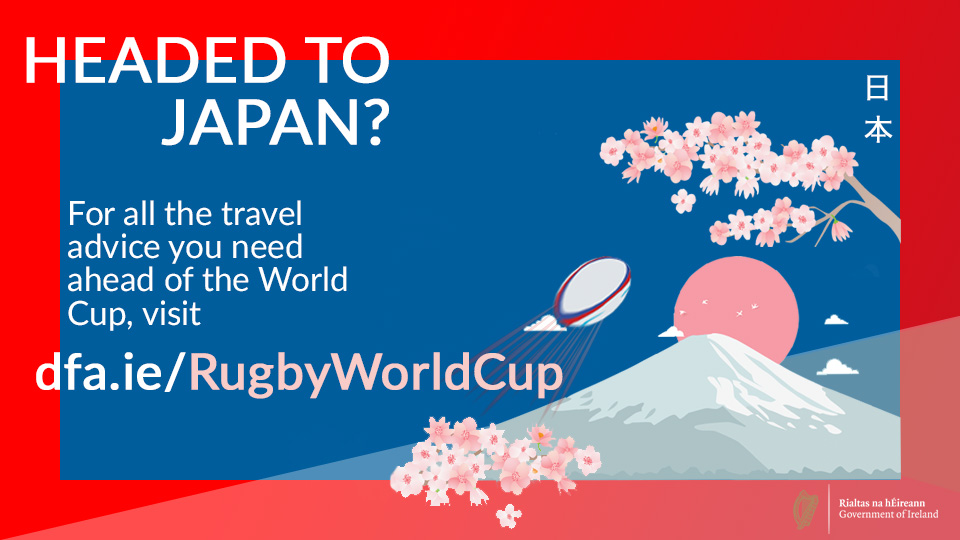 Stay in touch
Our priority is that you stay safe throughout your whole trip to the Rugby World Cup, hopefully all the way to the final!
While staying in Japan, be sure to keep in contact with friends and family back in Ireland. Call, text, or post on social media, and ensure your loved ones have information about your itinerary and travel plans for the duration of the Rugby World Cup.
You can follow our Embassy in Japan on Twitter and on Facebook to keep up with the latest news and events taking place during the Rugby World Cup.
In the event of an emergency, key information will be shared through these channels.
Follow our travel advice
Detailed travel advice is available on our website and via our free TravelWise app.
We strongly recommend you take the time to read it before travelling to Japan for the Rugby World Cup. You should also use the 'Alert Me' feature so you can receive push notifications to your phone in the event of a natural disaster or other crisis.
Download the app
If you want to get to know the venues for the Rugby World Cup, or even some ideas of what to get up to when you're in Japan, you can visit the Government of Japan's dedicated website.
If your passport has expired, the fastest and easiest way to renew is by using the online Passport Renewal Service.

If you have an Irish passport, you can enter Japan as a visitor for up to 90 days without a visa. You may need to provide evidence of a return or onward ticket, and your passport must be valid for the proposed duration of your stay.
We recommend you take a number of photocopies of your passport with you, and carry a copy at all times. Japanese law requires you to present your passport when requested by a police officer or other authorised officer, and inability to do so can result in you being taken in for questioning.
If your passport is lost or stolen, you should report it at a police station and ensure that you receive a police report. More information on entry and immigration procedures is available on our travel advice page.
Talk to our embassy
Services
The Embassy of Ireland in Tokyo has been gearing up for the Rugby World Cup for a while, and will be on hand to help you if you need consular assistance.
We can:
Issue Emergency Travel Documents.
Provide support if you have been hospitalised or arrested.
Contact Family and Friends.
Provide a list of English Speaking local lawyers.
We cannot:
Provide any funds
Give legal advice
How to get in touch
Embassy of Ireland
Ireland House
2-10-7, Kojimachi
Chiyoda-ku
Tokyo 102-0083
Japan
Tel: +81 3 3263 0695
Fax: +81 3 3265 2275
To call the emergency services in Japan, dial 110 for police or 119 for fire and ambulance services.
Follow the Rules
If you're pulling on the green jersey in support of the team, you're representing Ireland at the Rugby World Cup too. Be sensitive to local customs, traditions and practices in Japan, as your behavior may be seen as improper, hostile or may even be illegal.
Everyone will be in a festive mood as the Rugby World Cup gets underway, but remember that the local laws apply to you as a visitor, and it is your responsibility to follow them.
Loud, boisterous behaviour is not as acceptable in Japan as it is in Ireland. Penalties for breaking the law tend to be much more severe than a short spell in the sin bin, and are harsher than they are at home in Ireland.
Avoid unnecessary risks, drink responsibly and behave respectfully when engaging with local authorities in Japan, including local law enforcement agencies. Arrests for minor offences can result in extended periods of detention.
Illegal drug use is a serious crime in Japan and can lead to long prison terms, stiff penalties or deportation. There is a zero tolerance approach taken to all illegal drug use in Japan and the consequences will be severe.
Historically, tattoos have links to organized crime in Japan, and you may be refused entry to some locations such as hot springs and public baths if you have tattoos on display.
Japan is a country with generally low crime levels, however you should always take sensible precautions and maintain vigilance.
Cash and Banking
Japan is a cash-based country, and the currency used is the Yen. ATMs that accept overseas cards are generally available, however you should get in touch in with your bank before travelling to ensure you won't have any difficulties accessing cash during your stay, and that your cards will be valid when you arrive to get your Rugby World Cup adventure underway.
Medication
There are restrictions on bringing certain over-the-counter and prescription medicines into Japan, including types of allergy and sinus medication.
There are a number of English language clinics available in Japan should you need to visit a doctor, but it may not always be possible to obtain the same brand-name medication as you get at home. You may also wish to carry a laminated card in English and Japanese which states what items you are prescribed.
Earthquakes, typhoons and tsunamis
Japan is in a very active earthquake zone and earthquakes of various sizes occur frequently throughout the country.
The Japanese typhoon season runs from June to October, with the period between August and September seeing the highest level of activity, and typhoons will often shut down transport links.
Information on what measures to take in the event of an earthquake or natural disaster is available from a number of sources: