EU Traffic Lights Approach to Travel
On 13 October, Member States adopted the EU Recommendation on a coordinated approach to travel restrictions in the context of COVID-19. This 'traffic lights' approach provides for regions across the European Union (EU) and European Economic Area (EEA) to be categorised as green, orange, red or grey, on the basis of the risk levels associated with COVID-19. On 28 January 2021, a new dark red category was introduced on the weekly published map for areas where the COVID-19 virus is circulating at very high levels including because of more infectious variants. Further information is available on the Re-Open Europa website.
A combined indicator map is published each week by the European Centre for Disease Prevention and Control (ECDC), based on agreed criteria including the 14-day cumulative incidence rate, testing rate and testing positivity rates.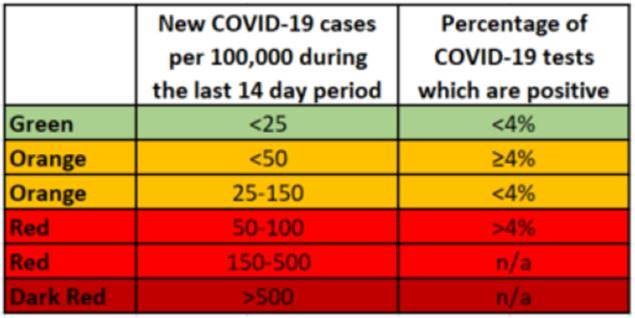 ‌
The countries below are included in the maps published by the ECDC.
Austria
Belgium
Bulgaria
Croatia
Cyprus
Czech Republic
Denmark
Estonia
Finland
France (and its overseas territories and regions)
Germany
Greece
Hungary
Iceland
Italy
Latvia
Liechtenstein
Lithuania
Luxembourg
Malta
Netherlands
Norway
Poland
Portugal
Romania
Slovakia
Slovenia
Spain
Sweden
Information about entry restrictions currently applied by Member States to passengers travelling from Ireland is available on our country-specific travel advice pages. It should be noted that restrictions are likely to change over time. This website will gradually provide more information as it becomes available.
Health Protection Surveillance Centre