Dara Murphy, TD
Minister of State for European Affairs, EU Digital Single Market and Data Protection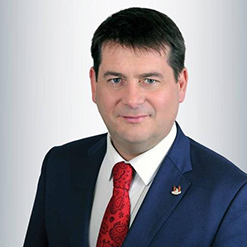 Dara Murphy T.D. is the Minister of State for European Affairs at the Department of Foreign Affairs and Trade and the Department of the Taoiseach. He is also Minister of State for the EU Digital Single Market and Data Protection at the Departments of the Taoiseach and Justice and Equality.
He was re-appointed to the role in May 2016, having served as Minister of State for European Affairs and Data Protection from July 2014.
First elected to Dáil Éireann in February 2011 as the Fine Gael T.D. for Cork North Central, he was re-elected in February 2016. In 2015 he was elected a Vice President of the European People's Party, Fine Gael's European affiliate and Europe's largest political group.
During the 31st Dáil, he served as Vice-Chair of the Oireachtas Joint Committee on European Union Affairs and a member of the Joint Committee on Finance, Public Expenditure and Reform. He also served as Chairman of the Fine Gael Committee on European Affairs, Foreign Affairs and Trade.
Dara Murphy was Lord Mayor of Cork from 2009 to 2010. He first became a Fine Gael public representative in June 2004 when he was elected as a member of Cork City Council, where he served until 2011. During his time on the City Council he was chair of Cork Policing Committee and was a member of the Cork Docklands Committee. He was appointed to the National Economic and Social Council by former Taoiseach John Bruton for the period 1995 to 1998.
Dara has a background in business, having been self-employed for twenty years. He holds a degree in Economics from University College Cork and has a good command of Irish, French and German. He lives with his wife Tanya in his native Cork. They have three daughters, Isobel, Sophie and Nicole.