Celebrating the the Hidden History of Irish Emigration
Event
17 June 2022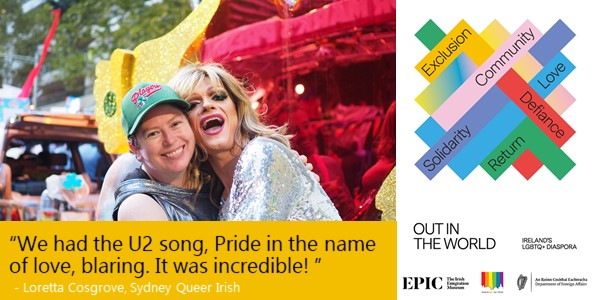 Across generations, Irish LGBTQ+ people have emigrated and found opportunities to live and love abroad. This summer, the Consulate General of Ireland in Edinburgh and our partners will celebrate the hidden history of Irish love and emigration through a range of exciting events an exhibition and events.
Join us in celebrating these stories.
The Scottish Storytelling Centre will host the Out in the World exhibition in partnership with the Consulate General of Ireland, Edinburgh. This exhibition, created by EPIC The Irish Emigration Museum highlights twelve stories from the vast history of Ireland's LGBTQ+ diaspora with themes of exclusion, community, love, defiance, solidarity and return. Out in the World has already been exhibited to great acclaim in Dublin, Chicago, and San Francisco, and we are proud to bring it to Scotland. Out in the World will be open free of charge to visitors during the Scottish Storytelling Centre's opening hours from Tuesday, 21 June until Sunday, 24 July.
On Sunday 10 July, the Consulate General will host a screening of the fascinating documentary Edward Carson and the Fall of Oscar Wilde at the Scottish Storytelling Centre, followed by a panel discussion with the filmmakers, the Hole in the Wall Gang, chaired by Nick Sheridan of BBC Scotland. The evening will conclude with a light reception in the exhibition space. Tickets are free via Eventbrite: https://bit.ly/IrishLGBTQ

The following morning, 11 July, a two-day conference hosted by the University of Edinburgh, 'Ireland Sexualities in History' begins. The conference will seek to further expand our historical knowledge and understanding of sexualities in Ireland's history, a subject which still remains a niche subject within academia. Public attendance is permitted via Zoom. Tickets are free and registration is required via Eventbrite: Ireland Sexualities in History Tickets, Mon 11 Jul 2022 at 09:30 | Eventbrite
For more information on these event and others held by Consulate General of Ireland please follow our social media accounts @IrlScotland on Twitter and Facebook.