Mandatory Hotel Quarantine for Arrivals to Ireland from Jordan
News
02 April 2021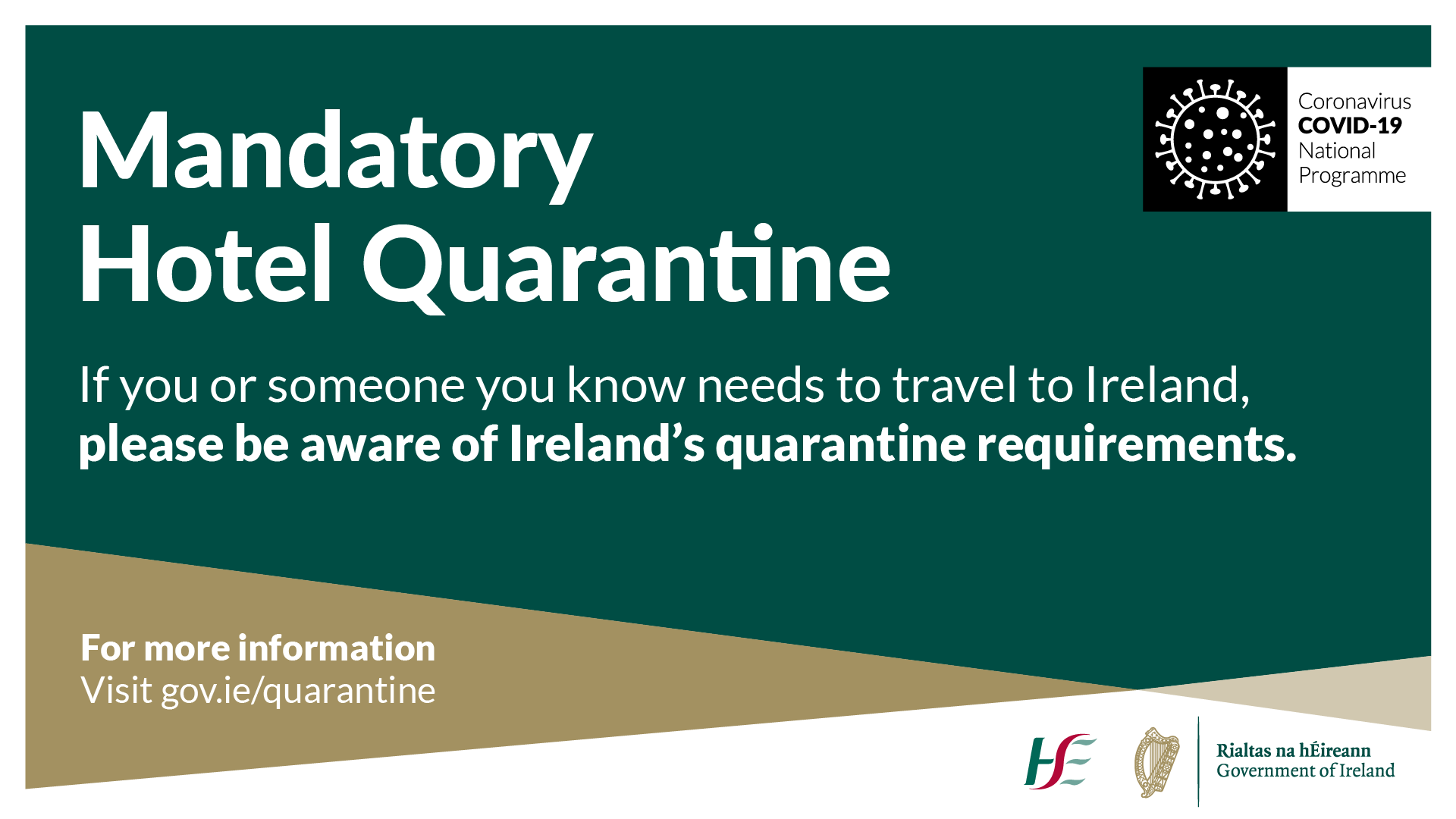 Quarantine Requirements on Arrival to Ireland
Dear Irish Citizen,
Please be aware that yesterday that, in the context of controlling the spread of COVID-19 infections in Ireland, the Irish Government took the decision to increase the number of 'at risk' countries to be added the list of designated States the must complete Mandatory Hotel Quarantine on arrival in Ireland.
Jordan has now been added to this list.
Therefore, all people arriving to Ireland from Jordan after 4am Tuesday 6th April will be required to complete Mandatory Hotel Quarantine for a period of at least 10 days.
I realise that this will cause a level of frustration for some of you who were planning on travelling to Ireland soon.
The Embassy does not have any indication as to how long Jordan will be designated an at risk country, any potential removal from the list will be based upon the epidemiological situation in Jordan and a decision made by the Department of Health and the Irish Government.
There are some very limited exemptions to Mandatory Hotel Quarantine which can be found here.
It is important to note that the Embassy does not have sanction to provide an exemption to Mandatory Hotel Quarantine – this can only be done by directly applying to Mandatory Hotel Quarantine Authorities on arrival into the State.
Please review the list of designated at risk States – if you transit through any of these States (including UAE and Qatar) on route to Ireland, you will still be subject to Mandatory Hotel Quarantine.
As has been the case for some time, travel to Ireland is only permitted on an essential basis. Therefore the Embassy currently is not issuing any visas to Ireland, emergency/priority visas are accepted only on a case by case basis, granting authority decision is made by the Department of Justice.
Further information can be found at:
Embassy of Ireland website: Jordan - Department of Foreign Affairs (dfa.ie)
Travelling to Ireland during a pandemic/Gov.ie: gov.ie - Travelling to Ireland during the COVID-19 pandemic (www.gov.ie)
Visas: Home Page (inis.gov.ie)
Mandatory Hotel Quarantine: gov.ie - Mandatory hotel quarantine (www.gov.ie)
I appreciate this requirement will present difficulties for all citizens travelling to Ireland from Jordan until the measure is rescinded. Our Embassy will keep you updated with any further developments over coming weeks and months.
Any queries can also be sent to the Embassy at AmmanEM@dfa.ie , and we will respond to you as soon as possible.
Best regards
Vincent O'Neill
Ambassador
Mandatory Hotel Quarantine