HE Austin Gormley Officially Accredited as Ireland's Ambassador to South Africa
News
20 September 2023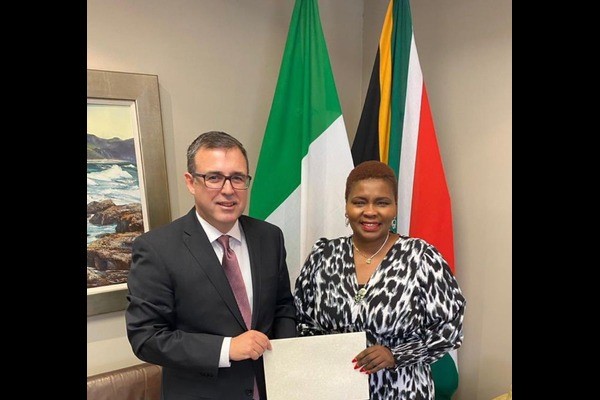 HE Austin Gormley presenting copies of his credentials to South Africa's Chief of State Protocol, HE Ambassador Nonceba Losi, at DIRCO in Pretoria.
The bonds between Ireland and South Africa date back many centuries, and the spirit of this relationship is a sense of shared values and support for the struggle for democracy, freedom, human rights and social justice, said HE Austin Gormley after being officially accredited to serve as Ireland's Ambassador to South Africa.
"The relationship between Ireland and South Africa runs across many strands including historical ties, business links, educational exchanges, and cultural and sporting connections. The deep and longstanding connections and warm friendship between Ireland and South Africa have endured across many changes in both countries and will continue to do so."
HE Gormley then expanded on these connections:
1.Shared Values and Support: The warm relationship between our two countries is rooted in shared values, including a commitment to democracy, independence, human rights, and social justice. This shared commitment was particularly evident during the campaign against apartheid, during which Ireland played a significant role in building international support for sanctions against the then regime. Ireland was the last country in the European Union to establish diplomatic relations with the Republic of South Africa just in advance of the first democratic elections in 1994.
"Our shared values are reflected in support in South Africa for organisations promoting women's rights and the struggle against gender-based violence as well as those involved in conflict resolution and the promotion of international peace and security."
2.Economic and Trade Relations: Economic and trade exchanges between Ireland and South Africa are a cornerstone of our relationship. The Embassy supports business networking through Business Ireland Southern Africa (BISA) and also provides direct advice and support to Irish companies in the South African market. Enterprise Ireland has an office in Johannesburg and has a wealth of knowledge to support client companies, while Enterprise Ireland, IDA, Bord Bia also have a presence here. The Embassy works closely with Irish state agencies in promoting trade, investment and tourism flows in a "Team Ireland" approach.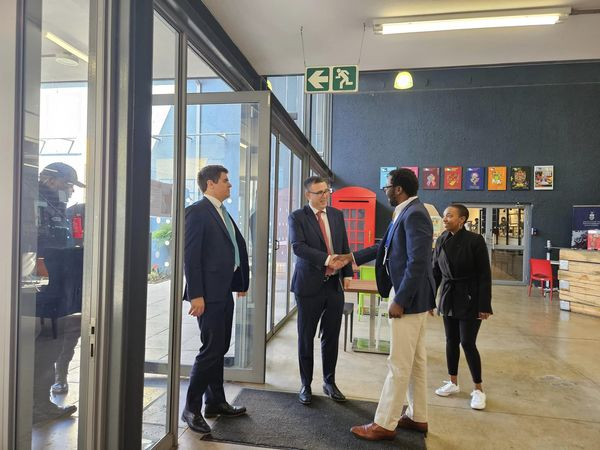 Ambassador Austin Gormley being welcomed by Edwell Gumbo, Head of Enterprise Development at
Tshimologong Precinct at WITS University.‌
"The Embassy team is committed to fostering innovative new collaborations including between young South African and Irish technology entrepreneurs through the recently launched Irish Tech Challenge South Africa in partnership with Tshimologong Precinct and Dogpatch Labs in Ireland."
3.Educational and Skills Development: The Embassy actively supports educational and skills development initiatives in South Africa. The Kader Asmal Fellowship Programme offers opportunities for young professionals from South Africa and neighbouring countries to study at Masters level in Ireland.

"This reflects a commitment to investing in the skills and development of the youth in South Africa."
4.Research Partnerships: Universities from both countries are engaged in research partnerships, as exemplified by the Maxeke-Robinson Studies Chair hosted by the University of the Western Cape in partnership with Trinity College Dublin. There is a strong focus also on promoting research collaborations between universities of technology and historically disadvantaged universities in South Africa and technological universities in Ireland through the THEA/THENSA partnership. These collaborations demonstrate the mutual interest in academic and research exchanges.
5.Cultural and People-to-People Connections: To this day, Ireland and South Africa enjoy vibrant people-to-people connections. This includes a large Irish diaspora living in South Africa and a significant number of people moving between both countries annually.

"These connections are multifaceted, encompassing business, sports, and family ties."
6.Consular and Cultural Activities: The Embassy serves the Irish diaspora in Southern Africa through its consular and outreach section and engages in cultural and business networking activities. Irish citizens are encouraged to register with the Embassy to stay informed about activities and events, fostering a genuine sense of community.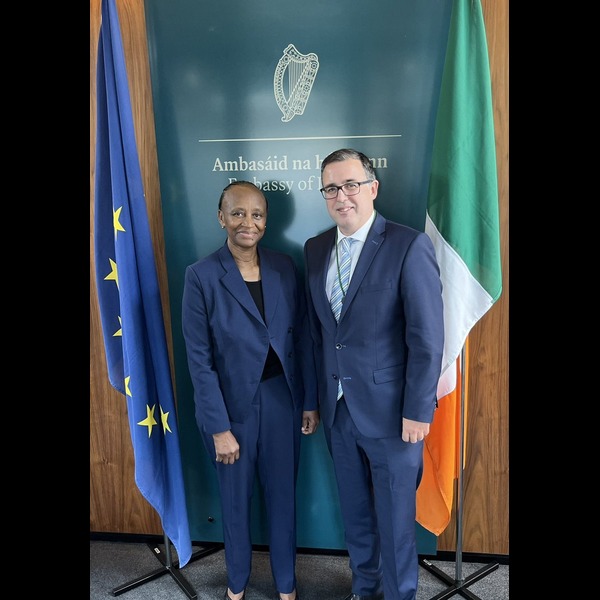 Ambassador Austin Gormley and the Honorary Consul of Ireland in Lesotho, Ms Mannete Malethole Ramaili.‌
The Embassy of Ireland in the Republic of South Africa is also accredited to the Republic of Zimbabwe, Mauritius, the Kingdom of Lesotho and the Republic of Botswana, as well as the South Africa Development Community (SADC).
"I am committed to further strengthening bilateral relations between Ireland and each of these countries and with SADC. This vocation is strongly supported by Irish citizens who call these countries and South Africa 'home'."
Ambassador Gormley also paid tribute to the role played by various Irish organisations in the region.

"Our work is greatly amplified by the voluntary work of Irish associations and the tremendous contribution of Irish religious organisations and NGOs and I look forward to getting to know our partner organisations and collaborating closely in the months and years ahead. I eagerly anticipate as well travelling across this wonderful country and region and meeting people from all walks of life."
This rich and diverse relationship, Ambassador Gormley added, will continue to evolve and strengthen over time. "As Ambassador, I look forward to further deepening the very warm and deep bilateral ties between Ireland and Southern Africa in the years ahead."