Video: SABC Interview - Irish Tech Challenge South Africa
News
18 September 2023
Embassy of Ireland Trade and Education Counsellor Paul Deane and Tshimologong Head of Enterprise Development Edwell Gumbo unpacked the Irish Tech Challenge South Africa 2023 on SABC Weekend Live on September 17 2023.
Mr Deane outlined how the programme aims to fuse Irish technology expertise with the innovation of South African tech entrepreneurs. "The Irish Tech Challenge is rooted in promoting innovation, fostering technology development, and ensuring effective technology deployment within South Africa." Deane added that the iniative speaks directly to the the barriers faced by South African tech entrepreneurs ready for global scalability: limited resources, high tech costs, and network and infrastructure access.
The five winning entrepreneurs will receive not just financial aid, Deane pointed out, but also premier access to Ireland's vast technological expertise and influential networks to bolster their growth. Ireland is the second largest exporter of computer and IT services in the world and is home to nine of the top 10 US tech companies and the top five global software companies, and has produced seven home-grown tech unicorns.
Gumbo explained that the Tech Challenge offers a funded and curated business networking trip to Ireland with access to the country's top business ​​leaders, access to the Irish tech ecosystem ​​with potential opportunities for further funding; and ​acceleration support and a global scaling strategy in collaboration with Dogpatch Labs in Ireland.
The Irish Tech Challenge South Africa places special emphasis on encouraging applications from women, young entrepreneurs, persons from historically disadvantaged communities, and startups aligned with the UN Sustainable Development Goals (SDGs).
Ambassador-designate Gormley Visits Tshimologong Precinct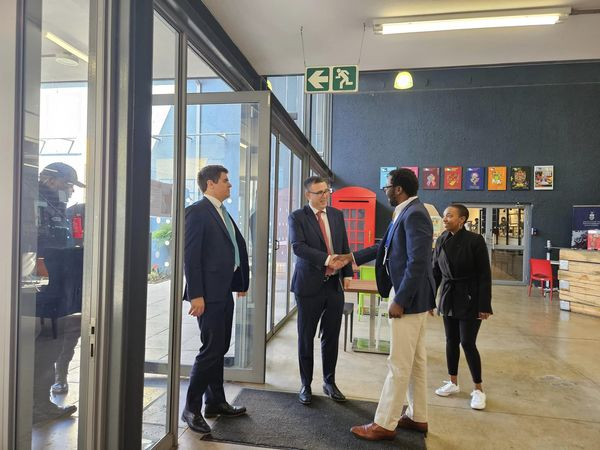 In the lead up to the interview, Ambassador-designate Austin Gormley toured the Tshimologong Digital Innovation Precinct, the Embassy's implementing partner of the Irish Tech Challenge South Africa 2023. Mr Gormley held discusions with Mr Gumbo, and also engaged 2022 Tech Challenge Alumni as well as tech entrepeneurs housed at Tshimologong.