Ireland Tech Challenge South Africa 2023 Edition Launch
News
02 September 2023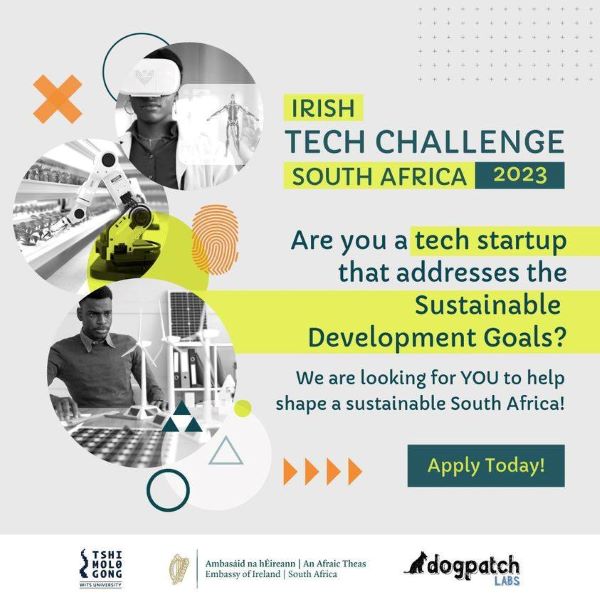 Looking to propel your tech start-up to new heights? Then the Irish Tech Challenge South Africa is your chance to seize the moment and do just that while making global impact.
The programme offers pre-acceleration support to tech startups, and provide you with access to up to €10,000 in seed funding, partners and markets in Ireland and beyond.
Collaborative initiative: Spearheaded by the Embassy of Ireland in South Africa, in partnership with the Tshimologong Digital Innovation Precinct, the Technology Innovation Agency and Dogpatch Labs Ireland, the programme aims to fuse Irish technology expertise with the innovation of South African tech entrepreneurs.
Focus on innovation: The Irish Tech Challenge is rooted in promoting innovation, fostering technology development, and ensuring effective technology deployment within South Africa.
Embracing diversity: With a special emphasis on encouraging applications from women, young entrepreneurs, persons from historically disadvantaged communities, and startups aligned with the UN Sustainable Development Goals (SDGs).
Global expansion support: The chosen entrepreneurs will receive not just financial aid, but also premier access to Ireland's vast technological expertise and influential networks to bolster their growth. Ireland is the second largest exporter of computer and IT services in the world and is home to nine of the top 10 US tech companies and the top five global software companies, and has produced seven home-grown tech unicorns.
Overcoming challenges: The initiative understands the barriers faced by tech entrepreneurs ready for global scalability: limited resources, high tech costs, and network and infrastructure access.

So, If you're a tech startup in the Circular Economy playing in the Green TechMed/Health/Bio-Tech, Ed-Tech, or WASH (Water, Sanitation, Hygiene) space, we would love to hear from you. That said, applications from all tech sectors are welcome to apply.
For more information, visit: Irish Tech Challenge - Tshimologong