Lifting of the Visa Requirement for the United Arab Emirates (UAE)
News
24 January 2018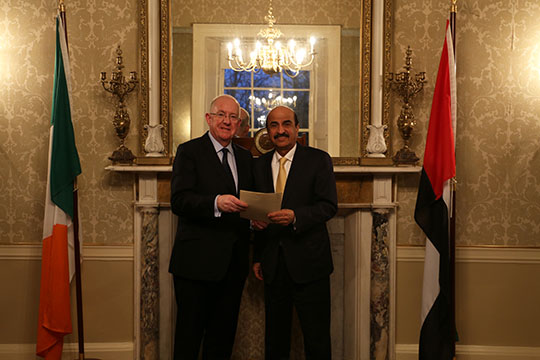 Lifting of the Visa Requirement for the United Arab Emirates (UAE)
The Minister for Justice and Equality of Ireland, Mr Charlie Flanagan T.D., announced the lifting of the visa requirement for citizens of the United Arab Emirates (UAE) travelling to Ireland with effect from the 31st January 2018. He has signed an Order to give effect to this decision.
Minister Flanagan, who led a trade mission to United Arab Emirates as Minister for Foreign Affairs and Trade, said the removal of visa requirements is a very significant step which will facilitate Ireland's growing trade, tourism and business relationships with the UAE. It represents a further strengthening of the strategically important relationship between the two countries and will foster increased cooperation across a wide variety of areas including innovation, trade, investment, financial services, food, education, healthcare, aviation and technology.
The Minister for Justice and Equality, Mr Charlie Flanagan T.D. said
"As Minister for Foreign Affairs and Trade, I led a trade mission to UAE, made an official visit there and welcomed the Minister of Foreign Affairs and International Cooperation of the United Arab Emirates, HH Sheikh Abdullah bin Zayed Al Nahyan to Dublin. Excellent air-links between our two countries are facilitating growing partnerships in trade, education and tourism in particular. A large number of Irish citizens now live in the Emirates and many Irish companies are active on the ground where we have a busy Embassy promoting Irish interests. The UAE is a key economic partner for Ireland and one of our priority markets. I am very pleased we have been able to lift the visa requirement for citizens of the UAE who wish to travel to Ireland and we look forward to welcoming increased numbers of Emirati business people, students and tourists who will travel to Ireland following the lifting of the visa requirement".
The Ambassador of Ireland to the United Arab Emirates, H.E. Paul Kavanagh said
"Embassy of Ireland in the United Arab Emirates, including the regional Visa Office alongside Tourism Ireland, are delighted to echo the announcement made by the Minister for Justice and Equality, Mr Charlie Flanagan, T.D.
This is a big day for developing ever closer ties between Ireland and the United Arab Emirates in business, education and especially in tourism.
Ireland is an attractive and highly accessible destination for Emirati travellers and their families. The lifting of Ireland's visa requirement for Emirati nationals means that it has never been easier for them to visit our beautiful green island. Our warmest welcome awaits them".
Niall Gibbons, Chief Executive, Tourism Ireland said
"The Irish Government has worked hard with the United Arab Emirates to introduce visa free travel for UAE nationals coming to Ireland. This is a historic step for Irish-Emirati relations and one which we hope will encourage more Emiratis to visit Ireland. Ireland and the United Arab Emirates share many common values; offering a warm welcome to people from around the world, the importance of family and a desire to pioneer new ways of working and living that will benefit generations for years to come. We look forward to showcasing the beautiful island to our Emirati friends."
Notes to Editors
The Order - Immigration Act 2004 (Visas)(Amendment) Order 2018 – will come into effect on the 31st January. From this date citizens of UAE, who are holders of a regular UAE passport and who are travelling to Ireland, will no longer have to obtain a visa prior to travel (the visa requirement for diplomatic and special passport holders was previously lifted in 2015).

The UAE is an important trading partner for Ireland. Total trade in 2015 (the most recent year for which full figures are available) was valued at €1.635 billion, and Ireland has a very favourable trade balance. The long-term trend is very positive; trade in goods has expanded by about €300 million (160%) over the past decade.

The UAE is a key market for Irish services exports in construction, consultancy and training, and there are a number of Irish companies active in the UAE, and the Gulf region more widely.

Dublin Airport has developed as a major international hub. Ireland and the United Arab Emirates are well connected, with almost 30 flights operating per week, allowing Irish and Emirati business people, tourists and students to travel easily between the two countries.

The Department of Justice and Equality opened a regional Visa Office in the Embassy in Abu Dhabi in 2010, as a hub for visa applications from 15 countries. UAE residents are the second largest group of Middle East-based recipients of Irish visas.
Tourism Ireland is the organisation responsible for promoting the island of Ireland overseas as a leading holiday destination. In 2016, Tourism Ireland estimates that between 65,000 – 75,000 GCC travellers visited the island of Ireland, representing an annual increase of 8% on the previous year. There are strong indications that the growth in visitors numbers from the GCC in 2017 was stronger with approximately 65% of total GCC visitors originating from the UAE. In addition, there are approximately 10,000 Irish citizens registered with the UAE authorities as residing there. It is by some distance the largest Irish community in the Middle East.