20th Anniversary of the Downing Street Declaration
Sir John Major was the guest speaker for the third in the series of Iveagh House Commemorative Lectures, on British-Irish relations, 20 years on from the Downing Street Declaration.
The Tánaiste hosted a special commemorative event on the evening of 11 December, to mark the 20th Anniversary of the Downing Street Declaration. Former UK Prime Minister Sir John Major delivered the keynote address on British-Irish relations, giving his personal insight into the negotiations leading to the Declaration and recalling his warm relationship with the Taoiseach of the day, Albert Reynolds.
Sir John and Norma Major were joined on the evening by Kathleen and other members of the Reynolds family, by former Tánaiste Dick Spring, former US Senator and Special Envoy to Northern Ireland George Mitchell and by others closely involved in negotiations leading to the Declaration.
In his opening remarks, the Tánaiste spoke of the Declaration as a short document, but one of dense language, using Colm Toibín's description of the language of diplomacy, as rarely beautiful and often convoluted, it 'can nonetheless create new spaces where agreement can take root and flourish'.
The Declaration set out a charter for peace and reconciliation in Ireland. It established the principles of self-determination and consent with regard to the constitutional status of Northern Ireland. It also gave those associated with paramilitary violence a route into the political process, acting as a catalyst for the first IRA ceasefire, which came 9 months later.
Sir John recalled his determination to 'end the friction that had bedeviled Anglo-Irish relations for so long' and in remarks full of sporting and literary references, his satisfaction that the UK and Ireland are more contented neighbours than ever before. He paid special tribute to former Taoiseach Albert Reynolds, as a man who did 'so much to break the Gordian knot of Anglo-Irish distrust', and spoke further of the importance of close cooperation between the two Governments on commemorating the Great War centenary Anniversaries.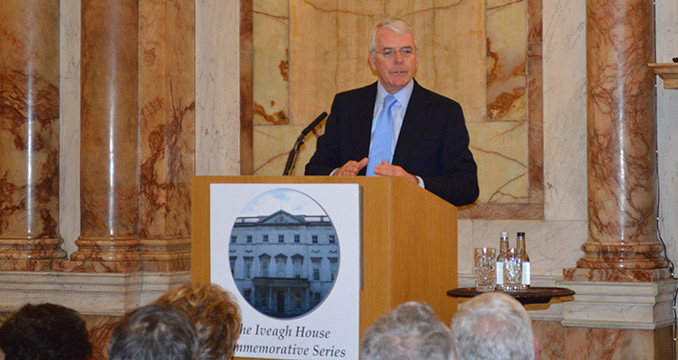 Following a lively question and answer session with Sir John, former Tánaiste Dick Spring rounded off the lecture with his reflections on the negotiations, paying special tribute to the civil servants on both sides, many of whom were present on the evening.
Listen back to Lecture
An edited broadcast of the evening's proceedings was aired by RTE and is available here.
Back to features
Read other features on the work we do at home and abroad.