Congressman John Lewis on the legacy of the US Civil Rights movement
The US civil rights movement and its global legacy was the topic of the address by Congressman John Lewis, who delivered the fourth Iveagh House commemorative lecture. The event also doubled as the inaugural Frederick Douglass/Daniel O'Connell memorial lecture.
Congressman Lewis drew on the unique relationship between Daniel O'Connell and Frederick Douglass and their common cause of abolitionism and also on the inspiration taken by activists in Northern Ireland from the US civil rights movement in remarks which illuminated his own lifetime devotion to non-violence and reconciliation.
Congressman Lewis was in Dublin as part of a pilgrimage with the Faith and Politics Institute, to share his experiences, and to learn from the experiences of those involved in reconciliation in Ireland. He was joined by Governor Martin O'Malley of Maryland and US Senator Mazie Hirono (Hawai'i). Members of the Faith and Politics Institute joined descendants of Daniel O'Connell and Frederick Douglass, and civil rights activists past and present for the commemorative lecture and discussion, moderated by broadcaster John Bowman.
Introducing the Congressman, Tánaiste Eamon Gilmore described him as 'an iconic figure who belongs in the pantheon of great leaders in the American civil rights movement'
Tánaiste – 'Congressman John Lewis is an iconic figure who belongs in the pantheon of great leaders in the US civil rights movement'
Congressman Lewis, who represents the State of Georgia, recalled Daniel O'Connell's commitment to non-violence, and the impression this left on Frederick Douglass. Tracing the same commitment through Gandhi, to Martin Luther King Jnr, he described his own adherence to non-violence, often in the face of extreme oppression and violence.
Irish civil rights activist and member of the Council of State Michael Farrell, recalled the inspiration taken by the civil rights movement in Northern Ireland from US activists, particularly in what was learned from the tactics and strategy which were adopted in the face of brutality in encounters with authority.
In a question and answer session with the audience, the Congressman made clear his contemporary work on reconciliation and ongoing commitment to civil rights issues such as voter registration. The evening concluded with a presentation to the Congressman of a statuette of Frederick Douglass by Nettie Washington Douglass, his great great granddaughter. Also pictured here is Ann Quinlan, great great granddaughter of Daniel O'Connell.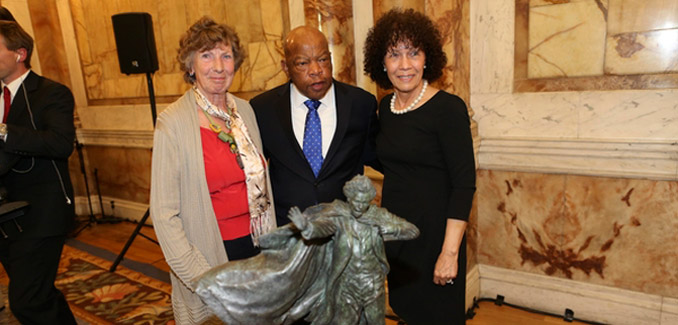 Back to features
Read other features on the work we do at home and abroad.