What Did St Patrick's Day Ever Do For Us?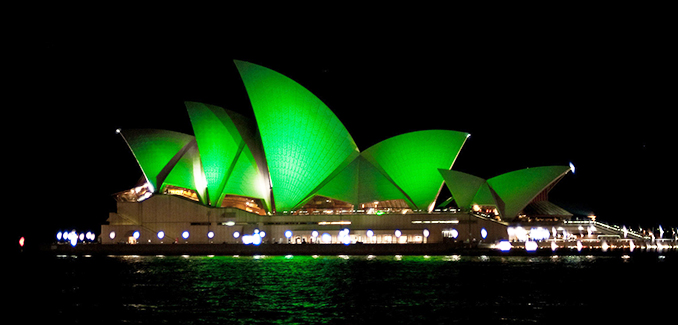 ‌Opinion: Tánaiste and Minster for Foreign Affairs and Trade Eamon Gilmore T.D.
A great deal has been achieved in restoring Ireland's global reputation in the last few years. This week gives us another enormous opportunity to go out and talk about our progress, our plans for the future, our culture, our innovative companies, our great food and drink and all the reasons people should come and see Ireland for themselves.
27 Ministers will be visiting more than 35 cities in 23 countries across Europe, the Americas, Asia and the Middle East for a series of trade, tourism and investment-focused programmes, as part of a still wider coordinated promotional effort led by our Embassy network and by Tourism Ireland, IDA, Enterprise Ireland and other State agencies.
There can be a lot of cynicism about this, but in the end I think everybody recognises that St Patrick's Day represents an unmissable opportunity to promote Ireland worldwide. When you can arrange for the Pyramids, the Sydney Opera House, the London Eye, the Statue of Christ the Redeemer, the Treasury in Petra and some 100 other iconic sites around the world to go Green, then you realise that you can have the world's attention if you are ready to ask for it.
You can say: you've read the headlines, but this is who we really are. You can meet with decision-makers in business and say: this is what we are building for the future, invest in this country and our people. You can say: come and visit, come and study. You can showcase the work of our tech companies, our farmers, our artists and our researchers, and say this is what the Irish people can do. You can say to your diaspora: I know you've been working for Ireland all year long, so thank you and keep up the good work.
We used St Patrick's Day in 2012 to launch 'The Gathering' to our Diaspora globally. We reaped the results of that campaign last year with some 250,000 more visitors and additional revenue of over €170 million.
We are also reaching out beyond our traditional partners and our diaspora communities. This year, we will be undertaking programmes in places like China, Japan, South Korea and, for the first time, Mexico and Vietnam as two important emerging markets identified in the Review of the Government Trade, Tourism and Investment Strategy which we launched two weeks ago.
You can meet with decision-makers in business and say: this is what we are building for the future, invest in this country and our people.
What happens on these visits? Last year, our Embassy network, in coordination with the IDA, Enterprise Ireland and other relevant state agencies hosted or helped organise over 180 public diplomacy events involving over 85,000 attendees where Irish trade and investment as well as 'The Gathering' and Irish food and culture was promoted. The Taoiseach, myself, other Ministers, Ambassadors and our diplomats directly addressed audiences of a further 124,000 people at events across the world delivering key promotional and tourism messages which were coordinated across Government and the state agencies.
We promoted trade and investment in Ireland at 101 additional specific business events, attended by over 8,500 Irish and international company representatives. These led to new leads for Irish exporters and for inward investment to Ireland. We had 88 high-level political meetings arranged by the Embassy network. We took part in 70 focussed company engagements with potential to support new export opportunities or win new investments. These included an Invest in Ireland roundtable I chaired in Atlanta with both existing and potential investors.
We promoted trade, tourism and investment with Ireland in op-eds and interviews in the international media – reaching, at a very conservative estimate, over 16.3 million people. When overseas media coverage of events that were part of the high level visits or supported by the Embassy network are added, we reached audiences of at least 76.5 million people. From Brazil to India, from China to Saudi Arabia, national and regional television coverage focused on Ireland and the positive messages we sought to communicate and government and diplomatic efforts to proactively get our message across.
This is before I mention the level of political access that the day affords us from the White House and the United States Congress to every other country we visit. This is before I mention the platform we get to broadcast the message that Ireland is open for business to audiences at places like the New York Stock Exchange, the London Stock Exchange, the US Chamber of Commerce headquarters, the world's largest cash equities market in Paris, the Frankfurt School of Business and Management, the Chicago Federal Reserve, the Seoul Finance Forum and many others.
There isn't the space to cover the breadth of activities undertaken here, because they spanned the globe. What's the bottom line on what we get for our efforts? It's sometimes hard to measure. How much is it worth to 'Green' the Pyramids? How much would some Governments pay to assemble some of the senior executives we met to talk about investing in their country? How much would some companies pay a consultant or a PR firm for some of this access and publicity?
How much does it cost us? Last year, with guidelines on travel in place, the total cost of Saint Patrick's Day travel was just over €233,000, including accommodation, other transport, official gifts and incidental costs. Approximately 80% of this total relates to flight costs.
For tourism promotion alone, how much it would take to buy the international media coverage that we get through our tourism promotional efforts and the Global Greening campaign? Over €10m.
I know a bargain when I see one.
Back to features
Read other features on the work we do at home and abroad.