Promoting Ireland
At home and abroad, we play a vital role in promoting Ireland's economic and trading interests, our cultural profile and our reputation internationally.
‌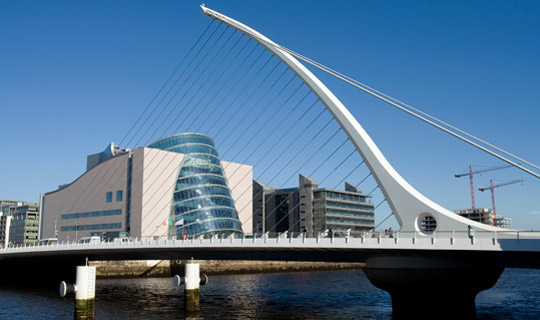 Our aims
We are committed to promoting Ireland as a place to do business, to study and to visit, and our Embassy network plays a key role in this work. Ireland maintains diplomatic relations with 178 states and keeps a network of 80 overseas offices. With coordination and support from headquarters in Dublin, our Embassies' teams work to :
Promote Ireland's trade and investment objectives
Promote Irish culture, heritage and tradition
Maintain and enhance our links with Irish communities abroad
Sharing Ireland's economic message
Our Embassy network has made a valuable contribution to Ireland's national economic recovery and current growth by sharing the Government's economic message with host governments, journalists, business people and other key opinion-makers, which enhances our international reputation.
Local Market Teams
Local Market Teams have been set up in each of the 27 priority markets identified under the Government Trade Strategy. Each team is chaired by an Irish Ambassador and is made up of representatives of the locally-based State agencies. Local Market Teams report to the Export Trade Council.
Trade missions
Trade missions are a valuable way of developing new and existing markets overseas for Irish businesses. This is particularly important given the value of exports to our economy. We work with the Department of Jobs, Enterprise and Innovation to support Enterprise Ireland's programme of trade missions, 18 of which took place in 2014. The Minister for Foreign Affairs and Trade and the Minister of State for Development, Trade Promotion and North-South Co-operation play important roles in supporting Irish companies by leading a number of these trade missions overseas.
Saint Patrick's Day
Saint Patrick's Day offers a unique opportunity to promote Ireland's economic and political interests overseas. Ministerial visits around the St. Patrick's Day period are organised to ensure that we use this exposure to maximise the promotion of Ireland's trade, tourism and investment interests, to spread a positive message about Ireland's economic recovery and current growth trajectory.
The Taoiseach, Tánaiste and twenty-seven Ministers and Ministers of State travelled to 26 different countries over the course of the 2015 St. Patrick's Day period. The Taoiseach's visit to Washington DC is a key highlight of the annual St. Patrick's Day events.
Embassies organised a range of targeted programmes with a focus on promotional activities, support for Irish business and the activities of the relevant State agencies (Enterprise Ireland, IDA Ireland, Tourism Ireland, Bord Bia and Science Foundation Ireland) as well as Culture Ireland Division of the Department of Arts, Heritage and the Gaeltacht.
Promoting Irish culture
In addition to its intrinsic value, Irish culture is an excellent promotional tool for highlighting that Ireland is a great holiday destination and a vibrant place to do business. It highlights the interesting, engaging and welcoming nature of our people. Introducing more people to our rich cultural heritage has long-term, positive impacts for Ireland's reputation overseas. We support a wide range of Irish cultural events and educational exchanges that showcase Irish culture. We work with Culture Ireland to promote Irish arts and artists overseas.
Connecting with our Diaspora
Connecting with the Irish Diaspora, including those interested in the Irish connection for enhancing business networks or promoting and maintaining Irish culture in their communities around the world, is a major part of the work of our Embassies, in supporting the Irish abroad.
In March 2015, an Taoiseach, Enda Kenny TD together with An Tánaiste, Joan Burton TD, the Minister for Foreign Affairs and Trade, Charles Flanagan TD, and Minister of State for Diaspora Affairs, Jimmy Deenihan TD launched Global Irish: Ireland's Diaspora Policy, the first clear statement of the Government's policy on the Ddiaspora. The launch also took place of the new Global Irish website. The website contains a wealth of information for the Ddiaspora on support services; living abroad; staying in touch; and returning home to Ireland.
The Embassy Network also works very closely with the Global Irish Network. Based in some 40 countries, the Global Irish Network is made up of over 300 of the most influential Irish and Irish-connected people abroad. It serves as an additional resource for the Government and state agencies in support of Ireland's economic, cultural and tourism objectives in key markets.
Education
The Department of Foreign Affairs and Trade, through its Trade and Promotion Division, geographic units and our Embassy network, is very active in promoting Ireland as a destination for international students. This includes support to education-focused trade missions to priority markets, raising Ireland's profile as a destination, assisting Irish universities with individual partnerships, supporting alumni networking, and working with decision-makers on bilateral agreements and access to Government-funded scholarship programmes.
For further reading, please find a number of websites below:
Doing business with Ireland
Read more about the advantages and opportunities available to those who want to do business with Ireland.