Fireside Chat: Reflections on Frederick Douglass and Daniel O'Connell
Event
01 November 2018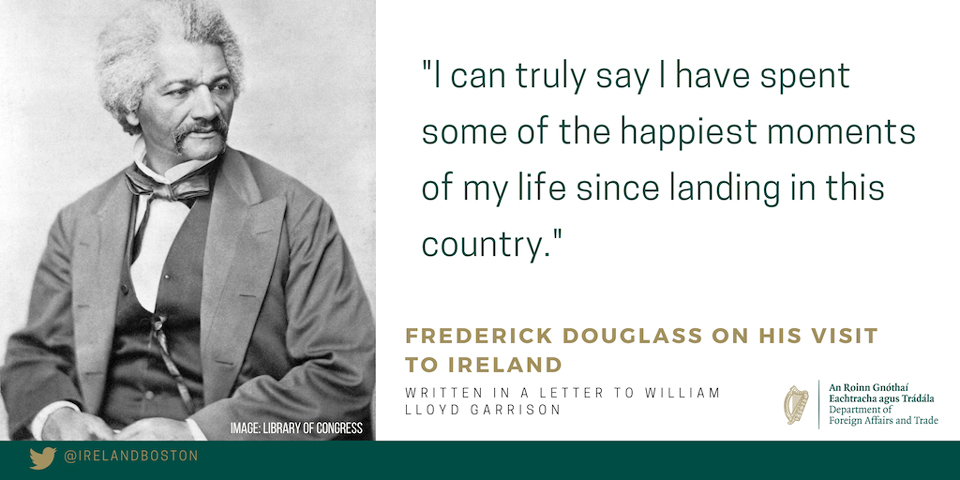 Fireside Chat: Reflections on Frederick Douglass and Daniel O'Connell.
Please join us at the Consulate from 5.30 to 7.30pm on Wednesday 14th November for a "fireside chat" with Dr. William H. Smith, Founding Executive Director of the National Center for Race Amity and Irish author Don Mullan, of Hope Initiatives International.
Smith and Mullan recently returned from Ireland where they completed a four province screening of Smith's documentary film 'An American Story: Race Amity and the Other Tradition', about "The Other Tradition" in American race relations - the tradition of amity and close cross/racial collaboration to advance equity and social justice. The film focuses on the relations between pivotal figures of different races who worked together to advance equality, including the meeting in Dublin in 1845 of Frederick Douglass and Ireland's Daniel O'Connell, the Liberator.
The fireside chat will discuss the visit of Frederick Douglass to Ireland, his encounter with Daniel O'Connell – including an inspirational speech by O'Connell which Douglass transcribed and sent back to the Abolitionist Movement in the USA, and the view that having come to Ireland as a single issue campaigner (to help end American slavery), Douglass left Ireland as an internationalist.
Smith and Mullan will be reflecting on their experiences in Ireland, their vision for a Frederick Douglass and Daniel O'Connell "Season", and their views on the issues facing the U.S. and Ireland in the area of race amity.
If you are interested in attending, please register through Eventbrite here:
https://douglass-and-oconnell-fireside-chat.eventbrite.com