Creative Community
News
25 February 2021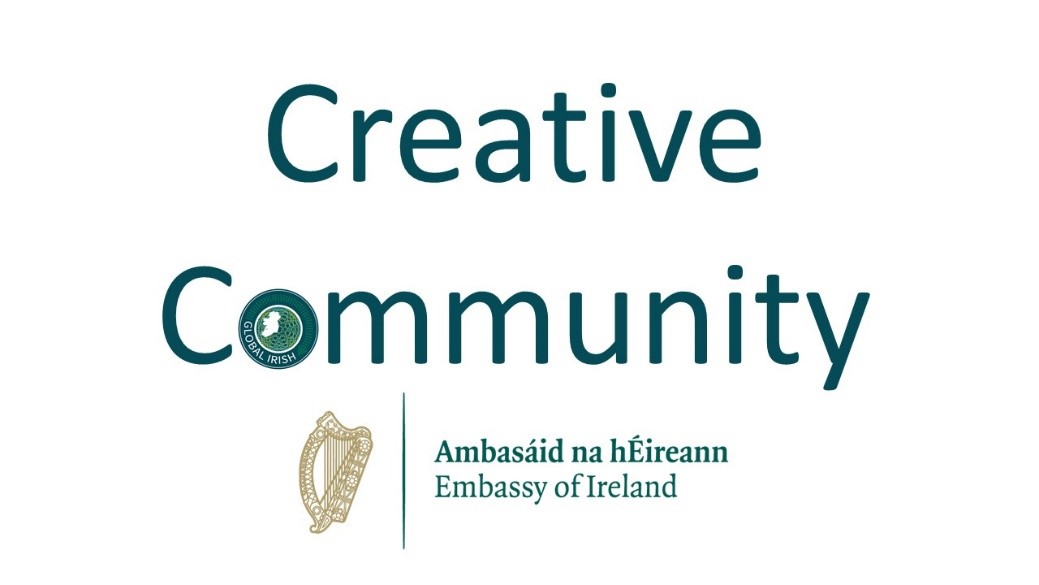 Creative Community
The Creative Community initiative was developed by the Irish Embassy in London, together with the Irish Consulates General in Cardiff and Edinburgh, to help support cultural organisations and artists whose work has been severely impacted by Covid-19 restrictions on arts venues. This special initiative aims to provide creative opportunities for Irish artists living in Britain, and to produce cultural content, which can be shared online for all interested viewers.
Through Creative Community, Embassy London and CG Edinburgh and CG Cardiff are delighted to have supported arts and culture-focused projects with 8 organisations, which has directly supported more than 50 Irish creatives across Britain. Read more about the Creative Community projects below.
#CreativeCommunity
Consulate General of Ireland, Scotland, in partnership with Traverse Theatre
The Consulate General of Ireland in Edinburgh is partnering with the Traverse Theatre in Edinburgh on a series of projects this Spring, to spotlight the work of theatre artists from the island of Ireland in Scotland. The projects form part of the Traverse's First Stages Festival, a celebration of the "Traverse's commitment to nurturing and supporting new voices, and expanding the skills of new and experienced creatives with the ambition of producing ever more transportive and meaningful experiences for audiences."
Anyone Can Write a Play with Meghan Tyler (10–24 February). Award-winning writer, performer and theatre-maker Meghan Tyler (from Newry, trained at the Royal Conservatoire of Scotland) has created a series of four workshops that can inspire people to connect with their creativity, be it through writing, performance or a combination of the two. They are available on YouTube for anyone to watch and all sessions will be available on-demand until 1 March 2022.
Paradise by Michael John O'Neill (24February). Glasgow-based writer and producer from Northern Ireland Michael John O'Neill's play, Paradise, is set in Belfast on 10th April 1998—the date of the signing of the Good Friday Agreement. Told from the perspective of Kate, a Belfast native in her mid-thirties, the play is a relentless one-woman monologue looking at those who have taken their lives in Northern Ireland and the effect it has on those left behind. This monologue will be performed as a full, digital reading of the play in audio/filmed format, to be distributed through the Traverse's online venue. Irish actor, based in Scotland, Lucianne McEvoy has been cast to play Kate.
Dreamlands – An Aural Adventure. This podcast currently in development comes to listeners from multi-award-winning sound designer MJ McCarthy (Cork-born, Glasgow-based composer, musician and sound designer) and Peter Geoghegan (Irish writer and journalist). McCarthy and Geoghegan will develop an organic, conversation-led sound work about the effect the Pandemic has had upon their experiences of dreaming, along with related reflections on the themes of mental health and prolonged separation from family back in Ireland.
See https://www.traverse.co.uk for more information
Consulate General of Ireland, Wales, in partnership with the South Wales Pipers
On 12th December, the South Wales Pipers, in association with Na Piobairi Uilleann in Dublin, held the May McCarthy Festival of Uilleann Piping, which featured five female Uilleann pipers. The concert paid homage to the early 20th century teenage piper May McCarthy of Cork. At 13 years old, May won first prize at the Munster Feis and successfully competed with the men on the Warpipes. In December 1910, the National Gaelic League of Great Britain invited her to play a series of concerts across South Wales, which at the time had a very active Irish community across the towns of Barry, Cardiff, Merthyr Tydfil, and Swansea. The South Wales Pipers concert marked the 110th anniversary of that famous tour of South Wales.
https://www.youtube.com/watch?v=lRo7RKMcvvA&feature=youtu.be
Comhaltas
Comhaltas released a recorded video and performance on the Irish community being multi-generational and made a case for helping and caring for those who need it most. The video was made in coordination with the Conradh na Gaeilge Glaschú-supported project the Emerald Lunch Club, which during the last year when the club members have been unable to meet in person is instead distributing food packages to vulnerable elderly members of the Irish community in the Greater Glasgow area.
The recorded performance video project also led to a new partnership with the Scottish organisation BEMIS, which works to promote inclusion and equal opportunities for minority communities.
https://www.facebook.com/ComhaltasInBritain/videos/905482393532451
Eimear McGeown
The renowned Irish flautist, accompanied by Tara Viscardi on harp, recorded a short performance at the Embassy for Christmas. They played Home Away from Home, Silent Night, and an Irish reel called Christmas Eve.
Links to performances are here, here and here.
Irish Cultural Centre Hammersmith
ICC Hammersmith tutors, comprising freelance musicians and artists who teach classes through the Centre, are self-recording spirit-lifting musical pieces or windows into their artistic lives. These will be brought together as a showcase for the Centre to be broadcast on its ICC Digital channel. The collective message is one of hope, and the Centre intends to share it via ICC Digital the week before St Patrick's Day. The showcase will reflect the talents that artists/tutors bring every week to make ICC Hammersmith the home of Irish culture in London.
https://irishculturalcentre.co.uk/
Irish Film London
Top Tips for Audition Success from Irish Talent – Irish Film London will be producing a limited series of approximately 6 filmed recordings by Irish actors sharing strategies and advice for audition success and making self-tape videos. A major aim of the project is to support those in the acting profession who have been inordinately affected by the pandemic and subsequent loss of earnings and work opportunities.
IFL are collaborating on this project with Spotlight to provide an additional professional advice and support for actors.
https://www.irishfilmfestivallondon.com/
Irish Music and Dance in London
Irish Music and Dance in London have a series of concerts in February and March:
Colman Connolly (uilleann pipes)
Chan Reid (voice)
Peter McAlinden (tin whistle/keys)
Brogan McAuliffe (concertina)
Colette O'Leary (piano accordion)
Andy Martyn (button accordion)
Aoife Ní Bhríain (fiddle)
Mick O'Connor (banjo)
Thomas McCarthy (voice)
Jean Kelly (harp)
These mini concerts will be released on all IMDL social media and YouTube channels during St Patrick's week
Leeds Irish Arts Foundation
As part of Irish History Month (March), Leeds Irish Arts Foundation will be broadcasting four more editions of 'The Leeds Irish Music (Radio) Programme' on East Leeds FM. https://www.chapelfm.co.uk/elfm-player/shows/list/leeds-irish-music-programme/
Working with Leitrim-born Michael Gallagher, a.k.a. Mik Artistik, the upcoming project, 'Exploring The Musical Traditions of County Leitrim & County Fermanagh' is also launching as part of Irish History Month.

In collaboration with Irish Music and Dance in London as part of their 2021 Digital Concert Series, Leeds Irish Arts Foundation are streaming a concert from Otley Courthouse featuring the celebrated virtuoso partnership Máire Ní Chathasaigh (harp) and Chris Newman (guitar).
https://www.thelockinn.io/event-details/maire-and-chris
Liverpool Irish Festival
Liverpool Irish Festival are presenting the below 7 projects:
1. The Sound Agents (Moira Kenny and John Campbell) – A 30-minute film on the life and work of Amy June Furlong, a second-generation Irish women who became a life model at age 17 at the Liverpool Institute of Art, Royal Academy, and the Slade, and who worked with notable artists including John Lennon, Lucien Freud, and many more. June passed away in November 2020. This tribute to her is part of a trilogy of projects about her life. The film is voiced by Liverpool Irish Festival patron, actor and first-generation Irish woman, Eithne Browne.
https://www.liverpoolirishfestival.com/events/the-art-of-living/
2. Cathy Carter – Cathy is composing a song about the life of Derry Liverpool woman, Kitty Wilkinson, who founded the first Liverpool wash house and was a hero of the fight against cholera, and indeed a hero for our times as we fight against another pandemic. Completed with assistance from Andy Connally, a scratch film was presented with the song as part of Liverpool Irish Festival St Brigid's Day celebrations.
https://www.liverpoolirishfestival.com/events/widows-friend/
3. Ciara Ni E – After working with Ciara through Liverpool Irish Festival's In:Visible Women programme, she was commissioned to write a song about St Brigid and her life partner Darlughdach. Ciara worked with Irish musician Aoife Ní Mhórdha to finesse the song and create a beautiful video.
https://www.liverpoolirishfestival.com/events/darlughdachs-song/
4. Alison Little – Alison created a moving exhibition sculpture in response to Eavan Boland's poem 'Quarantine'. The process of making the piece was documented as a photo story and was presented online for St Brigid's Day. Liverpool Irish Festival hope to show the physical piece in October 2021.
https://www.liverpoolirishfestival.com/quarantine-a-response/
5. Edy Fung – During lockdown, Derry-based Hong Konger Edy used the weather to help motivate her working cycles. In doing so, she studied meteorological history and found links between Derry and Liverpool. Edy generated an illustrated essay of her findings, which the Liverpool Irish Festival broadcast as part of its St Brigid's Day programme. This continues a relationship begun in #LIF2020 and advances work with Art Arcadia, where Edy is a resident artist.
https://www.liverpoolirishfestival.com/retro-future-gazers/
6. Maz O'Connor – The Liverpool Irish Festival has maintained a working relationship with Maz since 2017, and has supported her work on a musical theatre piece about Bridget Cleary since its inception. Maz will document the rehearsal and dramatological experiences of progressing the work, via Festival of New, in preparation for touring the work when theatre is permitted again.
See https://www.liverpoolirishfestival.com for more information
7. Andy Connally – Following on from this year's work with Cathy Carter and many Festival presentations in previous years, the Liverpool Irish Festival has commissioned Andy to develop a Festival theme song, reflecting the strapline, "bringing Liverpool and Ireland closer together using arts and culture". In future, it will open events, play audiences in to spaces and be associated with our work, ethos and celebrations.
See https://www.liverpoolirishfestival.com for more information
London Irish Centre
Irish Rambling House – Supporting London-based Irish musicians to bring music and dance to light up isolated people and places. Karen Ryan of Irish Music and Dance in London is working with Irish musicians across London. Seven groups will be filmed remotely in their homes for a big London Irish Session on St. Patrick's Day.
Sessions – Seven artist performances, primarily singer-songwriters and poets, are being filmed with plans to release online in March.
https://www.londonirishcentre.org/