St. Patrick's Day 2021
News
10 March 2021

St. Patrick's Day in Great Britain
While we might not be able to come together in person to celebrate Ireland's national day this year, we are delighted that Irish community and cultural organisations the length and breadth of Britain are continuing the tradition of celebration with an exciting programme of virtual events.
This year, St. Patrick's Day will see a host of open online events taking place across the country from the Embassy of Ireland, Enterprise Ireland, Tourism Ireland, the Mayor of London/Greater London Authority in partnership with the London Irish Centre, and many more.
We hope you can all join us in marking St. Patrick's Day 2021. Beannachtaí na Féile Pádraig oraibh go léir.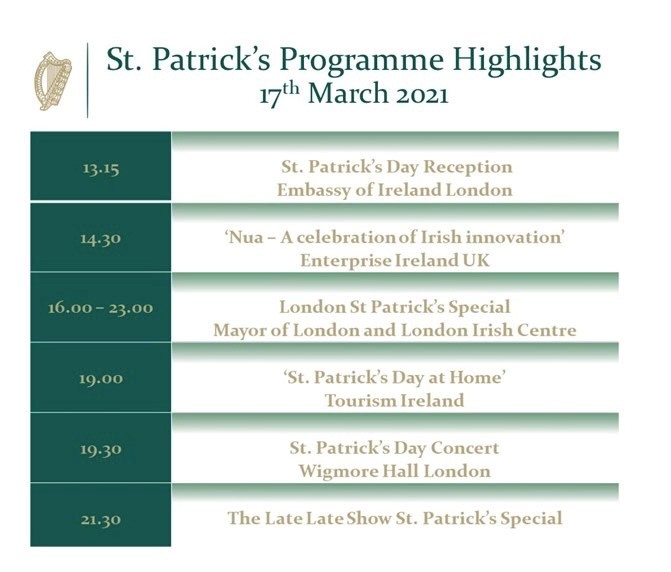 St. Patrick's Day Programme of Events
March 17th
Embassy of Ireland
Join the Embassy for a Virtual St. Patrick's Day Reception at 13.30 on the 17th. Along with messages from an Taoiseach Micheál Martin and Ambassador Adrian O'Neill, award-winning fiddle player Aoife Ní Bhriain will lead a 'supergroup' of Irish and British musicians in a selection of traditional Irish tunes, recorded live at the Embassy.
More info & tickets: https://www.dfa.ie/irish-embassy/great-britain/news-and-events/latest-news/st-patricks-day-2021-at-the-embassy-of-ireland.html
Enterprise Ireland
At 14.30 on 17th March, Enterprise Ireland are hosting 'Nua: A Celebration of Irish Innovation', featuring a keynote address from Tánaiste Leo Varadkar. This virtual event will showcase some of the Irish solutions that have played an integral role in helping the UK navigate through a challenging and unprecedented year and celebrate the Irish- UK relationship.
You can register here.
Tourism Ireland
'St Patrick's Day at Home with Tourism Ireland' is a unique 90-minute broadcast that will beam out from three much-loved pubs in Dublin, Belfast and Dingle in County Kerry. There will be a huge welcome, traditional and modern Irish music and dance, fantastic fun and lots of surprises.
SPD @ Home will be streamed on Tourism Ireland's Facebook and YouTube channels, with the event also including footage of the landmarks around the globe (including across Great Britain) that are turning green for St Patrick's Day.
Tune in here from 7pm.
Wigmore Hall
For St. Patrick's Day, Limerick-born Director of Wigmore Hall John Gilhooly has devised a special programme featuring Irish singers Ailish Tynan and Robin Tritschler with pianist James Baillieu in a concert including some of the most beloved traditional folksongs which reflect the cultural ties between the two nations. Ambassador Adrian O'Neill will introduce the concert with a message of friendship from the Irish government.
Watch live from 7.30 pm here.
Mayor of London & London Irish Centre
Partnering with the London Irish Centre for the largest celebration of Irish culture and community in London, the Mayor of London and Greater London Authority will host the 19th annual St. Patrick's Day Festival from 4pm. Hosted by Angela Scanlon, the digital event will pay tribute to the very best of Ireland's contribution to London.
To learn more and tune in to these celebrations, visit the Mayor of London's website, Facebook, and Twitter.
The Late Late Show St. Patrick's Day Special
Join Ryan Tubridy at 9.35pm, for the first Late Late Show ever broadcast on a Wednesday. It is hoped the event will become a "global hub", attracting hundreds of thousands from around the world to celebrate "the joy, beauty and passion of being Irish". The Late Late will stream around the world on the RTÉ Player www.rte.ie/latelate.
St. Patrick's Festivals
SEODA
Over 100 artists will be featured in Culture Ireland's SEODA, an online festival and global celebration of Irish culture that runs March 17-21, 2021.
SEODA (Irish for 'jewels') celebrates Irish arts worldwide at a time when Irish artists would normally be supported by Culture Ireland to travel the globe.

Featuring The Abbey, CoisCéim Dance Theatre, Druid and Rough Magic/Kilkenny Arts Festival, Stephen Rea, Sinead Gleeson, Martin Hayes alongside Irish work from London, New York & Paris , the 5-day festival will offer audiences more than two dozen events to enjoy.
All events are available free to audiences around the world through Culture Ireland's YouTube channel here.

Tyneside Irish Cultural Society
Between 12th – 22nd March, the Tyneside Irish Cultural Organisation will host an online presentation of Irish musicians and writers at the St. Patrick's Day Festival, at the Tyneside Irish Centre.
Visit their Facebook page for more details.
Irish Film London
Between 13th – 17th March, Irish Film London will be hosting an exciting line-up of new feature films, shorts, talks, and live events. The line-up will feature the best of new Irish film and TV, with an incredible line-up of work from Irish directors:
The Evening Redness in the South, Colin Hickey.
The Winter Lake, Julianne Forde & Ruth Treacy.
Wolfwalkers, Tomm Moore & Ross Stewart.
The Hunger: The Story of the Irish Famine, Ruan Magan.
How to Fall in Love in a Pandemic, Michael-David McKernan.
The Ferry, Niall McKay.
Paddy, Róisín Kearney.
Final Curtain, Dan Gifford.
Kathleen was Here, Eva Birthistle.
Girl and Robot, Joe Loftus.
The Lost Pig, Ciaran Crudden.
The First Step, Emma Cummins.
Nosy Neighbour, Jack McKenna.
From 8pm on 13th March, there will also be an exclusive screening of VMDIFF's Playback – a dynamic collection of Irish hip hop and R&B music videos and interviews. Curated by Mike Donnelly and Erica Cody, the collection showcases the vibrant and rapidly evolving space in Ireland's music scene.
You can check out the festival event guide here. Tickets are on sale now from their Eventive platform.
B-Hybrid Dance
The London-based, Irish-led dance group, B-Hybrid Dance, will livestream the premiere of their piece, entitled 'Of Simple Stone' at 8pm on 15th March. Set in the stone fort Grianán of Aileach in Co. Donegal, this short dance film will seek to explore the umbilical connection to one's homeland.
Explore B-Hybrid's Facebook page and website for more information.
Irish Music and Dance in London
From 15th – 19th March, the Irish Music and Dance in London group will be hosting a mini digital concert series, with two performances being released each day on the group's social media channels, giving a platform to the talents of wonderful traditional Irish musicians:
Colman Connolly, uilleann pipes
Peter McAlinden, whistle/keys.
Chan Reid, vocalist.
Mick O'Connor, banjo.
Thomas McCarthy, vocalist.
Colette O'Leary, piano accordion.
Brogan McAuliffe, concertina.
Jean Kelly, harp.
Andy Martyn, button accordion.
Aoife Ní Bhriain, fiddle.
You can catch each performance on IMDL's Facebook page, and find out more about the organisation on their website.
St Patrick's Festival Ireland
From 12th – 17th March, Ireland's St. Patrick's Festival will host Seoda: Celtic Connections, a celebration of traditional music and cultural connections. Hosted by the BBC's Huw Stephens, the celebration will feature stellar performances from leading artists across the three Celtic nations of Ireland, Scotland, and Wales:
• The Breath (Ireland)
• Brìghde Chaimbeul (Scotland)
• Super Furry Animals' frontman, Gruff Rhys (Wales)
Find out more about Seoda: Celtic Connections here.
Kevin O'Farrell: Photographic Exhibition
A photographic exhibition by Irish photographer Kevin O'Farrell will be on display at the National Maritime Museum, Cornwall from 29 March until 30 September. The exhibition offers an intimate insight into Hegarty's Boatyard, Skibbereen, Co. Cork - Ireland's last traditional boatyard.
You can follow Kevin's work on his Facebook page.
Irish Community Organisations
Irish in Britain

Irish in Britain are celebrating St Patrick's Day with a special project, 'We are the Irish in Britain: county connections', a digital series of 32 short video profiles of Irish people in Britain. Each clip features someone from or associated to a different Irish county, and together the 32 profiles take you on a virtual tour around the country. Participants in the videos share a favourite spot from their county and what they would like to share with other Irish people in Britain after a year like no other. Read more about County Connections here and see the videos on the Irish in Britain Facebook page.
Age UK Hillingdon, Harrow and Brent
Age UK Hillingdon, Harrow and Brent will host a virtual St Patrick's Day coffee morning for its members. The organisation provides a wide range of services to meet the needs and demands of older people living in Hillingdon, Harrow and Brent. You can learn more about their work on their website and follow the coffee morning on their Facebook page.
Ashford Place
Ashford Place is hosting a socially distanced Irish breakfast morning on St Patrick's Day for about 50 people across the centre. Each room will cater for 6 people and will have tablets showing messages from Ambassador O'Neill and others, as well as entertainers and musicians performing via Zoom. The centre will also provide takeaway and delivered meals of bacon and cabbage to clients. Follow their work here and be sure to explore details of the coffee morning here!
The Council of Irish County Associations
The Council of Irish County Associations (CICA) will celebrate the occasion with its annual St Patrick's Day Mass. Mass begins at 10am and will take place at Kilburn's Sacred Heart Church. It is expected to also be livestreamed to those interested in attending virtually. Ahead of St Patrick's Day, CICA have shared memories of past events through social media, including Ambassador O'Neill's attendance at last year's celebration.
Derby Irish Centre
Derby St Patrick's Daywill share information and details on events throughout St Patrick's Week via their social media, as well as local radio and newspapers. On St Patrick's Day, the Derby Irish Centre will share how Ireland's national holiday has been celebrated over the past 20+ years and promote the oral history project, 'Our Story: A History of the Irish in Derby'.
The Emerald Centre
The Emerald Centre will mark St Patrick's Day with a blessing from the local parish priest, a short story of St Patrick's life, and various music and dance performances. Photos of previous parades will also be shared on social media, as well as special messages to Leicester's Irish community. You can learn more about The Emerald Centre's work here.
Fiddler of London Competition
Eilish Byrne-Whelehan of Feith an Cheoil has re-established the Fiddler of London Competition 2021. The musical event - which brings together talented fiddlers from around the world to compete for the title of 'Fiddler in Residence for the Irish Community' for the year - will be livestreamed on 13 March, and the winner will perform as part of the Mayor of London's St Patrick's Day event.
Huddersfield St. Patricks Day Parade Association
Huddersfield St. Patrick's Day Parade Association is sharing a number of St Patrick's and Irish items on its social media in the lead up to 14 March. They have also shared photo albums of past events on their Facebook page, offering followers a nostalgic journey into the St Patrick's Day parades of recent years.
Jersey Irish Society
Jersey Irish Society will celebrate St Patrick's Day with a video message via email and social media by 15 March. The video will begin with Mass delivered by a local parish priest and the blessing of shamrock, which will be posted out to the Society's 300+ members. Retired Irish consul, Pamela O'Neill, will also read out a letter from the President of Ireland, Michael D. Higgins, to the diaspora.
Leeds St. Patrick Day Parade
Leeds St. Patrick's Day Paradewill host a virtual St Patrick's Day parade. Their special video—which will show the opening of the parade, Irish dancing, as well as snippets from past parades—will air on social media on 13th March and shown again on St Patrick's Day. It will also feature a prayer from a local priest and a St Patrick's greeting from Leeds's Millennium Square.
Lewisham Irish Community Centre
Lewisham Irish Community Centre will celebrate the occasion with an online family concert on 12th March at 11am. The concert - performed by the Kelly sisters, Jean (harpist) and Fiona (flautist) – can be viewed on Zoom (password: pG76XN) by the elderly members, volunteers, trustees, and staff of Lewisham Irish.
Liverpool Irish Centre
Liverpool Irish Centre will hold a virtual St Patrick's Day Festival, hosting a number of online events in the lead up to 17th March. Kicking off with St Patrick's Day messages at 3pm, celebrations on the day will include a video blog of cooking Irish recipes, a live video podcast, and a number of live musical performances.
Luton Irish Forum
Luton Irish Forumwill celebrate with a virtual St Patrick's Festival, hosting a number of online events leading up to and on St Patrick's Day. Between now and 17th March, members are invited to take part in activities including a best-dressed window competition, a dance challenge, and an online quiz. There will also be home delivered bacon and cabbage lunches for the charity's most isolated members. Follow their work on Facebook here.
Southwark Irish Pensioners' Project
Southwark Irish Pensioners' Project are producing a special St Patrick's Day newsletter for their clients and friends. The newsletter will be posted and published on the Southwark Irish Pensioners' Project website, and you can learn more about the organisation on Facebook.
York Irish Association
York Irish Association will hold a virtual St Patrick's Day Festival, hosting a number of activities online in the lead up to 17th March. This includes York Irish's inaugural Kids' Art Competition, encouraging children between the ages of 2 and 11 to share their creativity through drawings of St Patrick or other symbols of Ireland.
‌
‌‌‌