St. Patrick's Day Message from Ambassador O'Neill
News
16 March 2021
St. Patrick's Day Message from Ambassador Adrian O'Neill‌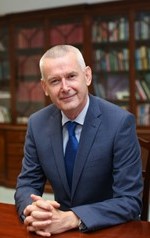 On the occasion of St. Patrick's Day, my wife Aisling and I would like to extend our very best wishes to the Irish community and friends of Ireland across Britain.
As we near the anniversary of the current public health crisis, St Patrick's Day presents an opportunity to reflect on the enormous changes the past year has brought to bear on all of our lives, and to look forward with hope to the future. We can take heart that we are moving through the winter of this crisis, and that spring and summer lie just ahead.
On my fourth St. Patrick's Day in London I feel proud to be representing Ireland, and to reflect on the experience of the Irish community in Britain this past year. Although we may have been physically apart for much of this past year, I take great pride in the fact that the resilient spirit of the Irish community has not just endured but thrived during this time.
We cannot understate the difficulties faced by our communities in the last year, nor the illnesses endured and the sad fatalities sustained. However, neither can we fail to notice the ingenuity, adaptability and generosity of spirit of Irish community organisations across Great Britain in responding to this terrible pandemic.
I have been deeply impressed with the dedication of those who, over the past 12 months, have shown such togetherness, creativity, and goodwill in adapting to the new normal. Since the beginning of the Covid-19 crisis, community organisations have risen to the challenge and evolved their services to meet the needs of the most vulnerable members of our community. I am glad to have this opportunity to pay tribute to you all.
In their tireless efforts, these organisations have once again emphasised the positive contributions that the Irish community makes to the UK. In a year where our wellbeing and lives have depended on the wonderful care provided by the National Health Service, I am especially proud of the nearly 14,000 Irish women and men who work in the NHS. Thank you for all that you do.
Being Irish on St Patrick's Day is an expression of fellow feeling or cultural affinity, as much as of citizenship or heritage, and is open for all to join if they feel so inclined. For the Irish abroad, so many of whom live here in Britain, it is an opportunity to express our deep pride in being Irish and to renew bonds with Ireland and with the extended Irish family worldwide. Although this year we will not have the normal parades and other festive gatherings, there are still other great ways to celebrate our heritage.
While the Embassy would usually be preparing to open our doors to hundreds of guests and members of the community throughout St Patrick's week, this year we are planning a very different kind of celebration. I hope you can all don your green and join us virtually at lunchtime on 17th March to mark the day. We have an exciting St. Patrick's Day celebration planned, and stay tuned to our social media for further details of our fantastic line-up.
In what has been a very challenging year, it is heartening to see the tradition of celebrating St. Patrick's Day across Great Britain continuing, albeit in a slightly different format. Organisations are continuing to show their resilience and imagination in arranging a programme of virtual community and cultural events, and I want to thank all those involved in making St Patrick's Day such an inclusive, vibrant and joyful celebration. I look forward, along with my colleagues, to joining many virtual community events over the St Patrick's period.
So, once again on behalf of myself, my wife Aisling and all the Embassy team, I'm delighted to wish you all a very happy St Patrick's Day. I hope you all thoroughly enjoy the (virtual) celebrations.
Beannachtaí na Féile Pádraig oraibh go léir.
Ambassador Adrian O'Neill