St. Patrick's Day 2021 at the Embassy of Ireland
News
02 March 2021
St. Patrick's Day 2021 at the Embassy of Ireland: Virtual Reception.
At this time of year, the Irish Embassy would usually be preparing to welcome members of the Irish community and friends of Ireland in Great Britain to the Embassy throughout St Patrick's week. This year we are planning a very different kind of celebration, and we hope you can join us for an exciting virtual St. Patrick's Day event at 1.15pm on Wednesday 17th March.
Along with messages from an Taoiseach Micheál Martin and Ambassador Adrian O'Neill, award-winning fiddle player Aoife Ní Bhriain will lead a 'supergroup' of Irish and British musicians in a selection of traditional Irish tunes, recorded live at the Embassy.
We hope you can all don your green and join us virtually at lunchtime on St. Patrick's Day to mark the day.
Register on Eventbrite:https://embassy-ireland-gb-st-patricks-day.eventbrite.ie
Featured musicians:
Aoife Ní Bhriain - Fiddle
Orlaith McAuliffe - Flute
Darach Mac Mathúna - Accordion
Grace Lemon - Uilleann Pipes
Joe Bardwell - Guitar
Sheikh Dr Muhammad Al-Hussaini - Sean Nós Singer
Aoife Ní Bhriain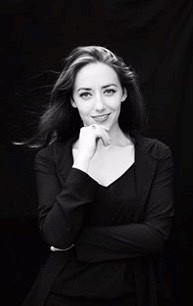 Born in Dublin, to a family of musicians, Aoife Ní Bhriain has established herself as one of the most versatile musicians of her generation. Thanks to her musical heritage combined with her classical studies she has collaborated and performed with musicians such as pianist Eliso Virsaladze, fiddle player Martin Hayes, jazz guitarist Wolfgang Muthspiel and Oscar winning actor Tim Robbins.
She is a member of the avant garde string quintet Wooden Elephant as well as the Goodman Trio with whom she has explored the manuscripts of the music collected around Ireland in the1800's by Canon James Goodman.
Aoife has a particular interest in solo violin works and curated a performance on the solo violin works of J.S. Bach and the improvisations of acclaimed Dublin fiddle player and soloist Tommie Potts. She graduated with first class honours from the Hochshule fur Musik und Theater Leipzig in 2018 and plays on a violin by J.B. Vuillaume on generous loan.
Sheikh Dr Muhammad Al-Hussaini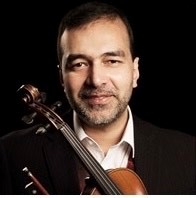 Muhammad is a Muslim academic and imam and is Senior Lecturer in Islamic Studies at the Oxford Centre for Religion and Public Life. He was educated at the universities of Oxford, Cambridge and Al-Azhar Al-Sharif, and was previously Fellow in Islamic Studies at Leo Baeck College where he taught rabbis and rabbinical students alongside his teaching in Christian seminaries for ordinands to the ministry.
Muhammad studied classical violin and piano from the age of six, though always nurtured a deep love of traditional Irish music, encouraged by his Irish boyhood friends. Later in life he studied Irish fiddle under the internationally-acclaimed musician, Karen Ryan, at the London Irish Centre, and it was there that Karen's uncle and All-Ireland Champion singer, Pat Connolly, introduced him to sean-nós, Irish-language old-style song, and became Muhammad's respected teacher and mentor. He went on to compete in fleadhanna and win the Gaelic Voices Festival, and he avidly honours the outstanding work of Irish cultural organisations such as Comhaltas Ceoltóirí Éireann and the shared endeavours of his Irish musician and clergy friends in advancing the causes of reconciliation and peace through Irish arts, language and culture.
Grace Lemon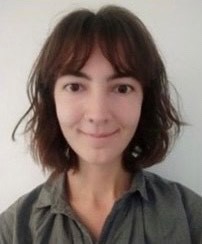 Grace Lemon started playing the uilleann pipes at the age of seven after a brief and unsuccessful stint on the fiddle. Growing up immersed in the Cambridge Irish community, Grace was taught by the wonderful piper Lucy Delap and also attended her local branch of Comhaltas, winning her first All Ireland aged ten with many more to follow. Grace now lives and works in London and is a stalwart on the traditional music scene. Grace works in collaboration with fellow piper Paddi Benson and fiddle player James Patrick Gavin to compose new music, interchanging motifs and layering voices so that the two sets of pipes serve as accompaniment to each other.
Joe Bardwell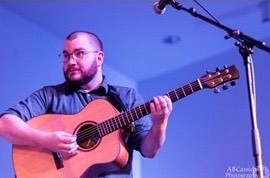 Joe is one of the go to guitarists for musicians on London's vibrant Irish traditional music scene. He has played across Europe and the US, including with Ríoghnach Connolly's Black Lung, Manchester fiddle maestro Emma Sweeney, and Scottish-Irish quintet, Aizle.
Orlaith McAuliffe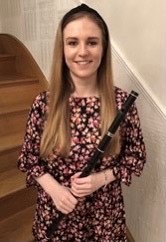 Orlaith McAuliffe is a flute and tin whistle player, born and raised in London. From an early age, her talent was rewarded with numerous successes at Fleadh Cheoil na hÉireann and nowadays can be seen performing at various festivals alongsider her sister Brogan and enjoys teaching workshops. She is also delighted to have been awarded the Gradam Ceoil 'Ceoltoir Óg na Bliana' for 2016. Órlaith, who's parents hail from Killarney, Co. Kerry, was brought up in the vibrant London music scene. The household was musical and at the age of 7, she was taught to play the tin whistle by her mother. At the age of 9, Órlaith decided to take up the flute and attended various flute and tin whistle workshops across London and Ireland, such as The Return to Camden Town Festival (now The Return to London Town Festival) and The Queen Maeve Summer School, whilst attending classes with Joe Searson and Sinead Linane at her local CCÉ branch.
Darach Mac Mathuna

Darach is a native Irish speaker from the Gaeltacht area of Rath Chairn in Meath. Darach is an All-Ireland winning box player and piper who is also a Sean-nós singer and dancer. His music has brought him to many countries and he has accompanied the former president of Ireland Mary McAleese on a state visit to Luxembourg.
After completing his studies in Music at Trinity College Dublin in 2013 he moved to the UK to work in the luxury industry and has since been involved in the traditional Irish music scene in London.