Ambassador Haughey's visit to Poznań, 12 December
News
13 December 2022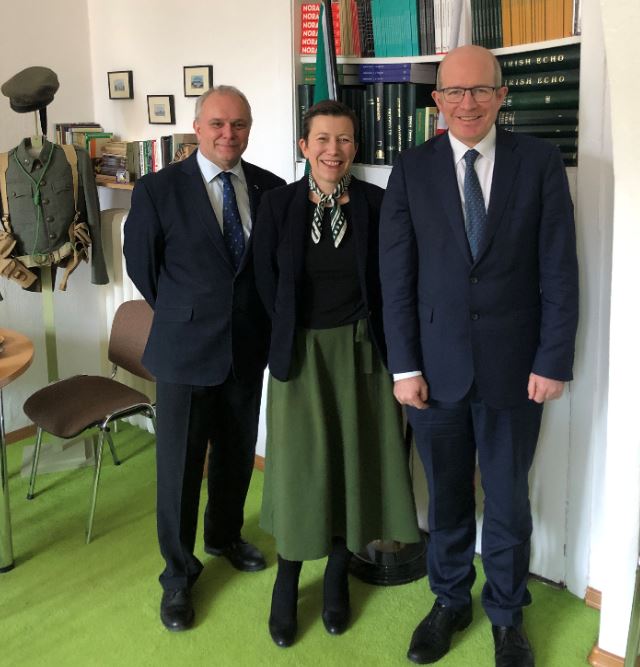 On 12 December, Ambassador Haughey travelled to Poznań. Poznań is a city with fond memories for many Irish people (including the Ambassador), as it hosted two of Ireland's matches during Euro 2012.
The Ambassador met with Honorary Vice Consul of Ireland in Poznań, Krzysztof Schramm and visited the Consulate, which has served Irish citizens in the Wielkopolska region and further afield since 1999. He also met Justyna Schramm of the Irish Culture Foundation, to hear more about the great work they have been doing to promote and support Irish culture across Poland.
Following this, Ambassador Haughey had a warm and friendly meeting with Mayor of Poznań, Jacek Jaśkowiak, where they discussed the many links between Poznań and Ireland, as well international developments and our shared support for Ukraine.
The Ambassador then met with the Dean of the Faculty of English at Adam Mickiewicz University, Joanna Pawełczyk, along with representatives from the Faculty of English and Centre for Celtic Studies. The Embassy has enjoyed excellent cooperation with the Faculty over many years, particularly in the promotion of contemporary Irish literature and promotion of the Irish language. The Irish government has supported the teaching of the Irish language at the Centre for many years.
We look forward to continued strong cooperation between Ireland and Poznań in the years to come.