Samhain: The Irish Origins of Halloween
Event
01 October 2019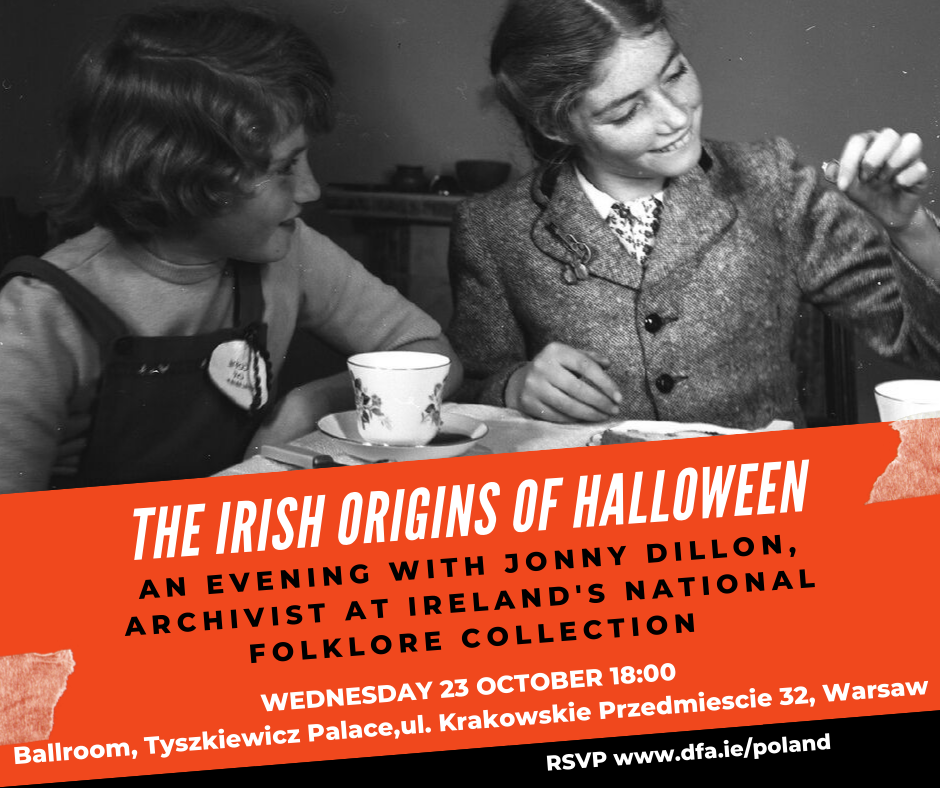 You can now listen to how the below event went and hear Jonny's presentation!
Halloween is now celebrated all over the world, but did you know it began in Ireland? As the days get colder and the nights get longer, the Embassy of Ireland and the University of Warsaw would like to invite you to a very special event: an evening with Jonny Dillon, archivist from Ireland's National Folklore Collection.
Jonny Dillon will give a presentation about the beginnings of Halloween, how it began to be celebrated in Ireland and how this folk tradition went global! His talk will include audioclips and images from Ireland's digital archives. There will be time for questions and answers and the event will be followed by a reception offering traditional seasonal Irish treats. The event will be in English with simultaneous interpretation into Polish. All are welcome and entrance is free.
Speaker Bio: Jonny Dillon works as an archivist at the National Folklore Collection, University College Dublin; one of the largest repositories of folkloric material in Europe which was, in December 2017, inscribed in the UNESCO 'Memory of the World' register. He co-hosts and produces the Collection's monthly podcast Blúiríní Béaloidis (Folklore Fragments), is a research editor for the Collection's online platform www.dúchas.ie and is Honorary Treasurer of An Cumann le Béaloideas Éireann (The Folklore of Ireland Society).
Wednesday, 23 October 2019 at 18:00
Venue: Sala Balowa, Pałac Tyszkiewiczów, UW, ul. Krakowskie Przedmieście 32, Warszawa
As places are limited, please register here.