Webinar 30 Years is a Generation
News
06 July 2020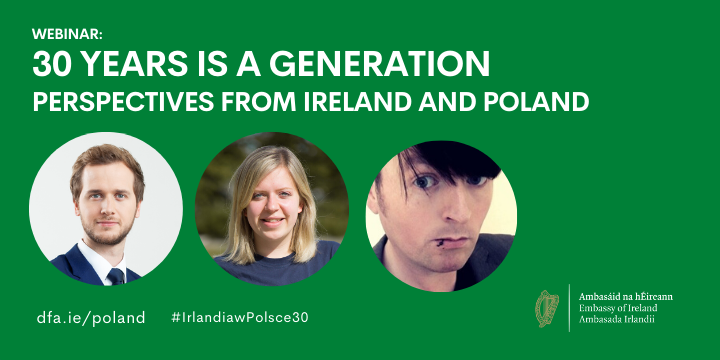 The Embassy of Ireland in Poland is celebrating its 30th anniversary. To mark this occasion, the Embassy organised a special webinar discussion on the economic and social changes in Ireland and Poland in this generation.
The world has changed unrecognisably since Ireland opened its first resident Embassy in Warsaw in 1990. Young adults in Ireland and Poland today have more in common with each other than they do with their parents' generation. This panel discussion examined the key experiences and perspectives shared by young people in Ireland and Poland: on work, on education, on activism, on the EU and more. In a world that seems increasingly unstable, what is the vision of today's 30 year olds for the world 30 years from now?
Panelists:
- Jakub Sawulski, Macroeconomics Team Leader at the Polish Economic Institute and author of "Pokolenie'89. Młodzi o polskiej transformacji" ("Generation' 89: Young people and Polish Transformation").
- Kevin Myers, sociologist and research lead on Generation What? research project examining the chief attitudes of Europe's millennial generation
- Joanna Siewierska, former President of the Students' Union of University College Dublin
The discussion was held over Zoom, in English without interpretation.
You can now listen back to our webinar: https://soundcloud.com/ambasadairlandii/webinar-30-years-is-a-generation