Expressions of Interest - Honorary Consul of Ireland, Galicia
News
05 June 2023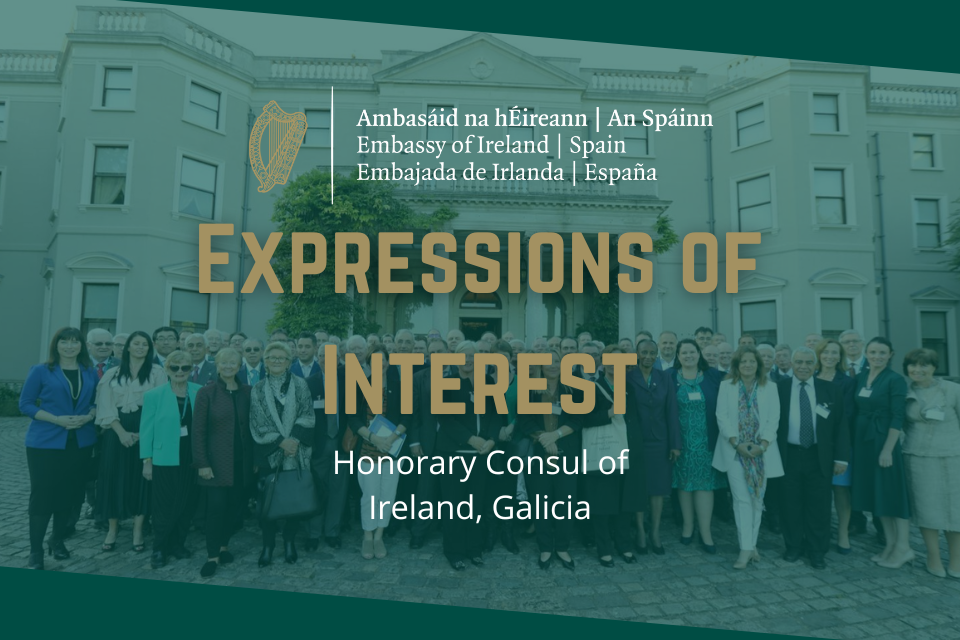 The Embassy of Ireland in Spain is seeking expressions of interest from suitably qualified candidates for the role of Honorary Consul in Galicia.
The Honorary Consul in Galicia will help the Embassy in the promotion of Ireland through the fostering of strong relationships in Spain, and will have a partcular focus on providing consular support and services to our citizens abroad.
The role of an Honorary Consul is by definition honorary, and as such is not salaried and does not have pension entitlements. Potential candidates must be legal residents in the region of appointment, and must be fleunt in both English and Spanish. Our ideal candidate will have familiarty with teh Spanish and Irish adminsitrative systems, a strong interest in or connection with Ireland, and an involvement with the Irish community in the region.
If this sounds like you or you are interested in finding out further information, you can consult the full details of the role and how to submit an expression of interest on the Job Opportunities section of our website.
The closing date for receipt of expressions of interest is 03 July, 2023