2020 St. Patrick's Day Message from President Michael D. Higgins
News
16 March 2020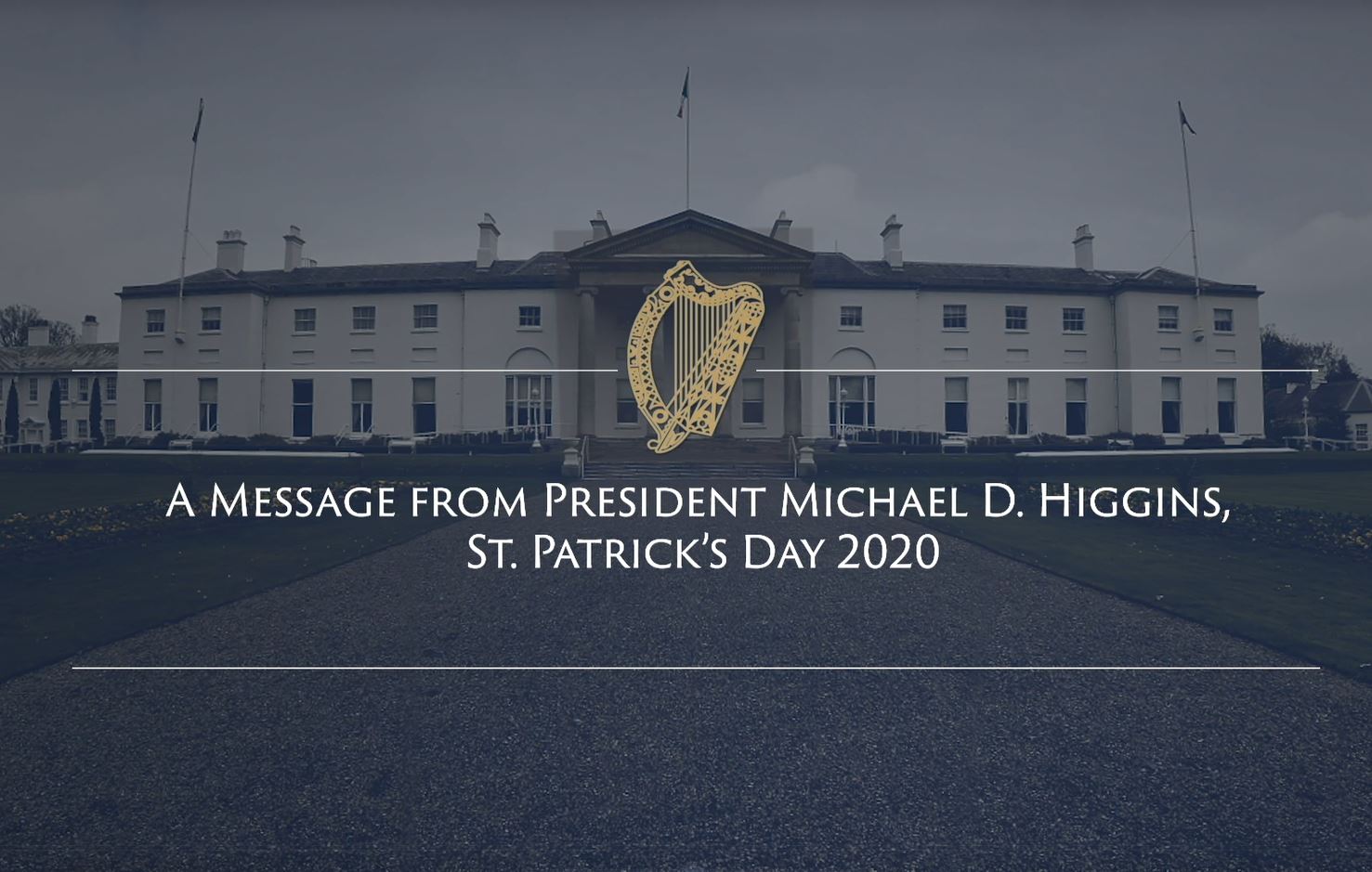 May I, on this St. Patrick's Day 2020, send my warmest greetings as Uachtarán na hÉireann, President of Ireland, to all our extended family across the world and indeed to all those interested in matters Irish.

Wherever you may be, and in whatever circumstances, as part of Ireland's global family you will be joining with us as we celebrate the feast day of our patron saint, and the culture ancient and contemporary, the heritage and history that connects us.

The 17th of March is a day when we recall the life of St. Patrick, his transformative spirit, and the enormous legacy he has left behind as exile, migrant and apostle.

Today, as the world faces the global spread of the coronavirus we are called more than ever to follow the values embodied in the story of St. Patrick. Those values of solidarity and concern for the well-being of our fellow citizens will play a fundamental role in our effective confronting of the challenge with which we are now presented.

It is a challenge that calls on the tradition and practice of our communities working together, recognising the needs of all their members, and in particular those who are most vulnerable.

So often, as President of Ireland, I have been inspired and uplifted by the generous spirit of unity that I have witnessed in communities across the country. I have seen so many examples of care and compassion where communities have come together to look after their elderly and sick, and to ensure the welfare of those who are vulnerable and marginalised.

That spirit, I have no doubt, will come very much to the fore during this difficult time, which will require generous and compassionate citizenship as we work to keep all members of our community safe.

We must remember, of course, that we are also citizens of a wider global community. St Patrick's Day has become a profound expression of a common history that extends far beyond Irish shores, and of the strong bonds we share with our wider global family despite the miles, borders and oceans that may separate us.

As members of that global community we must commit to working in a spirit of solidarity and co-operation, joining with citizens across the world in fighting this global health emergency.

On this day when we celebrate the feast of our patron saint, Patrick, let us draw on the best of our Irishness in order to create a safer future for ourselves and all those who live on our shared, vulnerable, planet.

On behalf of the people of Ireland, I extend a hand of friendship across the globe to all those who are Irish by birth, descent or association, and to all those who have assisted our Irish people, or who simply have an interest in things Irish.

I wish you, and all those who form part of the Irish family, a happy and peaceful St. Patrick's Day.

Beir beannacht.
Mar Uachtarán na hÉireann guím gach beannacht ar ár muintir ar fud an domhain agus ar chairde na hÉireann, cibé áit ina bhfuil siad ar Lá Fhéile Pádraig dhá mhíle is fiche (2020).

Pé áit agus pé cúinsí ina bhfuil tú, is duine de mhuintir dhomhanda na hÉireann tú. Bí linn agus lá féile ár bpátrún á cheiliúradh againn, agus muid ag tarraingt as tobar ár gcultúr, ársa agus nua-aimseartha, ár n-oidhreacht agus stair ár dtír, nithe a cheanglaíonn an méid sin duine ar fud na cruinne.

Ar an seachtú lá déag de Mhárta, cuimhnímid ar shaol Naomh Pádraig. Sclábhaí, deoraí, imirceach agus aspal. Inniu, agus aghaidh á thabhairt ag an domhan ar bhaol an choróinvíris, iarrtar orainn uilig luachanna Naomh Pádraig a mheabhrú dúinn féin.

Inniu tá géarghá le bunluachanna na dlúthpháirtíochta agus an chúraim maidir lenár gcomhshaoránaigh agus sinn ag dul i ngleic go héifeachtach leis an dúshlán atá romhainn anois.

Is dúshlán é ina iarrtar orainn tarraingt ar thraidisiún na cóiríochta agus ar chleachtas ár bpobal agus muid ag comhoibriú le chéile agus ag aithint riachtanas gach ball, go háirithe iad sin is leochailí.

Go minic, mar Uachtarán na hÉireann, ardaítear mo chroí nuair a fheicim spiorad fial na haontachta sna pobail ar fud na tíre seo. Tá an oiread sin samplaí den chúram agus den chomhbhá feicthe agam agus pobail ag teacht le chéile chun aire a thabhairt do dhaoine aosta agus breoite, agus leas na ndaoine leochaileacha agus imeallaithe á gcinntiú acu.

Táim cinnte go mbeidh an spiorad sin ag teacht chun cinn arís le linn na tréimhse deacra seo. Beidh éileamh ar an tsaoránacht fhial agus chomhbhách agus sinn ag iarraidh ár bpobail a choimeád slán.

Ná déanaimis dearmad, ach an oiread, gur saoránaigh i bpobal domhanda fairsing muid freisin.

Sa lá atá inniu ann tá Féile Pádraig mar cheiliúradh domhanda ar stair choiteann a shíneann amach go tíortha i bhfad i gcéin. Léiríonn sé na ceangail láidre atá ann i gcónaí lenár muintir ar fud an domhain, in ainneoin na mílte, na dteorainneacha agus na n-aigéan atá eadrainn.

Mar bhaill den phobal domhanda sin ní mór dúinn dul i mbun oibre i spiorad na dlúthpháirtíochta agus an chomhoibrithe, agus dul i gcomhar le saoránaigh ar fud an domhain chun aghaidh a thabhairt ar na na héigeandálaí sláinte dhomhanda atá romhainn.

Ar an lá seo, agus féile Naomh Pádraig, á ceiliúradh againn bainimis tairbhe as scáth ár nÉireannachais chun todhchaí níos sábháilte a chruthú dúinn féin agus dóibh sin go léir a mhaireann ar ár bpláinéad leochaileach comhroinnte.

Thar ceann mhuintir na hÉireann, déanaim muintearas libhse go léir ar fud an domhain ar Éireannaigh sibh de thoradh bhur mbreithe, bhur sinsir nó bhur gcaidrimh agus leo siúd go léir a chabhraigh lenár muintir nó a bhfuil suim acu i gcúrsaí na hÉireann.
Guím Lá Fhéile Pádraig sona síochánta oraibhse go léir ar chuid de chlann na hÉireann sibh.

Beir beannacht.