Opening of the Irish Passport Collection Centre in VFS Global, Doha, Qatar
News
15 October 2020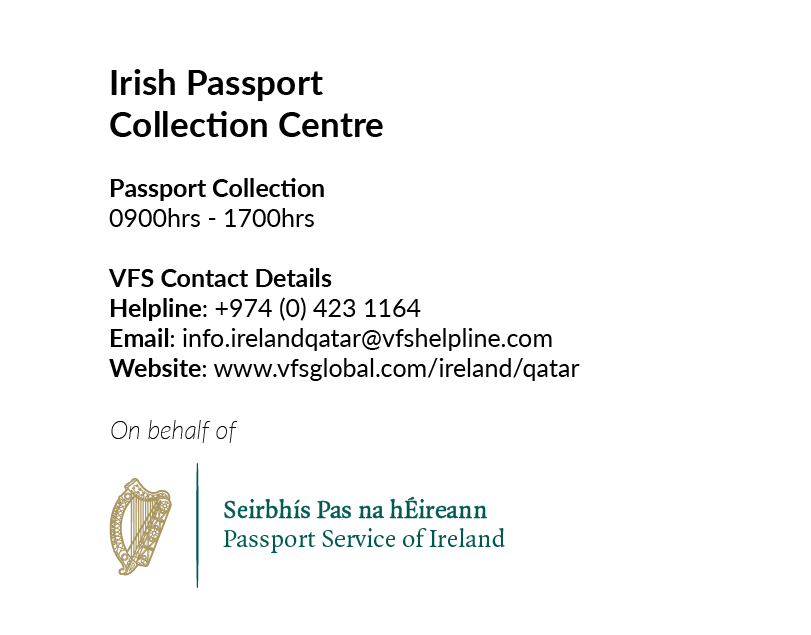 The Embassy is pleased to announce the opening of the 'Irish Passport Collection Centre' in VFS Global, Al Matar Street (Airport Road), Doha, Qatar on 18th October 2020.
This service will offer a fast, convenient and secure means for Irish citizens in Qatar to collect their new passport. The service fee will be QAR 150.
VFS Global has been providing Irish visa application services on behalf of the Embassy of Ireland in Qatar since 2017. The first Irish Passport Collection Centre opened in Dubai in February 2020. Following a strong take up of the service in Dubai, we are confident that VFS Global will provide an excellent service to Irish citizens in Qatar through its extended opening hours, online tracking facilities and dedicated call centre.
VFS Global offers a secure and fully tracked service for transportation of passports. Applicants who opt to use the service will be able to track their passport from the Embassy in Abu Dhabi to Qatar on https://www.vfsglobal.com/ireland/qatar/and will receive a notification when their passport is ready for collection in Doha.
This is an optional service for the collection of new passports and original supporting documentation only. All passport renewal applications can now be submitted online. First-time passport applications and supporting documentation for online passport applications need to be submitted to the Embassy in Abu Dhabi by courier via the Honorary Consulate in Muscat, Oman. Similarly, consular applications, such as Foreign Birth Registration, marriage and authentications, should be submitted to the Embassy.
The Embassy hopes to be able to resume visits to Qatar soon. In the meantime, we look forward to receiving feedback from Irish citizens in Qatar on this service.
All queries regarding passport and consular services should be directed to the Embassy of Ireland, Abu Dhabi.