Preventing blindness in older people in Uganda
News
18 May 2018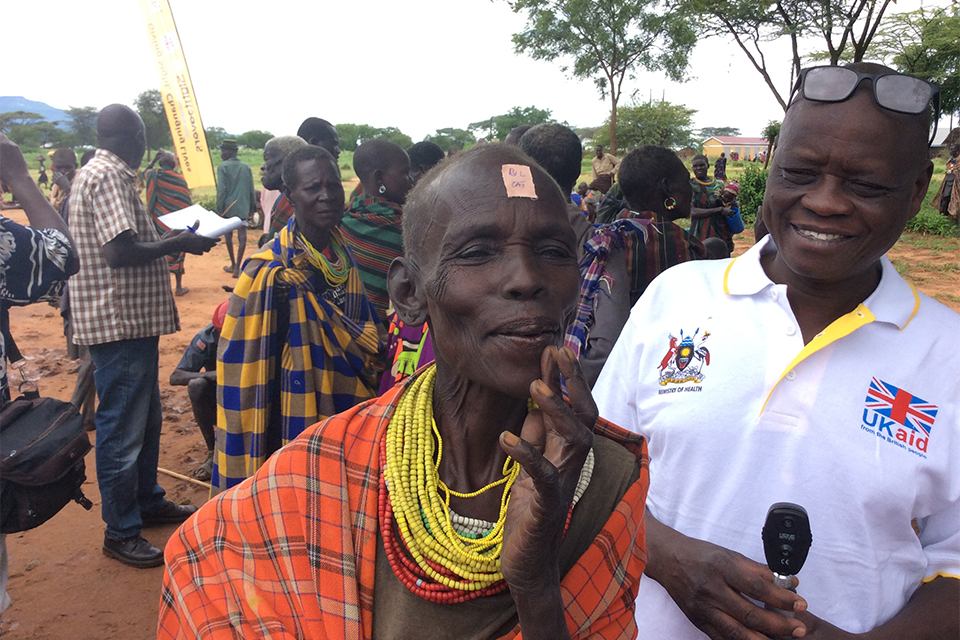 On a Wednesday in May, Deputy Head of Cooperation/incoming Head of Cooperation Áine Doody, joined a crowd of several hundred elderly people in Moroto, Karamoja, as they awaited their monthly social protection payment.
Amounting to 25,000 shillings – or about €7 a month – the payment is provided to elderly people over the age of 65 in 47 districts across the country, and is funded through the government's Expanding Social Protection Programme (ESPP), with support from the Irish government.
This payment is largely used to buy food, pay for health care and education fees for children, buy livestock and repair houses, and can have a large impact on a family's life, particularly in Karamoja, Uganda's poorest region.
On the day that Áine visited, the payment was being used in a new and innovative way.
Recognising that the regular large gathering of senior citizens presented an opportunity to provide services, raise awareness and share information, the ESPP collaborated with international eye health organisations, Sightsavers and the Queen Elizabeth Diamond Jubilee Trust Trachoma Initiative, to provide free eye examinations to the waiting crowds.
If needed, the senior citizens were also brought to the local hospital to receive surgery and/or antibiotics for a range of conditions including cataracts and trachoma. Many of the people treated had been suffering from these painful and debilitating conditions for many years unaware of and unable to access the various treatments available. Reading glasses were also on offer that day but sadly there was very little demand given the very high rates of illiteracy in the region.
Stephen Kasaija, head of ESPP, under which the Senior Citizens Grant falls, said: "We recognise that various forms of disability impede access and full benefit from programmes such as the Senior Citizens Grant. Our target population is highly vulnerable to the effects of disability. That is why the ESP Programme is exploring partnerships and linking our beneficiaries to available services that address disability challenges. In this way we not only improve their wellbeing and welfare, we also improve access and the impacts of our grants."
Ireland has been supporting the ESPP in Uganda since 2010. Sightsavers is also funded by Irish Aid Headquarters receiving approximately €1.5 million annually.