Supporting citizen empowerment in Uganda
News
28 March 2018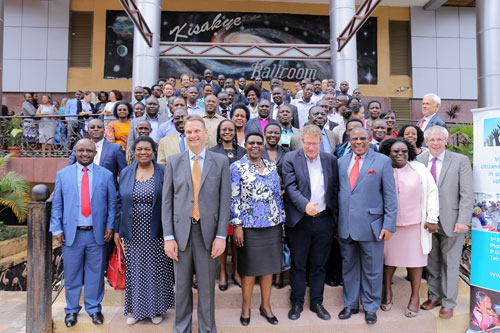 Representatives from development partners, government institutions and civil society organisations at the launch of the second phase of the Democratic Governance Facility.
Ireland today joined with seven development partners in launching the second phase of the Demographic Governance Facility (DGF) programme.
Under this second phase, which will run until 2022, the DGF will partner with both state and non-state institutions to bolster their efforts to promote democracy, human rights, access to justice, peaceful coexistence and accountability. Among the initiatives to be supported are programmes on improving local accountability, transitional justice, protection of civic space, elections and electoral reform, the provision of legal aid services across the country and enhancing natural resource governance.
Speaking at the launch, Ambassador of the Netherlands to Uganda, H.E. Henk Jan Bakker, who recently took over the Chairmanship of the DGF Board from Ireland, highlighted the importance of the DGF in bringing together government institutions and civil society organisations to work together to achieve the development goals that Uganda has set for itself, "To me this is key: government and civil society working together, not opposed but hand in hand, for a better Uganda"
Ireland has provided approximately €2.7 to the DGF annually since 2011 and will continue this support into 2011. The promotion and protection of good governance and human rights, and the promotion of an enabling environment for citizenship empowerment, are at the heart of Ireland's values and a cornerstone of our development cooperation initiatives.