Negative Covid19 PCR test required for travel to Ireland
News
14 January 2021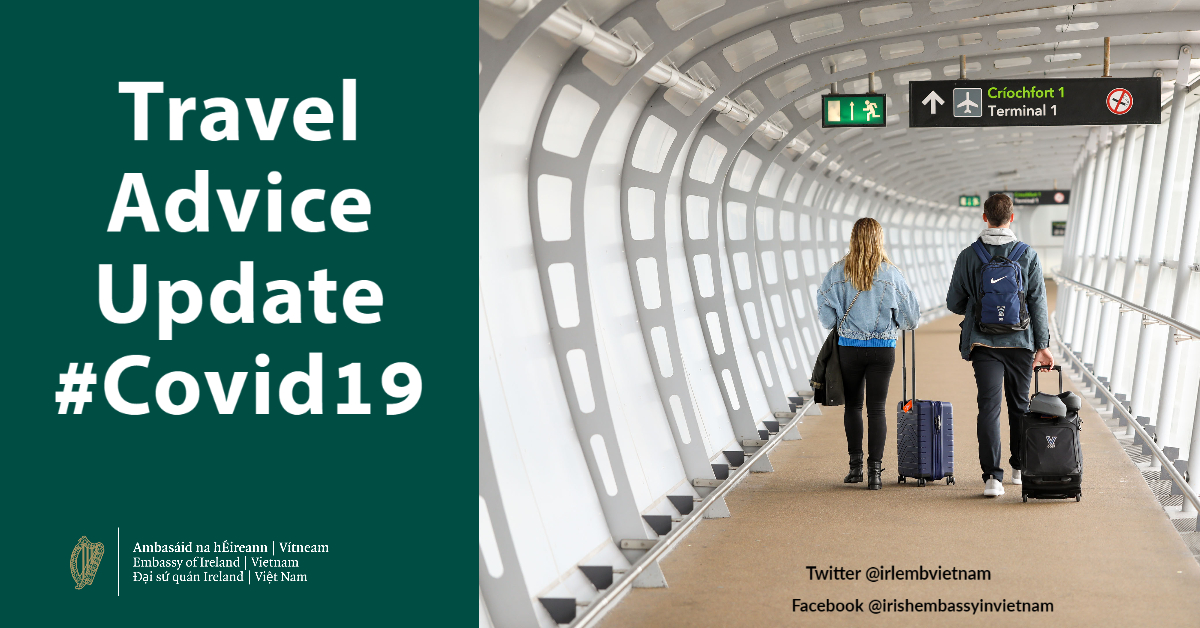 **Important Announcement**
From Saturday 16 January 2021 all passengers arriving in Ireland must have a negative / 'not detected' result from a pre-departure Covid19 PCR (polymerise chain reaction) test taken within 72 hours prior to arrival. This includes pasasengers travelling from Vietnam, Cambodia and Laos.
Passengers may be asked to present evidence of their negative/'not detected' result before boarding their airplane or ferry, and to produce this evidence to Immigration Officers on arrival at points of entry to Ireland.
If an individual has a genuine humanitarian emergency requiring urgent travel, you should contact the Embassy immediately for advice and assistance before commencing your journey to Ireland.
A number of organisations providing Covid19 PCR testing in Vietnam, Cambodia and Laos are listed below.
*this list is not exhaustive and there are likely to be additional organisations offering such tests in the region.
**this list is provided as a means of assistance and the Embassy takes no responsibility for an individual's engagement with any of the organisations listed below.
CITY / PROVINCE
NAME OF FACILITY
CONTACT INFORMATION
Vietnam

CAN THO (Mekong Delta)
CDC (Trung tâm kiểm soát bệnh tật)
Address: 1 Ngo Duc Ke, Ninh Kieu; Phone: (0292) 3822353
DA NANG (Da Nang City)
CDC
315 Phan Chu Trinh, Danang City
Tel: (0236) 3826 222
HAI PHONG
CDC
21 Le Dai Hanh, Hai Phong City
HANOI
French Hospital
1 Phuong Mai street, Hanoi
Tel: (024) 3577 1100 // Email: reservation@hfh.com.vn // Website: hfh.com.vn
HANOI
Hong Ngoc Hospital
55 Yen Ninh, Hanoi
Tel: (024) 3927 5568
HANOI
Medlatec Hospital
42 Nghia Dung, Ba Dinh, Hanoi
Tel: (024) 3716 2066
HO CHI MINH CITY
CDC (Trung tâm kiểm soát bệnh tật)
Phone 0869-559-453; email: labo.hcdc@gmail.com; website: https://hcdc.vn.
HO CHI MINH CITY
FV hospital (Bệnh viện FV)
Phone: (028) 54 11 33 33;
email: information@fvhospital.com; website: https://www.fvhospital.com/
HO CHI MINH CITY
Hoan My hospital (Hoàn Mỹ Sài Gòn)
Address: 60-60A Phan Xích Long, ward 1, Phú Nhuận District; Phone: tel:(028) 3990 2468; email:
HO CHI MINH CITY
Pasteur Institut (Viện Pasteur )
Address: 167 Pasteur, ward 8, D3;Phone: (028)3 8230352 EXT 102;
email: xnpasteur@gmail.com; website: http://www.pasteurhcm.gov.vn.
HO CHI MINH CITY
Bệnh viện Bệnh Nhiệt đới thành phố HCM - Hospital for Tropical Diseases in HCMC
Address: 764 Võ Văn Kiệt, Phường 1, Quận 5, Thành phố Hồ Chí Minh 700000, Vietnam
Tel: +84 19007297
HO CHI MINH CITY
Thống Nhất Hospital
Address: 1 Lý Thường Kiệt, Phường 7, Tân Bình, Thành phố Hồ Chí Minh 700000, Vietnam
Phone: +84 38690277, ext: 871
THUA THIEN-HUE (Hue)
Hue Central Hospital - International Department
3 Ngo Quyen street, Hue City
KHANH HOA (Nha Trang)
CDC (Trung tâm kiểm soát bệnh tật)
Address: 4 Quang Trung, Nha Trang; phone:
LAO CAI (Sapa)
CDC
Khoi 5, Nha 2, Duong Chieng Om, Lao Cai Town
(0214) 385 5557
097 478 5359 Ms. Ha
LONG AN (Tan An)
Long An General Hospital
Address: 211 Nguyễn Thông - ward 3 - Tân An city, Long An province
Tel: +84 0723 826330
Hotline: 07223581113
QUANG NAM (Hoi An)
CDC
129 Trung Nu Vuong, Tam Ky Town, Quang Nam Province
Tel: (0235) 3852 787
Cambodia

Phnom Penh
National Institute for Public Health (NIPH)
Lot 80, Street 566 & Corner with 289, St 566, Phnom Penh, Cambodia
Tel: +855 23 880 345
Phnom Penh
The Khmer-Soviet Hospital
Yuthapol Khmemarak Phoumin Blvd, Phnom Penh 12306
Tel: +855 23 217 524
Phnom Penh
Chak Angre Krom Referral Hospital
National Road No 2, Phnom Penh
Tel: +855 23 219 904
Laos

Vientiane
National Centre for Epidemiology
Thadeau Road
Vientiane
Tel: +856 21 350 209
More information on Covid19 and travelling to Ireland at this time is available in our Travel Advice Section.