Vietnam - Visa Extension / Exit Visa
News
19 May 2020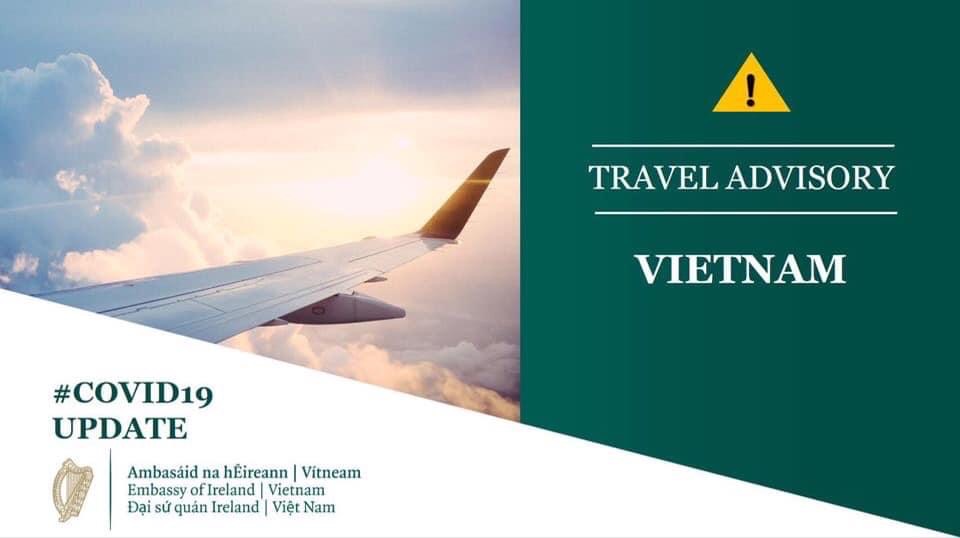 Notice – Visa Waiver/ Exit Visas
Updated, 02 November 2020
The purpose of this notice is to provide Irish citizens with updated information on visa waiver / exit visas for Vietnam following recent engagement with the Ministry of Public Security of Vietnam.
The Immigration Department have issued a statement informing that citizens who entered Vietnam under visa waiver programmes, e-visa or tourist visa will receive an automatic waiver of their visa valid until 30 November. A brief outline is set out below as published on their website: https://xuatnhapcanh.gov.vn/
Those who have entered Vietnam after 1 March, your visa will automatically waived until 30 November provided you can demonstrate that you are stranded here in Vietnam.
2. Those who have entered Vietnam before 1 March, your visa will automatically waived until 30 November, providing you can show supporting documents to facilitate your exit from Vietnam and your legal immigration status in the form of:
- Your discharge papers from mandatory isolation
Or:
- A letter of support from your Embassy confirming that you have been a stranded tourist in Vietnam due to the cancellation of flights. Citizens will need to provide evidence of this to the Embassy when requesting such a letter. This will issue in either hard copy or PDF depending on the requirements of the local province.
3. Citizens granted with an automatic visa wajiver must declare temporary residency with their local authority and complete a medical declaration.
Citizens should bring all relevant documentation with them to the Airport as the Vietnamese authorities will require evidence of the circumstances that resulted in your being unable to leave Vietnam before your visa expired (evidence of flight cancellations, evidence of quarantine etc.).
Responsibility for ensuring compliance with visa requirements is a matter for the individual, and decisions in all cases of visa waiver / exit visas for Vietnam are a matter for the Vietnamese authorities.
If you have been de-facto residing in Vietnam on short stay visas and wish to remain in Vietnam, this is a matter for you and the authorities in Vietnam. Please note also that in order to work in Vietnam you are required to have a valid work permit / temporary residence card, sponsored by an employer.
If you are residing in Vietnam on a work permit / temporary residence card and have been unable to extend your permission during the period of closure of immigration offices (1 April – 22 April), you should now proceed to renew your permission. You will not be penalised if your permission expired during this closure period. If you hold a work permit or temporary residence card, you should discuss your renewal with your employer / sponsor in Vietnam.
Further information on Vietnamese visa requirements and procedures, and contact details for the Department of Immigration, are available on the Ministry of Public Security website. There are immigration offices located in all provinces in Vietnam. A list of these offices is not published online. The main immigration offices in Hanoi, Ho Chi Minh City and Da Nang are listed below. You should seek support from your accommodation provider or contact the Department of Immigration directly for information on your nearest immigration office: contact@immigration.gov.vn
Hanoi
Immigration Office (tourists and residents)
Add: 44-46 Tran Phu, Ba Dinh District, Hanoi
Tel: 0243 8257 941/ 0243 8264 026
Ho Chi Minh City
Immigration Office (tourists)
Add: 254 Nguyen Trai, District 1, HCMC
Tel: 0283 9202 300
Immigration Office (residents)
Add: 196 Nguyễn Thị Minh Khai, Phường 6, Quận 3, HCMC
Tel: 0283 8299 398
Da Nang
Immigration Office (tourists and residents)
Add: 78 Le Loi Street, Hai Chau district, Danang
Tel: 0236 3860 191