Special Commerical Flight to London
News
10 April 2020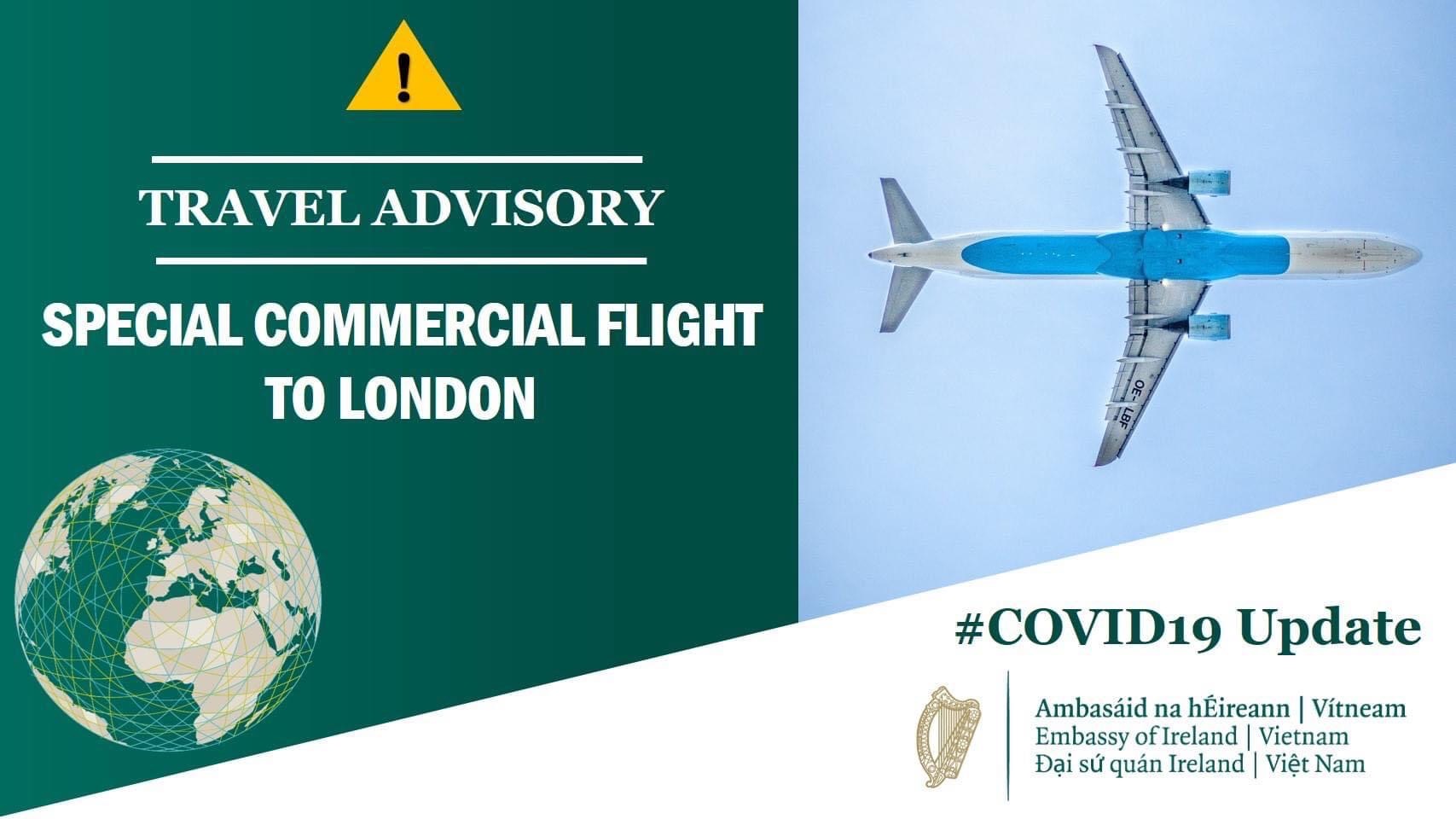 Vietnam Airlines special commercial flight from Phnom Penh - Hanoi - London
Special Commercial Flight to London - Book your tickets today!
With thanks to the British Embassy and Vietnam Airlines, a special commercial flight from Phnom Penh – Hanoi – London has become available. This will be one of the last opportunities for Irish citizens to return to Ireland from Cambodia and Vietnam during the COVID19 pandemic. Irish citizens will need to make their own arrangements to travel from London Heathrow to Ireland.
You can now book your tickets for this flight. Time is short and you should book immediately if you want to secure your seat.
DETAILS OF THE FLIGHT:
Date: Tuesday, 14 April 2020
Airline: Vietnam Airlines
Route: Phnom Penh - Hanoi – London (Heathrow)
Departure times:
From Phnom Penh: (VN9920): Departing at 00:05AM
From Hanoi (VN55): Departing at 03:25AM
Arriving in London Heathrow at 10:15AM
Cost: Approx. 1230 USD
You should book immediately to reserve your seat. Deadline to buy tickets: Sunday, 12 April 2020 at 12:00PM
HOW TO BOOK:
Book online at https://fly.vietnamairlines.com/dx/VNDX/

or

Go to your local Vietnam Airlines branch in Hanoi, HCMC, Da Nang and Phnom Penh and make a payment there directly. Make sure to call in advance to check if they are open. Find your local booking office here: https://www.vietnamairlines.com/vn/en/support/vietnam-branches

TRANSPORTATION:

If you are currently in central Vietnam (Da Nang, Hoi An, or Hue) and need help getting to Hanoi for this flight, please email irishembassyhanoi@dfanet.ie by 5:00 pm today, 10 April. We may have an option to get you to Hanoi by road.