The Government of Ireland Scholarship programme 2021-2022
News
19 August 2020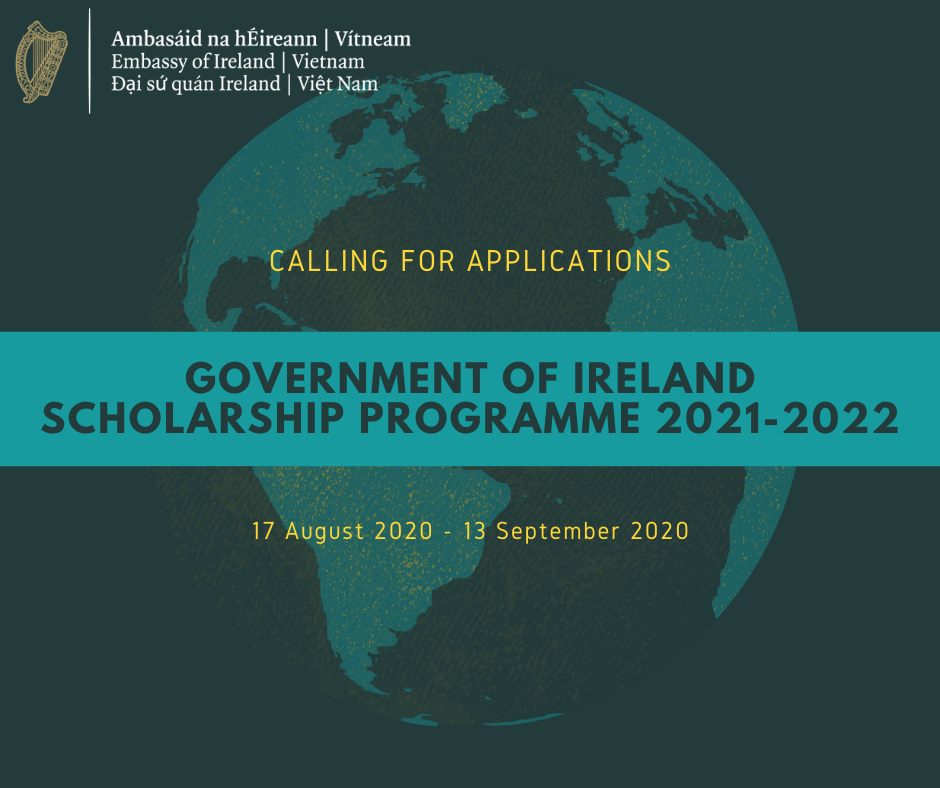 The Government of Ireland Scholarship programme 2021-2022 for candidates from Vietnam, under the Ireland Fellows Programme - Asia is now open for applications. The new Ireland Fellows Programme-Asia replaces the IDEAS Scholarship Programme that has been operating in Vietnam since 2009.
The Embassy is now calling for applications from Vietnamese nationals who wish to pursue Masters study at Irish higher education institutions in the following areas:
Climate change and Resilience, Environment, Marine, Sustainable Development, GIS
Development studies, Human rights, International Relations, Politics, Public Policy
Food Science, Food Engineering and Food Industry
Women's Studies, Gender Studies, Equality Studies
International Law, Human Rights Law, Business Law
Sociology, Social Policy, Social Research and related
Education Health, Medicine, Pharmacy, Biotechnology and related
Engineering and Sustainable Technology
Information Systems, Communications Technology, Digital Media
Business, Economics, Project Management, Strategic Management, Leadership and related
Tourism and hospitability
Scholarship awards cover: visa fee, international airfares, full tuition fees, public health insurance, monthly stipend to cover accommodation and subsistence costs and settling-in allowance. Scholarships are for individuals for full-time study of up 12 months duration for Masters programmes.
The application process consists of three stages:
Stage 1: Preliminary application: opens on 17 August 2020, closes 13 September 2020
Stage 2: Detailed application: opens on 28 September 2020, closes 18 October 2020
Stage 3: English language tests and interviews – November/December 2020
Final award: June 2021
The application form must be typed and submitted together with required documentation for Stage 1: Preliminary Application as set out in the guidance note by email to the Embassy of Ireland in Hanoi at the email address: vietnamscholarship@dfanet.ie by deadline on 13 September 2020.
You can access the Directory of Eligible Courses and download the Application Form by following this link.
Follow our Facebook pages for more details:
www.facebook.com/irishembassyinvietnam
www.facebook.com/educationinirelandvietnam