Global Irish Newsletter 26 June 2020 - a Message from Minister Cannon
News
26 June 2020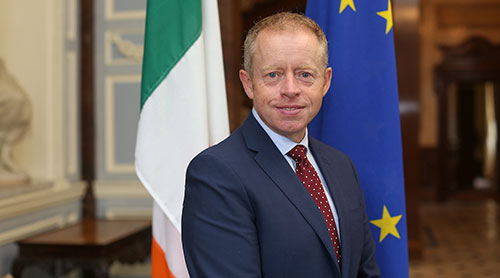 Many of you may have heard that Ireland has been elected to the United Nations Security Council for 2021-22. Welcoming the news Simon Coveney, the Tánaiste and Minister for Foreign Affairs, recalled, "The number one question I have been asked throughout this campaign is – how does Ireland maintain such a strong bond with its diaspora? Our people are one of our biggest natural resources be they emigrants, soldiers, missionaries or aid workers. They have done us so proud." So I am delighted and honoured to thank you for your contribution to Ireland's positive image around the world.
I also want to echo the warm words of praise our President, Michael D. Higgins for the efforts of the CARA initiative by the Merseyside Irish. So many of our people have risen to this challenge by giving back to their communities and his words could equally apply to many other Diaspora organisations around the world.
I would like to welcome the appointment of Maurice Casey as the Historian-in-Residence at EPIC, the Irish Emigration Museum. His work, and the work of EPIC, serve to explain and deepen the connections between Ireland and the Global Irish Diaspora. I am delighted that the Museum is open again to visitors but you can always visit online wherever you are. I recommend you check it out.