The Irish in the USSR: Hidden Histories of the Irish Abroad
News
09 October 2020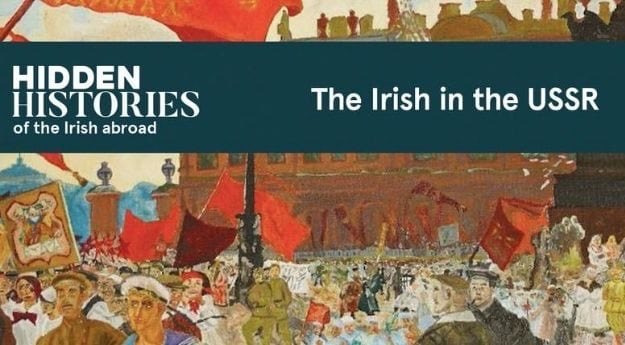 By Darragh Doyle and Rebecca Humphreys, EPIC The Irish Emigration Museum
On Thursday 17 September, Dr Maurice Casey, Historian-in-Residence for EPIC and the Department of Foreign Affairs, presented The Irish in the USSR, the first in a series looking at the hidden histories of the Irish abroad, and part of the Dublin Festival of History 2020.
You can watch The Irish in the USSR back now on EPIC's YouTube channel.
This first talk explored the lives of Irish emigrants and Russo-Irish families in the USSR.
Irish emigrants could be found in the Soviet Union from the early years after the fall of Tsarist rule to the collapse of the Soviet project which succeeded it. One of the earliest Irish emigrants to appear in the archives was Rosa Arnold, the Irish wife of a Latvian translator working at a 1921 congress on the future direction of international communism. Rosa was the first of a small trickle of Irish revolutionaries, translators, literary types and diplomats who made the world's first socialist state their home.
Diaspora stories featured in the talk include the lives of Renee Mikhailovna O'Connell, the artist granddaughter of Daniel O'Connell, Violet Conolly, a Dublin-born expert on Soviet affairs, Margaret McMackin, a Donegal-born Russian-to-Irish translator, and Edward Brennan, the first Irish ambassador to the Soviet Union. The talk also considered Irish students at the International Lenin School, a secretive training school for revolutionaries that existed from the late 1920s through the 1930s. One of the Lenin School's graduates, Belfast's Betty Sinclair, would later play an important role in the Northern Irish Civil Rights Association.
The talk also explored what Ireland and 'Irishness' meant in the USSR. Ireland, as a nation which challenged the British Empire, featured in Soviet history books. The first Soviet historian of Ireland, the Bolshevik Platon Kershentsev, had his own links to Irish diaspora history. He discovered his interest in Ireland as a visitor to Dublin in the aftermath of the Easter Rising. By the 1980s, news reports regularly featured coverage of the 'Troubles'.
This talk used a range of previously unseen archival documents to tell the fascinating story of this little-known diaspora community.
Further reading: