Covid-19 Update September 16, 2021
News
05 October 2021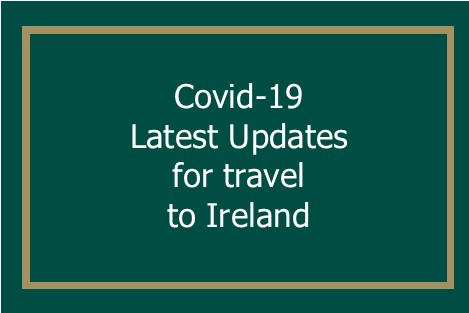 Updated Information on Travel to Ireland
From 19 July, subject to the prevailing public health situation, Ireland will broadly align itself to the EU approach to non-essential travel into the EU from the United States.
To protect its citizens against importation of variants, an 'emergency brake' mechanism will be coordinated at EU level to react swiftly to the emergence of a variant of concern or variant of interest. Government advice will be to avoid travel to a country where the emergency brake has been applied. In essence, subject to the COVID situation at the time, and assuming EU has not applied the 'emergency brake' to the US due to a growth of variants of concern, then vaccinated persons arriving into Ireland from the US from 19 July onwards will not need to home quarantine.
As of July 20, the emergency brake mechanism is currently not in place for the United States.
Entering Ireland from the US from 19 July:
PCR test before travel
Passengers arriving to Ireland that are fully vaccinated (

verifiable proof such as CDC vaccination card)

will not require a pre-departure PCR test, or further day 5 PCR test or quarantine.
All passengers who are not vaccinated must present a pre-departure PCR test (taken within the 72 hours prior to arrival in Ireland) AND require 14 day home quarantine with release after a negative RT-PCR test after 5 days.
Travelers should check with their airline to ensure that they comply with any separate testing requirements demanded by their carrier prior to travel.
Accompanying Children
Children aged 11 or under will not require any pre-departure tests to travel into Ireland.
Unvaccinated children aged 12-17 will be required to present a pre-departure negative PCR (taken within the 72 hours prior to arrival in Ireland).
Children of any age, travelling with accompanying vaccinated adults will not be required to self-quarantine post arrival.
When travelling with both vaccinated and unvaccinated adults (who will be required to home quarantine), unvaccinated children should also home quarantine.
Any unvaccinated children aged 12 and over are recommended to take a RT-PCR test on day 5.
Passenger Locator Form
All passengers, vaccinated or not, arriving into Ireland from overseas are required to complete a mandatory Public Health Passenger Locator Form and to submit it to the relevant authority at their port of entry. This form is only available online. Exemptions are in place for providers of essential supply chain services such as hauliers, pilots and maritime staff.
Please check the Irish Government Advice Page for further up-to-date information on COVID 19 travel restrictions. All guidance is subject to change and travelers should check current requirements before travelling.
You will also need to check any re-entry requirements for the United States. You may be required to obtain a test before returning to the United States; Please check https://www.cdc.gov and the website of your state health department for the most up-to-date requirements.
Guidance for unvaccinated travelers:
Tests: All passengers are required to have a negative/'not detected' result from a pre-departure COVID-19 RT-PCR test (Reverse Transcription Polymerase Chain Reaction). This is the only kind of test acceptable and must be taken within 72 hours prior to arrival in Ireland. Please note: this is not a Rapid Test and can take 24-48 hours to get a result, please plan accordingly. Antigen or other test types do not meet the requirements. Passengers will be asked to present evidence of their negative/'not detected' result before boarding their airplane or ferry, and to produce this evidence to Immigration Officers on arrival at points of entry to the State.
PASSENGER LOCATOR FORM: All passengers arriving into Ireland are required to complete a COVID-19 Passenger Locator Form. From July 12, all Passenger Locator Forms must be completed online. The online form is available here.
Mandatory Hotel Quarantine requirements apply to all persons who have been in a designated state in the 14-days prior to entering Ireland. If you are travelling from or via a designated state you must also pre-book and pre-pay for a place in a designated facility for mandatory hotel quarantine. Arrivals from designated states are subject to mandatory hotel quarantine. It is important to note that the list of designated states will be subject to change at short notice and passengers are required to check the list before travelling to Ireland, to be sure of their obligations.
If you do not fulfil the legal requirement for mandatory quarantine you are committing an offence.
PASSPORTS - IMPORTANT NEW INFORMATION ABOUT ONLINE PROCESSING:
The Consulate is no longer mailing or accepting passport application forms. The Passport Service is now directing all Irish citizens to use the online system to complete their passport application.
As of April 29th, the Passport Service has expanded services offered through the online passport application system and is operational for all applicant types in the United States.
The expanded online service will now include:
First time applicants - Adults, minors, and renewals/replacements over 5 years outdated
The online system already offers services for:
Renewing a passport that expired within the last 5 years
Renewing a passport to change your name
Replacing a passport that is lost/stolen/damaged/visa pages are full
To access the online system, please visit: www.dfa.ie/passportonline
VISAS
The Minister for Justice, Heather Humphreys TD, and the Minister of State for Law Reform, Youth Justice and Immigration, James Browne TD, have today announced the resumption of short stay entry visa processing.
The move will come into effect from Monday, 13 September 2021.
The move to resume short stay visa processing is in line with the next phase of the Government's response to the pandemic, Covid-19: Reframing the Challenge, Continuing Our Recovery and Reconnecting.
All travellers arriving into Ireland must continue to comply fully with measures required by law including producing proof of vaccination, recovery from Covid-19 or a negative PCR test to Immigration Control at their port of entry.
All remaining Covid-19 restrictions on entry visa and preclearance processing, which were brought in as a necessary interim measure to help reduce the spread of Covid-19, have now been lifted.
If you are unsure as to whether you require a visa/preclearance to enter Ireland you can check here by entering your nationality.
WORKING HOLIDAY AUTHORISATION
The processing of Working Holiday Authorisations is temporarily suspended until further notice.
FOREIGN BIRTH REGISTRATIONS / CITIZENSHIP
The processing of Foreign Birth Registrations or FBRs (through which Irish citizenship can be claimed by persons with a grandparent born on the island of Ireland) has also resumed following the lifting of the level 5 restriction on December 2nd. Applications that have been sent to the FBR team have been securely held and will now be processed in strict date order. At present, due to the complex nature of the FBR it takes between 12 to 18 months to process a completed FBR application.
Please note that the Consulate has no role in the processing of FBR applications. As such, we are unable to advise on the eligibility of an applicant, on the content of applications or the status of existing applications. https://www.dfa.ie/citizenship/born-abroad/registering-a-foreign-birth/