Minister Humphreys trade and culture mission to Denmark
News
01 March 2017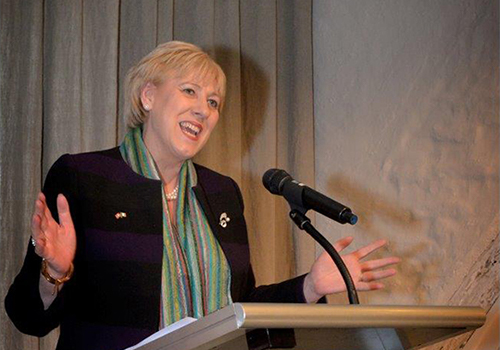 The Minister for Arts, Heritage, Regional, Rural and Gaeltacht Affairs, Heather Humphreys TD visited Copenhagen in March 2017 and carried out a range of cultural, tourism and economic engagements. Minister Humphreys met with members of the Irish community and addressed the St Patrick's Day reception hosted by the Irish Ambassador to Denmark, Ms. Cliona Manahan. Minster Humphreys also met with her Danish counterpart, Minister for Culture Mette Bock, where she took the opportunity to discuss the Creative Ireland programme. Minister Humphreys also visited the Danish Film School.
Speaking in advance of the trip Minister Humphreys said:
"Ireland enjoys strong cultural and trade links with Denmark. I look forward to engaging with our agencies on the ground and their client companies who are exploring new opportunities. "The Danish city of Aarhus holds the 2017 designation of European Capital of Culture; a title which will be held by Galway in 2020. I look forward to meeting my Danish counterpart, Mette Bock, to discuss cultural policy, the Irish Government's Creative Ireland programme and possible areas of future collaboration. The Nordic countries have been very successful in the area of cultural co-operation, and in promoting Nordic culture internationally. This is of particular interest to me in terms of our plans for the Creative Ireland programme. "I will also take the opportunity to discuss Brexit, the Irish Government's response to the challenges and opportunities it presents, and the wider European context as part of my engagement with a range of officials, agencies and Irish companies during this five day trip."
Background Note on Minister Humphreys' trip:
Irish Exports to the Nordics have increased steadily over the past number of years. In 2015, Irish exports to the Nordics were €613 million. Food exports represented around 43% of this total. Construction Services, Engineering and BPO & Consumer Business Services are the most significant non-food exports to the region. The Nordics continues to be strategically important markets for tourism to Ireland, and Tourism Ireland run year round marketing campaigns from their Nordic Office in Copenhagen. 68,000 visitors from Denmark came to Ireland in 2016, an increase of 19% since 2014.