SPD Photo Competition 2022
News
02 March 2022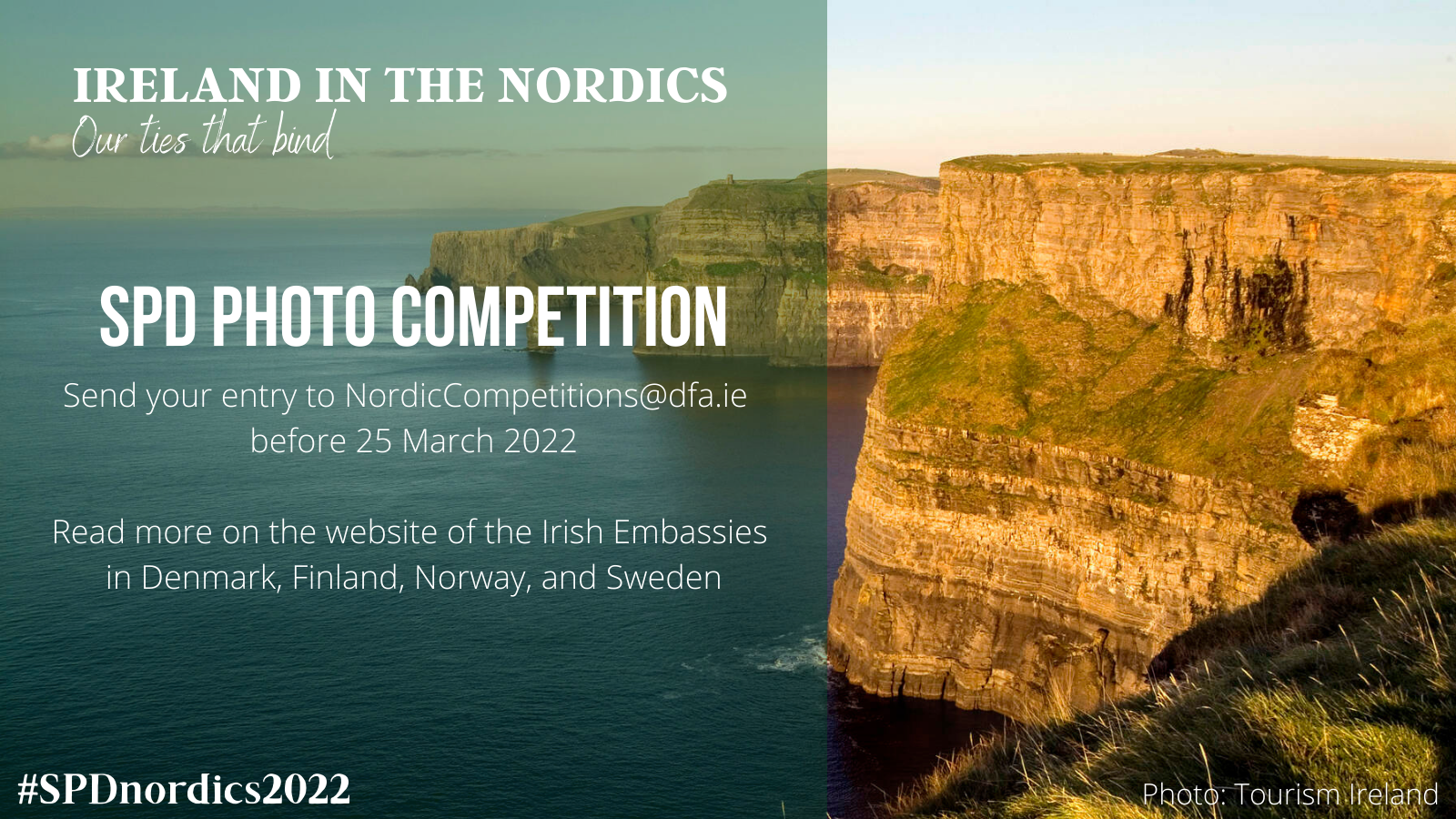 As we mark St. Patrick's Day this year, the Irish Embassies in Denmark, Finland, Norway and Sweden are inviting all of you to join our SPD Photo Competetion!
There will be prizes for one overall winner and one winner from each Nordic country.
To enter the competition, send us your best photo showing the ties between Ireland and the Nordics.
Pictures will be judged by diplomatic staff from each embassy, as well as professional photographer from Sweden residing in Copenhagen, Elsa Myrgård.
How to Enter
• Submit your photo to the Irish Embassies in the Nordics at NordicCompetitions@dfa.ie.
• Photos must be submitted as JPEG/JPG files. Links via dropbox, we share or any other cloud platforms are not accepted.
• Include your full name, photo location and contact details, so we can contact you in relation to the competition and use of your photo.
• Entries close at midnight Friday, 25 March 2022 at midnight.
Terms and Conditions
By submitting a photo to the competition, participants agree to the following terms and conditions:
All photos submitted must be the work of the individual who submits them.


You will always retain the full copyright to your photos, but by submitting photos, you agree to the use of submitted photos by the Irish Embassies in Denmark, Finland, Norwat, and Sweden with credit to the photographer.


If there are any identifiable persons in your submitted photo, you must ensure that the photographed persons have given their consent for the photo to be submitted to the competition and used by the Irish Embassies in Denmark, Finland, Norway and Sweden.


You must ensure that submitted photos do not infringe any rights of any third party and you will indemnify us of any infringement on the rights of a third party including but not limited to copyright and privacy.


The Embassy will not accept photographs that violate a person's rights or photos of inappropriate, offensive, obscene or sexually explicit character.