St. Brigid's Day 2018
Event
01 February 2018
‌‌‌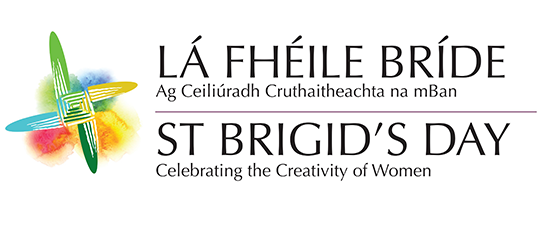 Lá Fhéile Bríde – Ag Ceiliúradh Cruthaitheachta na mBan
St. Brigid's Day – Celebrating the Creativity of Women

Watch a video of the Lá Fhéile Bríde 2018 event which took place on February 1st
Watch a gallery of images from the Lá Fhéile Bríde 2018 event which took place on February 1st
Embassy London marked Lá Fhéile Bríde 2018 by hosting an event on February 1st to celebrate the creativity of women. We hosted twelve different performances, talks and panel discussions over the afternoon and evening of 1st February in a variety of spaces throughout this historic building.
Almost 400 guests joined us over the course of the day to celebrate the enormous contribution and talent of women in such diverse fields as music, film, comedy, architecture, poetry, literature, fashion, art, theatre, craft, business and entrepreneurship, science and technology. We were also privileged to be joined by President Michael D Higgins & Sabina Higgins for this unique & special day.
We welcomed renowned figures including the award-winning TV actor, writer and producer Sharon Horgan, international fashion designer Orla Kiely, Enterprise Ireland CEO Julie Sinnamon, star of standup and TV comedy Roisin Conaty, musician and recording artist Keeva and the uniquely-talented Camille O'Sullivan.
St Brigid's Feast Day was originally a pagan festival called Imbolc, marking the beginning of spring. After a long dark winter, February 1st, Lá Fhéile Bríde, celebrates the arrival of longer, warmer days and the early signs of spring. In the pagan tradition, this day also celebrates Brigid's divine femininity.
Alison McKenna

The Embassy team were delighted to work with Alison McKenna as Consultant Producer for St Brigid's Day 2018.

Alison was the Consultant Producer to the Irish Consulate in New York for Welcoming Ireland - the Centenary of 1916 for the greater New York area in Pier A , Battery Park, April 2016. She produced Salon Eire 100 - a multidisciplinary arts festival in Manhattan in the same year and is delighted to be the Embassy of Irelands Consultant Producer for St Brigid's Day 2018. Previously Alison was the co-founder of b*spoke theatre company and continues to work as an actress and voice-over artist with the Lisa Richards Agency. www.alison-mckenna.com
We were delighted to be joined by the below participants in St Brigid's Day 2018:
Julie Sinnamon

Enterprise Ireland

Julie Sinnamon is CEO of Enterprise Ireland, a government agency responsible for the growth of Irish-owned businesses in global markets. Prior to her appointment to CEO in November 2013, Julie held a number of senior public sector positions, spanning a 30 year career in Enterprise Ireland and IDA Ireland. Julie has considerable experience in a variety of industry sectors, most notably the food sector, where she has worked directly with some of Ireland's best-known food brands, from their originating idea, right through to globally trading multi-national food businesses.

Julie is a strong proponent of initiatives that drive diversity and the building of balanced teams in the workplace. She is a champion for women engaging at all levels within both the public and private sector, not as an end in itself, but because of clear evidence of the positive impact of diversity on corporate performance. Julie is a business graduate of the University of Ulster, has a Masters in International Business (Fordham and IMI) and is a graduate of the Stanford Executive Programme, USA. She is originally from Crossgar, Co. Down and is married with two adult children.

Fiona Mitchell

RTÉ London Correspondent

Fiona has been RTÉ's London correspondent since 2015. A native of Tullamore and a graduate of NUI Galway, RTÉ in 2000 and worked as a reporter before being appointed a news editor in 2006 and later moving on to the foreign desk.

In her 14 years of service she has worked with the 'Morning Ireland' programme and on the Foreign Desk. In 2006 she was appointed News Editor. Some of the stories she has worked on in recent years have included the resignation of Pope Benedict, the State visit of Michael D. Higgins to the UK and the Scottish independence referendum.

Fiona is responsible for reporting across all RTÉ News television, radio and web based platforms on political, social and economic affairs in London and the wider Great Britain.

Camille O'Sullivan

Singer

Born in London of a French mother and Irish father, Camille moved to Cork, Ireland when she was a child. Prior to running away with the 'circus' 'The Famous Spiegeltent' and La Clique touring the world, she took a circuitous route to becoming a performer. She studied Fine Art Painting for a year and then went to UCD and graduated as an Architect, winning the prestigious Architectural Association of Ireland Award in 2000. She lectured in University and exhibited in the Royal Hibernian Academy as a painter.

As an actress she has appeared in the films Over the Edge, November Afternoon (from Once Director John Carney). After being spotted by Ewan Bremner of Trainspotting fame in La Clique, Camille appeared in the Oscar-nominated Mrs. Henderson Presents alongside Judi Dench, Bob Hoskins and Will Young, directed by Stephen Frears. Theatrical productions include of One Night Stand, Tonight Lola Blau and Stephen Sondheim's Sweeney Todd at the gate theatre, Dublin. She has been a special guest panelist several times on John Kelly's arts programme The View (RTÉ One).

With 5-star sell out seasons in UK, New York, Australia tour including the Sydney Opera House, Edinburgh and two recent sell-out shows at London's legendary Roundhouse Theatre and QEH Southbank this year, O'Sullivan recently took The Dark Angel on a six week UK tour, Latitude & Glastonbury Festivals. She will be supporting Jools Holland on his autumn tour 09 commencing in the Royal Albert Hall., her own 6 week run in the West End London at the Apollo Theatre and returning to Sydney Opera House to perform in Hal Wilners Rogue Galleries.

Pauline McLynn

Actor

Pauline is currently on stage at the Park Theatre, London, in Daisy Pulls It Off.

Pauline's television credits include her well known award-winning role as Mrs Doyle in Father Ted (Hatrick/ Channel 4). She has also appeared in Eastenders (BBC), Father Figure (BBC), Threesome (Comedy Central), Shameless (Channel 4), The Bleak Old Shop of Stuff (BBC) Pramface (BBC). She appeared in all 3 seasons of Jam and Jerusalem (BBC), Bremner, Bird and Fortune (Channel 4, six series), High Hopes (BBC), French and Saunders (BBC), TV To Go (BBC), The Dark Ages (ITV), It Happened Last Year, Dalziel and Pascoe, Family, Aristocrats and Ballykissangel all for BBC.

Pauline has also appeared in numerous films such as Jim Sheridan's Secret Scripture, Stephen Bradley's Noble and Angela's Ashes directed by Alan Parker. She also has multiple theatre credits and has published 8 best-selling novels.

Marina Carr

Playwright

Marina is a playwright whose work has been produced by The Abbey Theatre, The Gate, Druid, The Royal Court, Wyndhams Theatre, The RSC, The Tricycle, The MacCarter Theatre, San Diego Rep, Milwaukee Rep. She is translated into many languages and produced around the world.

Marina also wrote a new, contemporary translation of Rigoletto for Opera Theatre Company, which toured Ireland in 2015, and wrote an original oratorio as part of a commission for Wicklow County Council that brought together choirs from throughout County Wicklow with solo singers and the RTÉ National Symphony Orchestra in November 2016. She is a member of Aosdana, an affiliation limited to 250 living artists who have produced a distinguished body of work.

She has taught at Trinity College Dublin, at Villanova University and at Princeton. Currently she lectures in the English department at Dublin City University. She is published by The Gallery Press, Nick Hern Books and Faber & Faber.

Rachel O'Riordan

Theatre Director

Rachel is the Artistic Director of Sherman Theatre, for whom she has directed The Cherry Orchard, Killology (& Royal Court Theatre); The Weir (& Tobacco Factory Theatres); Bird (& Royal Exchange Theatre); The Lion, The Witch and The Wardrobe, A Doll's House, Iphigenia in Splott (National Theatre & UK/International tour), Romeo & Juliet and Arabian Nights. Her work has been performed internationally including the Schaubühne new work festival in Berlin and Brits off Broadway in New York. Recently, she worked for the British Council in Kiev on an artist development project.

Rachel won the CATS Award for Best Director for The Seafarer and Best Director at the First Irish Theatre Festival Awards for Absolution. Iphigenia in Splott won both the UK Theatre Awards Best New Play and the James Tait Black Prize for Drama. It was the first production from Wales to transfer to the National Theatre. She holds a PhD from the University of Ulster.

Jen Coppinger

Jen Coppinger joined as Head of Producing (New Work Development) at the Abbey Theatre in January 2018. Previously she worked as Producer for HotForTheatre, TheEmergencyRoom and United Fall as well as with independent artists such as Kevin Barry, Paul Curley, Kellie Hughes, Jody O'Neill, Shane O'Reilly, Raymond Scannell and Dylan Tighe. She has toured work extensively in Ireland and internationally.

She was Project Manager for the Laureate for Irish Fiction (Anne Enright 2015-2018) for the Arts Council of Ireland and was Manager of Rough Magic SEEDS. She is Chairperson of Youth Theatre Ireland and is a member of the board of Theatre Forum. Jen is an Artist Research Fellow at Queen Mary University of London.

Martina Evans

Poet

Martina Evans grew up in County Cork and moved to London in 1988. A prize-winning poet and novelist, she is the author of eleven books of prose and poetry including The Windows of Graceland: New and Selected Poems Carcanet 2016. Now We Can Talk Openly About Men will be published by Carcanet in 2018. Martina is a Royal Literary Fund Advisory Fellow as well as a freelance teacher and reviewer.

Tara Bergin

Poet

Tara Bergin was born and grew up in Dublin. Her second collection, The Tragic Death of Eleanor Marx (Carcanet), was named as one of the best poetry books of 2017 by The Times and was shortlisted for both the T.S. Eliot and the Forward Prize. Tara currently lives in the North of England and lectures part-time at Newcastle University.

Vona Groarke

Poet

Vona Groarke has published seven collections of poetry with Gallery Press, most recently X (2014) and Selected Poems, awarded the Pigott Prize for the best Irish book of poetry in 2016. Her book-length essay on art-frames, Four Sides Full, was also published in 2016 and was Book of the Week on RTE Radio 1. Her poems have recently appeared in The New Yorker, Ploughshares and Threepenny Review. Former editor of Poetry Ireland Review, she is a Senior Lecturer in poetry at the University of Manchester

Roisin Conaty

Actor, comedian & writer

Roisin Conaty is an actor, comedian and writer from London. She is best known for GameFace (2017) which she created and stars in, Ricky Gervais' film David Brent: Life on the Road (2016) and Man Down (since 2013). A celebrated stand-up, Roisin won the Foster's Edinburgh Comedy Award 2010 for Best Newcomer. She is one of the most prominent comic faces on television, appearing regularly on entertainment shows such as Live at the Apollo, Have I Got News For You, 8 out of 10 Cats does Countdown and Would I Lie To You.

Sharon Horgan

Actor, writer, produce & director

Sharon Horgan is a BAFTA winning Irish actor, writer, producer and director who is perhaps best known for her multiple award-winning sitcom CATASTROPHE, which she co-writes and stars in with Rob Delaney, airing on Amazon Prime and Channel 4. The series won a BAFTA TV Award for Best Writing in a Comedy Series. She gained a further nomination for Best Actress in a Comedy for Catastrophe alongside a Primetime Emmy Award Nomination for Outstanding Writing for a Comedy Series. Sharon was nominated for two BAFTA Awards and won two British Comedy Awards for her BBC show PULLING which she co-wrote and starred in. As a director, Sharon won critical acclaim with her debut short-film THE WEEK BEFORE CHRISTMAS, which also went on to win the Outstanding Achievement Award at the International 3D Awards.

Sharon co-founded the independent production company Merman with producer Clelia Mountford. Merman recently shot the first series of MOTHERLAND which was co-written by Sharon and aired on BBC Two to great critical acclaim. Merman also co-produced CATASTROPHE and DIVORCE, a comedy created, written and produced by Sharon and starring Sarah Jessica Parker, the second series of which will air on HBO starting in January 2018.

This year, Sharon will star alongside Rachel McAdams, Jason Bateman and Kyle Chandler in the new Warner Brothers feature film GAME NIGHT - out on 23rd February in the US and 4th May in the UK.

Angela Bourke

Author & Academic

Angela Bourke is Professor Emerita of Irish-Language Studies in the UCD School of Irish, Celtic Studies and Folklore. Professor Bourke has taught at UCD for over 30 years. She has also been a Visiting Professor at Harvard University, the University of Minnesota, the University of Notre Dame, and has also taught at Boston College. International fellowships include the Parnell Fellowship at Magdalene College, Cambridge, and a Japan Foundation Fellowship at Waseda University in Tokyo.

Professor Bourke is also author of the biography Maeve Brennan: Homesick at The New Yorker (2004), as well as the award-winning The Burning of Bridget Cleary: A True Story (1999), the earlier Caoineadh na dTrí Muire: Téama na Páise i bhFilíocht Bhéil na Gaeilge, based on her PhD thesis, and the recent Famine Folio, Voices Underfoot: Memory, Forgetting, and Oral Verbal Art (2016). Professor Bourke's essay on the traditions of St Brigid was published in 1999, entitled Irish Stories of Weather, Time, and Gender: Saint Brigid'.

Orla Kiely

Designer

The Orla Kiely brand was founded in 1995 by Orla Kiely. What began as a small collection of accessories commissioned exclusively by Harrods following her graduation from the Royal College of Art, turned into a design company that embodies colour and print.

Developed from a passion for mid-century design and print, this has informed all aspects of the Orla Kiely product, from the ready to wear collections, fragrance, beauty, handbags, watches, jewellery, shoes, home wares, wallpapers and more. The handbag collections hold a unique place in the British fashion industry, as being amongst the few which are immediately recognisable world over for its distinctive prints and shapes.

Orla Kiely has been awarded an OBE for services to Fashion and Business in 2011 and the title of Visiting Professor of Textiles at the Royal College of Art.

Una Fox

Vice President, Digital Marketing and Data Technology, The Walt Disney Company

Una Fox is a global business technology leader, with a consistent track record of generating positive financial results and leading strategic corporate initiatives. In her current role at The Walt Disney Company she is focused on Digital Marketing and Data Technologies for Walt Disney International. Her role is focused on building and operating a high performance digital and analytics ecosystem to support The Walt Disney International's brand and digital marketing teams. Una has deep experience in digital media management, digital marketing, ecommerce, consumer personalization and consumer data management.

Una is an advocate for the advancement of women in technology and in corporate leadership roles and is an executive sponsor of the internal employee initiative, Women @ Disney. In partnership with the ITLG, based in Silicon Valley, CA, she launched a Women's Technology Leadership group, a global organization of successful business female executives dedicated to mentoring women to encourage the promotion of women to senior executive and board leadership roles in multinational corporations, as well as the encouragement of investment in female entrepreneurs.

She is a passionate supporter, and speaker on STEAM (Science, Technology, Engineering & Math) education for children, particularly girls and young women, and is a member of the board of the CoderDojo Foundation, a technology education non-profit. In 2012, Una founded the Los Angeles chapter of CoderDojo, which is a volunteer based organization teaching young children coding and technology, in diverse communities across the city of Los Angeles.

In 2016, Una was awarded and recognized by WXN as one of the Top 25 Female Business Leaders in Ireland. In 2013, Una was named one of the "Silicon Valley 50" by the Irish Technology Leadership Group, based in San Jose, that recognizes the best and brightest technology leaders from Ireland. She is also the recipient of an alumni achievement award by the University College Cork, Ireland, which is the highest award that can be bestowed upon a graduate.

Emma Dabiri

Writer & broadcaster

Emma is a writer and broadcaster. She is currently finishing her PhD Mixed Race a Ghost Story at Goldsmiths. Emma also teaches in the Africa department at SOAS and is writing her first book A History of Hair which will be published by Penguin in 2018. She appears frequently on TV and radio, with credits ranging from Back in Time Brixton (BBC2) The Sweetmakers (BBC2) as well as presenting history shorts for The One Show. Emma is currently filming series 3 of Britain's Lost Masterpieces (BBC4).

Iseult Ward

Entrepreneur

Iseult is co-founder and CEO of the award winning social enterprise FoodCloud. In 4 years, FoodCloud has grown to have 3,200 retail stores across the UK and Ireland donating surplus food through its software platform to over 7,500 charities. Iseult was named as one of TIME magazine's Next Generation Leaders and was included on Forbes 30 under 30 Social Entrepreneurs European list. In 2017 she received a Humanitarian Award from the Muhammad Ali Centre in Kentucky, the EY Special Achievement Award and Image Business Woman of the Year award.

Keeva

Musician and Recording Artist

When London-based recording artist Keeva quietly posted two songs online, she didn't expect that they would attract the attention of Grammy-nominated production team Austin Jenkins and Josh Block (aka Niles City Sound), who immediately wanted to start working with the young singer-songwriter.

The timeless feel of debut single Whiskey assimilates Keeva's early love for the soul classics of her mother's record collection, finessed by an ongoing obsession with the song-craft of country greats Willie Nelson and Patsy Cline – discerning tastes for a teenage girl growing up between Jordan, County Laois, and London. Keeva later signed to the ATC Management stable, also home to the likes of Warpaint, Kate Tempest, The Staves, and Nick Cave.

With more music due from Keeva across 2018, this promising debut signals the arrival of a name to watch closely. It's hard to imagine her impressive fan club staying as select as it is for very much longer.

Angela Brady

Architect

Angela Brady OBE PPRIBA PDSA FRIAI FRIAS PhD(hon)

Angela is a past president of RIBA (2011-2013), and graduated in Architecture from the Dublin Institute of Technology with a post graduate scholarship in Copenhagen.

Angela is a director of award winning Brady Mallalieu Architects, set up with Robin Mallalieu in 1997 specialising in quality contemporary sustainable design based in London. She was chair of RIBA Women in Architecture (2000-2005) and promotes more women into construction and is a design champion.

As a professional TV broadcaster Angela co wrote and co presented the TV series "Designing Ireland" about Irish Architecture, Craft, Industrial Design and Design Thinking.

She presented 6 part international city design on 'The Home Show' on Channel 4 and designed and built a house on "Building the Dream" with 65 episodes on ITV.

In 2016 Angela was awarded an OBE from the Queen and the Irish "Presidents Distinguished Service Award", both for services to Architecture and Design.

Catriona Crowe

Catriona is former Head of Special Projects at the National Archives of Ireland. She was Manager of the Census Online Project, which placed the Irish 1901 and 1911 censuses online free to access. She is editor of Dublin 1911, published by the Royal Irish Academy in late 2011. She presented the RTE documentary, Ireland before the Rising, which was shown in February 2016.

She is Chairperson of the Irish Theatre Institute, which promotes and supports Irish theatre and has created an award-winning website of Irish theatre productions. She is an Honorary President of the Irish Labour History Society, and a former President of the Women's History Association.

She is Chairperson of the SAOL Project, a rehabilitation initiative for women with addiction problems, based in the North Inner City, and also Chairperson of the Inner City Renewal Group, which delivers employment and welfare rights advice and support to the community in the North Inner City.

She is a member of the Royal Irish Academy.

Maureen Kennelly

Director Poetry Ireland

Maureen Kennelly has been director of Poetry Ireland since October 2013. She was previously director of Kilkenny Arts Festival, Artistic Director of the Mermaid Arts Centre and Programme Director with the Cúirt International Festival of Literature. She is a member of the governing body of University College Cork, a member of the expert advisory committee of Culture Ireland and she is a member of the board of the Tyrone Guthrie Centre. A native of Ballylongford, Co Kerry, she is a graduate of UCD and NUIG.

Rachel McLoughlin PhD

Professor in Immunology, School of Biochemistry and Immunology, Trinity Biomedical Sciences Institute, Trinity College Dublin.

Dr McLoughlin received her PhD in Immunology from the University of Wales College of Medicine, Cardiff, UK. She undertook postdoctoral training at the School of Biosciences, Cardiff University, UK and Brigham and Women's Hospital, Boston, USA before obtaining a faculty position as Assistant Professor in Medicine at Harvard Medical School. In 2010 she was awarded a Wellcome Trust Career Development Award, which facilitated a move to Trinity College Dublin where she established the Host Pathogen Interactions Group within the School of Biochemistry and Immunology.

In 2016 Dr McLoughlin was made a fellow of Trinity College Dublin and in 2017 she received the Science Foundation Ireland early career researcher of the year award.

Ursula Rani Sarma

Playwright

Ursula Rani Sarma is an internationally-acclaimed Writer and Director of Irish-Indian descent. She has written fifteen plays including The Dark Things, The Magic Tree, Yerma, Blue, and ..touched..., for companies such as The Royal National Theatre London, A.C.T San Francisco, The Abbey Theatre Dublin, The Traverse Theatre Edinburgh, Paines Plough London, Clean Break London and the BBC amongst many others. Her work for the screen includes projects for SKY, the BBC, RTE and TV3.

She has received numerous awards for her work and has held Writer in Residence positions for the National Theatre, The Eugene O'Neill Theatre Centre and Paines Plough. Recent theatre productions include her award winning adaptation of Khaled Hosseini's novel A Thousand Splendid Suns, which premiered at the American Conservatory Theatre in San Francisco to critical acclaim. A Thousand Splendid Suns will be remounted in the US and Canada in the Spring and Summer of 2018 and is published by Penguin Random House.

Recent screen work includes Delicious for Sky One, Red Rock for TV3 and Anywhere But Here for Rankin Films. She is currently writing screenplays for the BBC, Scot Free, and Sky One amongst many others. Ursula is the Course Leader on the MA in Scriptwriting at Bath Spa University.

Pamela Newenham

Co-Founder GirlCrew

Pamela Newenham is the co-founder of GirlCrew, a global community for women to make new friends, share advice, and network in a social and professional capacity. GirlCrew has more than 45,000 members across 47 cities worldwide, including Dublin, London, San Francisco, Toronto, New York, Brussels, Liverpool and Melbourne.

GirlCrew members make new friends through online group chat and offline events such as brunches, nights out, career events, cinema trips and even holidays abroad. The start-up was selected for Google's Adopt a Start-up programme, and was an Irish winner of the EU Welcome Project Initiative.

Pamela is also a business journalist with The Irish Times, specialising in the areas of technology, start-ups, entrepreneurship and business. She was named Technology Reporter of Year 2014 in Ireland. She was editor of Silicon Docks: The Rise of Dublin as a Global Tech Hub, which was published in 2015. With a background in law, she founded Ireland's first student television station while still an undergraduate at UCD.

Alison Spittle

Comedian, actor and writer

Alison is an Irish comedian, actress and writer. She has worked for RTÉ Radio and Newstalk and appeared on the guilty feminist podcast. She is the host and creator of the Alison Spittle Show podcast.

She has created sketches for Republic of Telly, this is Ireland with Des Bishop and the RTÉ Player. Alison wrote the Babycow produced short film, Alison Spittle in Ireland for Sky Arts.

She has performed at the Abbey, the 3 Arena and headlined Vicar Street. Alison also created, wrote and starred in the sit-com Nowhere Fast in 2017 with RTÉ and BBC worldwide.

Úna Burke

Designer

Úna Burke is a multi-award winning Leatherworker, Accessories Designer and Artist, born in Ireland and now living in London. Using traditional leather-working techniques in her distinctly complex constructions, Úna makes both seasonal fashion collections and figurative art pieces. This work has been exhibited in art galleries across Europe, the US, Asia and the UAE with commissions from private and public art and fashion collectors including those of New York Designer 'Phillip Lim', Seoul's 'Simone Handbag Museum' and Model, Muse and Fashion Icon 'Daphne Guinness'.

Significant collaborative projects have involved the making of several pieces for blockbuster movies The Hunger Games 2 and 3, making a dress from the interiors leather of luxury car manufacturer Lexus, Luxury Blanket Bags for International Woolmark Prize Winner Teatum Jones, Costumes for music videos of pop princess Taylor Swift and for the main advertising and opening scene of The Bodyguard, the Musical. Other partners have included media giants; Fox Network and The Guardian and Cosmetics companies L'Oreal, Nars and Goldwell, who have featured Úna Burke leather pieces in their advertising campaigns.

Úna Burke set up her eponymous fashion label in 2010 producing leather accessories which are timeless, elegant, considered and sculptural. The brand has developed a strong celebrity following both nationally and internationally. Among the most prominent of these are Rihanna, Madonna, Lady Gaga, Cindy Crawford, Fifth Harmony, Nicki Minaj, Ellen Pompeo, Rachel Stevens, Una Healy, Heidi Klum, Haifa Wehbe, Doda and Elva.

Norah Patten

Engineer & Entrepreneur, International Space University

Dr. Norah Patten is a faculty member at the International Space University; she holds a PhD in Aeronautical Engineering from the University of Limerick and recently Norah became Ireland's first scientist-astronaut candidate with Project PoSSUM (Polar Suborbital Science in the Upper Mesosphere). Norah is the founder of Planet Zebunar, inspiring the next generation of engineers, astronauts, scientists and innovators.

Norah was a recipient of the Emerging Space Leaders Grant and a Next Generation Plenary panellist at the IAC in 2015. Through a partnership with NanoRacks, Norah initiated and managed 'The Only Way is Up' project which launched Ireland's first student experiment to the International Space Station in 2014. Norah has industrial experience from The Boeing Company and Bell Labs Alcatel Lucent.

Shevaun Wilder

Artistic Director, Interviewer, Arts & Culture Adviser

Shevaun, a native Dubliner, worked as an actress at the Abbey Theatre, RTÉ, the RSC, the BBC & ITV. She has an MA in English Literature from Cambridge University, where she was the first woman President of The Marlowe Society, founded by Rupert Brook. She convened & chaired its Centenary Events with fellow Old Marlovians John Barton, Peter Hall, Ian McKellen, Trevor Nunn et al & interviewed them for 'Bloomsbury & the British Theatre: The Marlowe Story' (Salt).

As a Theatre Director Shevaun's highlights include productions at the Cambridge Arts Theatre, Edinburgh Festival, Ludlow Shakespeare Festivals, Noel Coward Theatre, Riverside Studios, Theatre Royal Haymarket & West End Apollo.

As Vice-Chair of the Directors Guild of Great Britain she produced a number of prestigious events in London, Cambridge & Cannes, including the Inaugural Conference of European Theatre Directors, New Writing Festivals & the David Lean Centenary Events at BAFTA.
For 'Yeats 2015' Shevaun produced the Film-Poem 'The Song of Wandering Aengus' with Michael Gambon, curated & presented 'WB Yeats a Celebration' at the House of Lords, co-produced 'I am of Ireland' at the LIC & directed & produced 'Being Mrs Yeats' at Europe House. Recently, she completed AFFINITIES, a digital project for British Council Ireland interviewing leading figures in Literature & the Arts in Ireland & Britain. Shevaun is currently Artistic Director of 'The Poetry Hour' for The Josephine Hart Foundation & Chair of the Irish Literary Society.

Darina Allen

Darina Allen owns and runs the Ballymaloe Cookery School in Shanagarry, Co Cork. The school is situated on a 100-acre organically run farm and gardens.

Darina is a well-known cookbook author and television presenter. She writes weekly for the Irish Examiner and other occasional pieces. Darina is also President of the East Cork Slow Food Convivium.

Darina set up the first Farmers Market in Ireland on the Coal Quay in Cork in 1996, and has been instrumental in setting up several more including the very successful Midleton Farmers Market. Darina is a trustee of the Irish Organic Centre, a patron of GIY Ireland, Member of Eurotoques (European Association of Chefs), Member of The Guild of Food Writers in Ireland and UK, Chair of the Food Safety Authority's Artisan Food Forum and a member of the Taste Council of An Bord Bia.

Elaine Burke

Managing Editor at Silicon Republic

As managing editor of Siliconrepublic.com, Elaine Burke supports an award-winning team reporting on the hottest sci-tech news and trends. With almost a decade behind her in publishing, she has had a front-row seat to the changing landscape of media in the digital age and is enjoying the show. A graduate of Dublin City University, Elaine joined Silicon Republic in 2012 to report from the forefront of the wonderful world of STEAM (science, technology, engineering, arts and maths) for a brand that has established a sci-tech voice that is diverse and inclusive. An award-winning writer and editor, she also lends her voice to radio items (and, less often, her face to TV shows) from national broadcasters. She has also featured at events such as Inspirefest, a unique international sci-tech festival founded by Silicon Republic CEO Ann O'Dea.

Claudia Carroll

Author

Claudia Carroll is a Sunday Times top ten-bestselling author in the UK and a number one bestselling author in Ireland, selling over 850,000 copies of her paperbacks alone. To date, she's published fourteen novels, four of which have been optioned, two for movies, one for a TV series on Fox TV and another as a TV show for Calamity Jane Productions in L.A. She's currently hassling producers for a walk-on, extra part, and is hoping they might just throw in the costume for free.

Claudia was born in Dublin, where she still lives and also works works as a theatre and TV actress. For twenty years, she appeared regularly in the RTE soap Fair City, playing a character she likes to describe as 'the horrible old cow that everyone loves to hate.' They even allow 'nasty Nicola' back onscreen every now and then, to fly in on her broomstick and generally cause trouble.

Her latest book, Our Little Secret will be published in paperback by HarperCollins in the UK and Ireland on February 8th. And her fifteenth novel, SECRETS OF PRIMROSE SQUARE, will be published in hardback in the UK and Ireland later in Spring of this year.

Angela Scanlon

TV Presenter

Angela co-hosts the legendary BBC2 show Robot Wars alongside Dara Ó Briain. She is a regular presenter on The One Show and has recently joined BBC Radio 2, presenting their late night playlists. Earlier this year she fronted a BBC One documentary 'World's Oldest Family'.

Angela's first major documentary, OI GINGER, aired in 2014 on RTE to critical acclaim – the show trended worldwide on Twitter and showed off Angela's playful presenting style and her ability to dig deep into a subject matter. The success of the show led to a follow-up series, Angela Scanlon: Full Frontal in 2015, where she tackled taboo subjects such as extreme makeovers, fitness and nudity.

A further series followed Angela Scanlon's Close Encounters, which saw her dive into the world of WWE with world champion Sheamus, head to NYC to chat books and babies with Dawn O'Porter and take on Katie Hopkins in a very honest and candid interview.

Shortly after, she co-hosted the BBC's live coverage of 'T in the Park' and, most recently, BBC Three's Red Carpet BAFTA Show where she interviewed nominees including Michael Fassbender, Kate Winslet, Cate Blanchett and Idris Elba.

Angela previously co-hosted the travel series Getaways with Joe Lindsey for BBC Northern Ireland. Following that, she received the role as digital host of The Voice UK 2016.

Deirdre McPartlin

Enterprise Ireland

Deirdre McPartlin is new UK Enterprise Ireland office manager. Having previously worked was a Senior Advisor in Enterprise Ireland's Brexit Unit. Prior to that she worked for three years in EI's Engineering Department. As well as working with a portfolio of clients, she led the Engineering Mid-Tier initiative. This involved working with some of leading Irish Engineering companies to support and assist ambitious company owners address the challenges they faced in growing their companies to be leaders in their niche.

Deirdre has over 15 years experience helping Irish companies understand, access and penetrate the German, Austrian and Swiss markets. Enterprise Ireland is the Irish Government agency responsible for helping Irish industry to grow and internationalise. It's 5,000 strong client base include large companies, SMEs and start-ups. She is a graduate of Trinity College Dublin.

Jess Kidd

Novelist and Short-Story Writer

Jess qualified with an MA and PhD in Creative Writing Studies from St Mary's University, Twickenham. She has taught creative writing and also worked as a support worker specialising in acquired brain injury.

Jess was brought up in London as part of a large family from Mayo. Her debut novel, Himself, was published by Canongate in 2016 to critical acclaim. The Hoarder, her second novel, will hit the shelves in February 2018.

Jess is currently working on her third novel and developing original TV projects with leading UK and international TV producers.

‌

Christine Green

Literary Agent

Christine Green started her career as a junior editor at the distinguished publishing house of Faber and Faber; from there she joined the John Johnson literary agency which handled writers such as Dick Francis, Clare Francis and D M Thomas – and where she first met Maeve Binchy. There started a friendship which lasted more than thirty years. Christine formed her own agency in 1984, since when she has worked closely with a small number of clients, among them many prize-sinning and best-selling writers.

Juliet Samuel

Juliet Samuel is a journalist and columnist at The Telegraph. Educated at Harvard, she went onto work for several different media outlets including The Wall Street Journal, The Times, CityAM and Guido Fawkes' 'Order-Order' blog. Under the pseudonym of "Emily Nomates" she previously ran the spoof news channel, Guy News. She covers a number of different areas and has most recently written on the economy, business, Europe, Brexit and populism.

The Irish Literary Society

The Irish Literary Society was established in London in 1892. Among its founders were W. B. Yeats, Douglas Hyde and other leaders of the Irish Literary Revival. Early members and speakers include poet and novelist Katherine Tynan, folklorist Kate Lee and critic and satirist Hannah Lynch.

In recent years the Society has been privileged to promote Irish women's writing and host some of Ireland's most fascinating authors including Tara Bergin, Marina Carr, Órfhlaith Foyle, Sinead Gleeson, Jennifer Johnson, Eiléan Ní Chuilleanáin, Nuala Ni Domhnaill, Eimear McBride and Edna O'Brien.

The Society works to bring Irish literary culture to a UK audience and hosts monthly public events and special members' events. All are welcome, see http://irishlitsoc.org/