Adi Roche gives 2020 St. Brigid's Day lecture
News
03 February 2020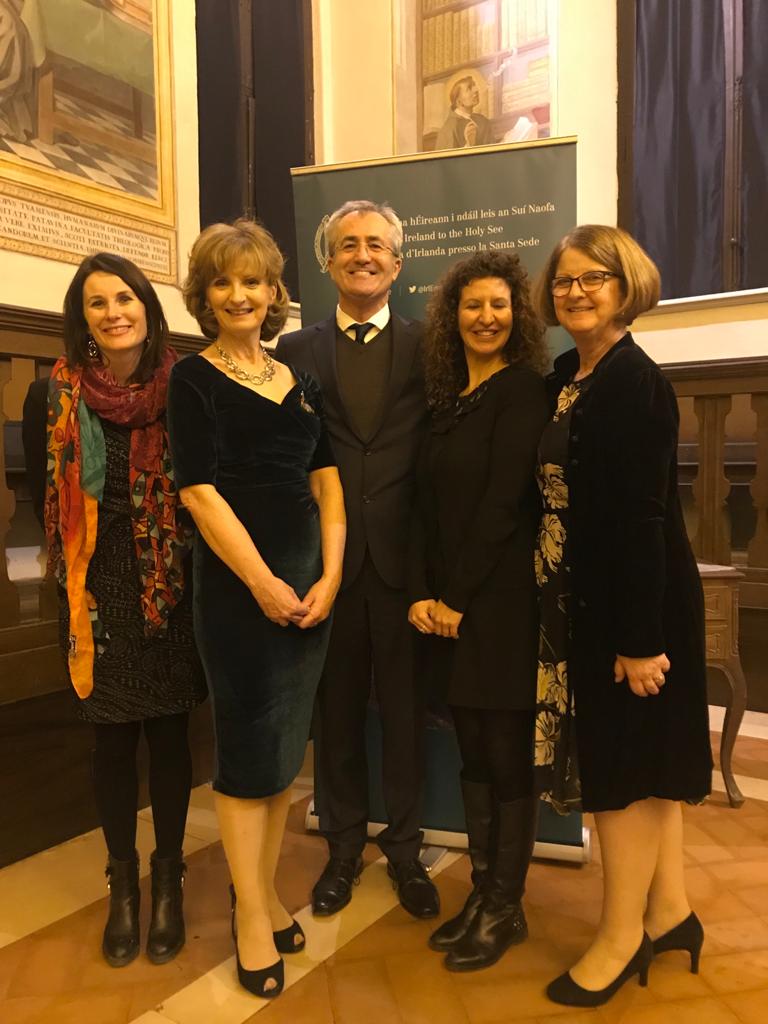 Adi Roche of Chernobyl Children International (CCI) was guest speaker at the Embassy's St Brigid's Day celebration on 30th January. The event, attended by about 70 people, was held in St Isidore's Franciscan College, founded by Luke Wadding 400 years ago. Several officials from the Vatican attended as did diplomatic representatives from many countries including Belarus, and many friends of the Embassy.
The event was a great success, with an informed audience hugely engaged with the speaker and a number clearly very moved by what they saw and heard. Ambassador Hannon in his introductory remarks mentioned the Department of Foreign Affairs' initiative in promoting St Brigid and through her, highlighting the creativity, innovation and leadership of Irish women.
Adi Roche spoke with characteristic passion about our obligations to each other as members of the human race; her admiration for St Brigid's strength and legendary hospitality; of the generosity of the Irish people without whom she could not do the work she does and of the fragility of our planet and our obligation to protect it. At the end of her talk she presented a Saint Brigid's Cross made by schoolchildren from Cork to the representative from the Embassy of Belarus in a gesture of friendship between the two countries.
The bulk of Adi Roche's remarks focused on the work of the CCI with video footage showing the aftermath of the nuclear explosion; the terrible situation of children in orphanages as well as her incredible work and that of her organisation which has continued for the past 30 years. "Hope" and determination were the key themes running through her address. In her remarks she noted that Pope Francis had not forgotten and indeed had honoured Chernobyl first responders when he hosted them in the Vatican in 2016.