Covid-19 measures in Poland from 28 December
News
17 December 2020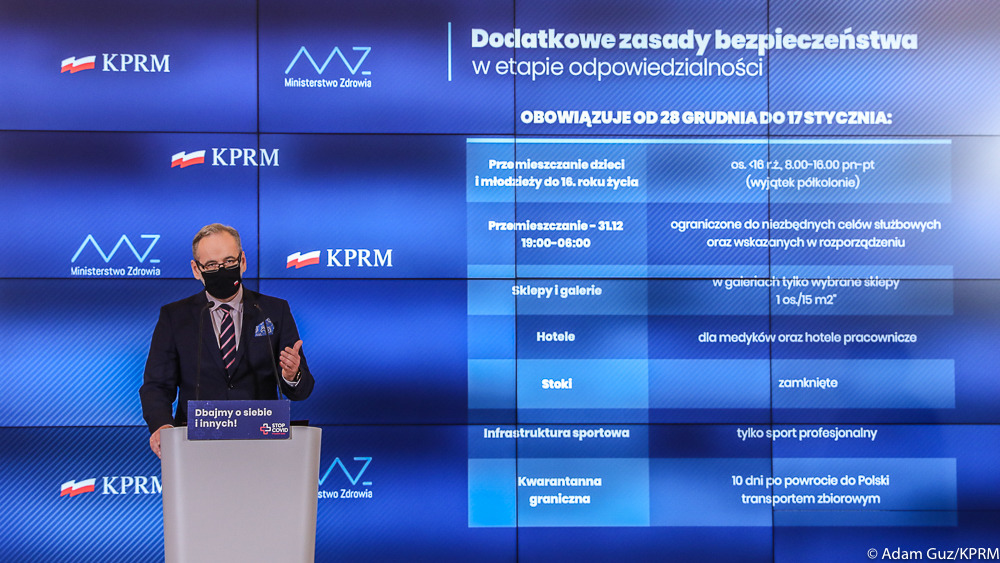 Poland has announced additional COVID-19 restrictions from 28 December until 17 January.
Passengers entering Poland on public transport from 28 December must undergo home-quarantine for 10 days (students, amongst others are exempted from this, see https://dziennikustaw.gov.pl/D2020000231601.pdf).
There will be a curfew from 19:00 – 06:00 on New Years' Eve, 31 December;
Only essential shops will remain open;
Hotels and ski slopes will be closed;
Current restrictions in place will also be extended.
The following measures will be extended:
Limited places on public transport (

50% of seats occupied or 30% of whole area);

Restrictions on places of worship - max. 1 pers./15m2;

Participation in assemblies – max. 5 people;

Gyms, fitness clubs and aquaparks closed;

Restriction in stores – max. 1 pers./15m2;

Senior hours - Monday to Friday from 10:00 to 12:00;

Restaurants closed - takeaway or delivery only;

Prohibition of weddings, communions;
Prohibition of movement of persons under 16 unaccompanied by a parent or legal guardian, from Monday to Friday from 8:00 to 16:00.
Full information available here: https://www.gov.pl/web/koronawirus/przedluzamy-etap-odpowiedzialnosci-i-wprowadzamy-dodatkowe-ograniczenia