Ireland – Poland Travel Update
News
25 September 2020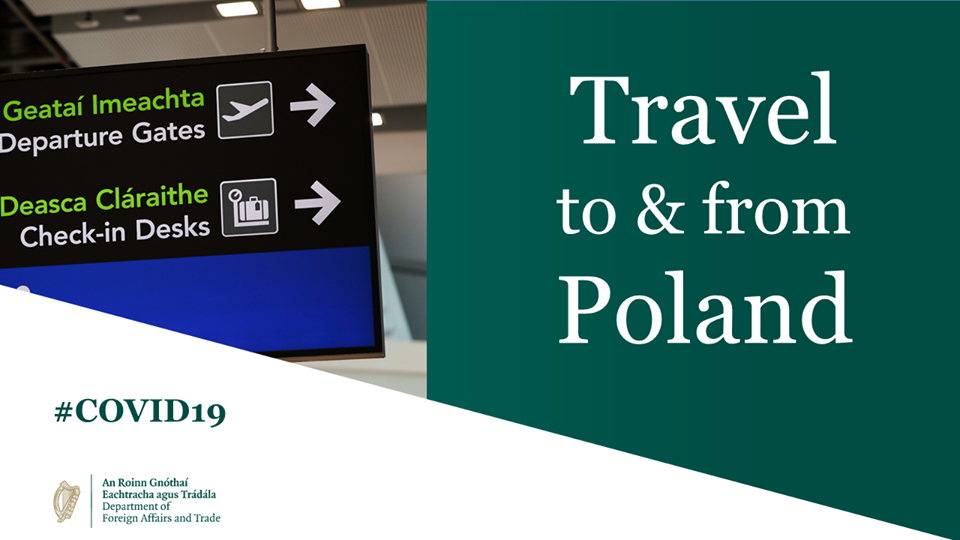 Travel to Ireland
General advice is to avoid non-essential travel, other than to countries on the 'Green List' where the advice is to take normal precautions. If you must travel to Ireland, you need to fill out a COVID-19 Passenger Locator Form online before you travel. You can find this form, as well as further information and advice, here.
You are requested to restrict your movements for 14 days if you arrive into Ireland from a location that is not on the COVID-19 Green List. Full information about these requirements and the Green List can be found on the Government of Ireland COVID-19 Travel Advice page.
On 15 September, the Government agreed that, for the period ahead, this 'green list' will be updated on a weekly basis, to include EU / EEA countries with a 14 day cumulative number of COVID-19 cases per 100,000 of 25 or less, based on the latest data from the European Centre for Disease Prevention and Control (ECDC). Updates will be made on the basis of data each Thursday, with changes taking effect from the following Monday.
From Monday 28 September Poland will no longer be included on Ireland's Green List for travel. From this date, passengers arriving into Ireland from Poland will be requested to restrict their movements. We advise against all non-essential travel to Ireland from 28 September.
Travel to Poland
The Department of Foreign Affairs continues to advise against non-essential travel overseas, other than to countries on the 'Green List' where the advice is to take normal precautions. We continue to advise against non-essential travel between Ireland and Poland.
The purpose of the Department's Travel Advice is to provide information to the general public so that individuals can make informed decisions for themselves. Any citizens who are considering travel abroad are advised to monitor our travel advice closely and we recommend that citizens download our TravelWise App and follow us on Twitter.
EU citizens, including citizens of Ireland, can currently enter Poland without restriction. EU citizens entering Poland are no longer required by law to undertake a mandatory 14-day home quarantine.
International air travel between Poland and Ireland is no longer suspended. Please check with your airline for schedules. We strongly advise you to monitor the situation closely with regard to air travel to and from Poland, following the reintroduction of restrictions to a number of countries on 2nd September. Details at: https://www.gov.pl/web/koronawirus/aktualne-zasady-i-ograniczenia
The Polish authorities have implemented a number of measures related to COVID-19. This includes additional restrictive measures in certain parts of Poland. For more detail in English on these measures, see http://www.gov.pl/coronavirus. For more complete detail (in Polish), see http://www.gov.pl/koronawirus.
Irish citizens in Poland should register with the Embassy at https://citizensregistration.dfa.ie.